Akers Biosciences, a manufacturer of rapid diagnostic screening and test products, has announced an $864,000 contract for sales of its Tri-Cholesterol Check test in Australia, Singapore, the United Arab Emirates, and Oman. Dubai-based procurement solutions company 36 Strategies General Trading LLC (36S) will distribute the test in these regions, targeting consumers in the military forces, medical associations, universities, and large companies operating in the resources sector.
"This order gives us confidence that this test could become a very important and widely used test worldwide," says Raymond F. Akers Jr, PhD, executive chairman of Akers Biosciences. "There are an estimated 200 million people worldwide who have abnormal cholesterol levels. Our self-administered, point-of-care test for cholesterol is easy to use, low-cost, and revolutionary in point-of-care diagnostics. We are very pleased with the sales results we have achieved in these regions in a very short time through our distribution partner in the Middle East."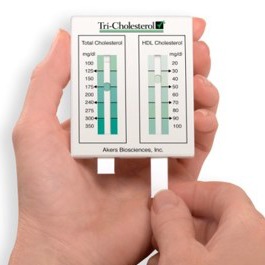 The Tri-Cholesterol Check test uses finger-stick blood sample technology and carries FDA clearance for over-the-counter sale. According to Akers Biosciences, it is the only combined rapid test that provides an estimate of both total and high-density lipoprotein (HDL) cholesterol levels, thereby gauging a patient's low-density lipoprotein (LDL) levels.
For more information, visit Akers Biosciences.