Infrared Contrast Imaging
Utilize infrared imaging technology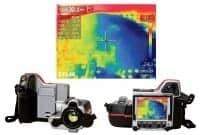 Harvard Apparatus, Holliston, Mass, has developed a new way to utilize infrared imaging technology to allow clear visualization of histological, physiological, morphological, and metabolic phenomena down to the cellular level: infrared contrast imaging (IRCI). The user-friendly camera allows users to visualize events that are difficult to see in the visible light spectrum. The technology permits quantitative assessment and viewing of biological events. Used like a digital camera, IRCI has been employed as a high-sensitivity, relatively low-cost method in many applications where visible examination reveals little information. This is accomplished by detection of infrared emission, which is influenced in a predictable way by surface composition, texture, chemical makeup, thickness, tonicity, and temperature. The emissions are interpreted as distinct color patterns on the reported image, clearly identifying both physical and physiological features that cannot be seen with the naked eye or with visible spectrum imaging.
Harvard Apparatus
(800) 272-2775
www.harvardapparatus.com
---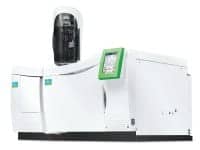 Gas Chromatography/Mass Spectrometer
Extreme sensitivity to analyze samples accurately
PerkinElmer Inc, Waltham, Mass, introduces its Clarus® SQ 8 Gas Chromatography/Mass Spectrometer (GC/MS). The Clarus SQ 8 GC/MS provides extreme sensitivity to analyze samples accurately, with an 800:1 signal to noise specification. It delivers superior throughput and productivity by minimizing requirements for calibration of instruments and reducing the need for sample preparation and concentration. The instrument is based upon the SMARTsource™ design, delivering increased productivity and consistent, reliable results.
PerkinElmer Inc
(877) 754-6973
www.perkinelmer.com
---
Chemistry Analyzer
Discrete random access clinical analyzer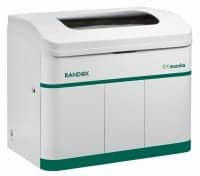 Randox Laboratories Ltd, Kearneysville, WVa, offers the RX suzuka, the latest addition to the company's RX series of clinical chemistry analyzers. The device is a fully automated, discrete random-access clinical analyzer. Ten STAT positions for urgent samples are available and can be accessed quickly and easily at any time. Up to 44 tests and three ISEs can be performed at the same time, enabling real instrument consolidation and maximum throughput. The RX suzuka is also capable of carrying out up to 800 photometric tests per hour or 1,200 tests per hour, including ISEs. It has a flexible test menu allowing the consolidation of a wide range of routine and esoteric tests, including routine chemistries, specific proteins, therapeutic drugs, and drugs of abuse, on one platform. The versatile sample carousel supports various-size sample cups, including primary tubes, while the reaction system uses reusable plastic cuvettes, dramatically reducing the cost of consumables. The analyzer also has low water requirements of less than 30L per hour. The intelligent clot and bubble detection system ensures accurate pipetting. The serum checking function alerts users to haemolytic, lipaemic, and icteric samples.
Randox Laboratories Ltd
(866) 472-6369
www.randox.com
---
Virtual Microscopy Slide Scanning System
Provides new fluorescence imaging capabilities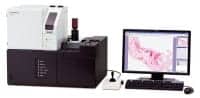 The VS120 virtual microscopy slide scanning system from Olympus America Inc, Center Valley, Pa, scans quickly, offers image deconvolution/deblurring, and provides new fluorescence imaging capabilities. The system creates brightfield slide scans up to three times faster than was possible with earlier systems. The VS120 can scan up to 100 slides at a time at high fidelity, so that users anywhere in the world can view and fully navigate high-resolution images of entire microscope slides or slide areas using a computer. It comes equipped with a 5-megapixel CCD brightfield camera that improves brightfield scanning speeds while delivering superb color reproduction and ultrahigh resolution. Acquiring sharp images at multiple depths using six or more fluorescence labels is possible with Olympus Fluorescence Virtual-Z capability. The software adjusts for the potentially different focal positions of various wavelengths in multichannel acquisition. Automated batch scanning can be accommodated with fluorescence samples, and individual shading correction is available for each color channel.
Olympus America Inc
(800) 446-5967
www.olympusamerica.com
---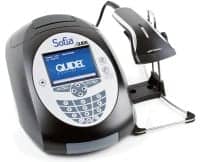 Immunoassay Analyzer
Accommodates both small and large labs
Quidel Corp, San Diego, has received FDA 510(k) clearance for its Sofia™ Analyzer. The analyzer combines software and fluorescent chemistry to yield an automatic, objective result that is readily available on the instrument's screen, in a hard-copy printout, and in a transmissible electronic form that can network via an LIS system to hospital and medical center databases. It provides for different operational modes to accommodate both small and large labs, as well as other features designed to facilitate use in a variety of health care settings, including hospitals, medical centers, and small clinics.
Quidel Corp
(800) 874-1517
www.quidel.com
---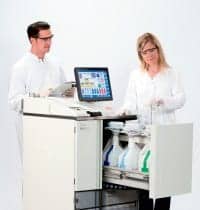 Tissue Processor
Xylene-free processing option
Leica Microsystems, Buffalo Grove, Ill, introduces the Leica ASP6025, a tissue processor for histology labs. The primary focus of the new Leica ASP6025 is to ensure that specimens receive high-quality processing with utmost protection and care for each specimen. The Leica ASP6025 incorporates a range of features for specimen safety, including a battery backup system that protects the specimens even during a complete power failure, and a glass window that allows a quick visual check of specimens during processing. Leica RemoteCare, remote 24-hour monitoring, helps identify problems before they damage tissue. The instrument's rapid processing capabilities ensure fast turnaround times while a host of productivity innovations reduce upkeep time. The system also offers a xylene-free processing option, contact-free remote fill and drain, and a system that draws fumes away from the operator when the processor's lid is opened.
Leica Microsystems
(800) 248-0123
www.leica-microsystems.com