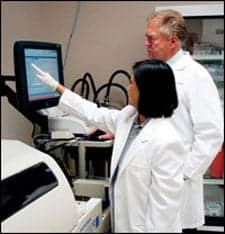 Gary Sampley reviews results on the Olympus AU400e chemistry analyzer with Ateli Santos, chemistry supervisor.
A rural hospital nestled in an historic town along the Chisholm Trail in North Texas has become a key member of the close-knit community of 5,400. Bowie Memorial Hospital augments its 49 beds with a seven-bed intensive care unit, and like many rural hospitals, it finds itself in transition due to population shifts. Keeping pace with the needs of the burgeoning and increasingly sophisticated regional communities in its midst despite limited financial resources proves challenging.
Hospitals, physicians, and other health care providers are pressed to furnish information about outcomes, quality, and prices—and to show profits. Improving performance is a key factor for maintaining robust financial health.
Hospital labs are key participants in the process, and Bowie's lab—led by Joyce Crumpler, CEO, and Gary Sampley, director of clinical pathology—focuses on improved results and expanded services that boost the hospital's bottom line and reach out to the community.
The management team is repositioning the facility as a community health center and educational provider. Becoming a complete in-house testing lab for outpatient referrals from local towns and the greater Dallas/Fort Worth area, and providing services, has required rethinking of the hospital lab's processes, workflow, and priorities.
Sampley and other officials determined in early 2006 that the lab needed to update and expand to keep pace with the growing demand so it could better serve the community's needs. Instrumentation and reagent use could be further maximized, and additional testing capabilities were necessary. Sampley worked with Kathy J. Moore, director of nursing; Doug Hodde, MD, director of emergency services; Delbert McCaig, DO, chief of staff; and Joe Barns, MD, medical director, to evaluate the lab's activities and future needs. The group decided it was necessary to upgrade the laboratory's chemistry analyzer instrumentation.
"We decided on the exfoliative diagnostics approach—looking at the entire picture," Sampley says. "We wanted to continue servicing our patients individually, treating them as people and not just numbers. The vendor we sought had to have the same partnership ideal that we have and be willing to service a small community hospital."
The purchase selection team began researching potential instrumentation sources, seeking a vendor who would both serve the hospital and help support the efficient in-house reference testing facility. "The system had to manage our tests quickly and accurately, offer new, updated applications, and had to be within the proposed budget," Sampley says. "Due to our rural setting, the instrument had to be easily maintained and offer maximum operation time. The company also had to offer a top-of-the-line clinical pathology microscopic capability."
Lab operations could not be interrupted for any reason. The lab has a reputation for accuracy and speed, usually turning around tests in less than 40 minutes no matter where the referring doctor is located. The new vendor would have to install the systems and train lab staff without disrupting the flow of activities.
Chemistry Kindles the Match
Bowie sought a company that would view its clinical approach and priorities as seriously as the hospital did, and demonstrate the same sense of partnership already in place with hospital partners such as nursing and emergency services. Such partnerships are rare among diagnostic instrument companies, Sampley says. Bowie also faced the challenge of getting attention from vendors who do not understand rural hospitals and their vital role in the community.
The team sought a company that was as committed to partnership for the long term as the hospital was. They reviewed instruments and solutions offered by several leading suppliers, eliminating those that did not meet Bowie's business and quality models. The decision was made after five companies were evaluated.
"When all was said and done, it came down to Olympus," Sampley says. "Olympus' experience working with large reference laboratories and major medical centers across the United States was a major plus for Bowie. We are beginning to pattern ourselves after the major medical centers."
Olympus' maintenance program with SupportVision software commanded outstanding reviews, Sampley says. "Last, and maybe most important for us, we discovered that Olympus viewed itself as a partner and acted as one. That was very encouraging."
A recommendation was made to the hospital's board of directors, who subsequently approved the purchase of an Olympus AU400 chemistry analyzer and the BX41 microscope with MicroSuiteFive software. The analyzer automates and consolidates chemistry with Olympus' 125-test menu, including chemistry, urine chemistry, specific proteins, esoteric chemistries, and tests for therapeutic drug monitoring. With random-access throughput of up to 400 photometric tests per hour—up to 800 with electrolytes—and user-definable sample-handling options, the AU400 delivers efficiency for real-world lab needs.
"Olympus trained us to run the instruments, and it went very smoothly," Sampley says. "We were able to start reporting patient results without interruption to daily workflow with a seamless LIS integration." The instruments went live early this year. Olympus' staff members remained on-site for the first week.
Overall productivity and reagent utilization have improved, Sampley says. The lab staff can do more testing and more widely varied types of tests than before. Bowie has expanded its lab services to include Bowie Memorial Hospital Home Health, Bowie Memorial Hospital Rehabilitation and Development Center, and Bowie Medical Equipment and Hospice of Rural Texas.
The BX41 microscope has comfortable, ergonomic controls, access to top-quality UIS2 optics, and flexibility for attaching a variety of cameras and accessories.
Realizing its mission, the lab has opened its doors to local pupils. Students from a branch of North Texas State College, selected public high school and nursing students, and home-schooled students attend educational programs at the hospital.
The Olympus system and the BX41 microscope have expanded the lab's capabilities to foster greater client outreach and to better serve the region. "Partnership has made all the difference," Sampley says.
---
Judy O'Rourke is associate editor of CLP.