Micro Pump
Faster model
Bio-Chem Valve and Omnifit Ltd, Boonton, NJ, has a new 4µL micro pump that dispenses low-pressure microflows of high purity and aggressive liquids. The miniature, faster-cycling, microdispensing Model 030 pump achieves greater output by cycling at up to 4Hz to run twice as fast as the earlier Model 090 pump it replaces. Designed for speed in cycling, the miniature, lighter model utilizes a fast-response solenoid that is capable of quickly dispensing microvolumes. The high-cycle life pump, which offers up to 20 million dispense cycles, features low power consumption, minimal heat generation, low internal volume, and a positive shutoff.
Bio-Chem Valve Inc and Omnifit Ltd
(973) 263-3001
www.bio-chemvalve.com
---
Spectro iQ II
X-ray fluorescence analyzer
Spectro Analytical Instruments, Marlborough, Mass, has introduced the next generation of its XRF spectrometry instruments—the Spectro iQ II. The Spectro iQ, introduced in 2005, was specifically developed for demanding process-control applications. It uses polarized excitation to perform multielemental analysis of solid, powder, and liquid samples primarily for process control, where rapid analysis, reliable analytical results, and simplified operation are important. The latest version surpasses its predecessor by being easier to operate and incorporating a new detection system derived from the larger and more powerful Xepos XRF instrument. Among the improvements is a new software control interface that allows the addition of an optional touch screen computer. The touch screen and the clearly structured menus allow nontechnical personnel to start, monitor, evaluate, and document the analytical processes with a few commands.
Spectro Analytical Instruments
(800) 848-5809
www.spectro.com
---
Fuego SCS
Safety-enhanced laboratory gas burners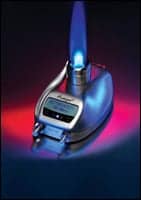 The Fuego SCS from WLD-TEC, Göttingen, Germany, has a microprocessor control and extensive standard features, making it suitable for all flame-related applications in the laboratory. The streamlined design reduces airflow disturbances in laminar flow hoods. It is one piece of hydroformed stainless steel with no cracks or seams, so it will work in extreme lab conditions. The Safety Control System SCS constantly analyzes potential hazards and, if necessary, initiates safety measures such as interruption of the gas supply. In addition to the ignition and flame-control function, and the overheating protection, the new safety-enhanced system also features continuous burner-head control, which unfailingly identifies burner head clogging by liquids or solid substances. The adjustable automatic cutoff system inhibits unintentional ignition when the flame has not been ignited for a longer period of time. The burner can be operated with the exclusive Touch Free DoubleClick IR-Sensor or by the included foot pedal.
WLD-TEC
(310) 589-3709
www.wld-tec.com
---
BioPak C
Efficiently removes alkaline phosphatase
Millipore Corp, Billerica, Mass, has made available the new BioPak C disposable ultrafiltration cartridge. This in-line cartridge is designed to minimize alkaline phosphatase (ALP) released by bacteria that may be present in immunoassay and clinical analyzer feed water used to prepare buffers, make blanks, and rinse tubing and probes. CLSI Clinical Laboratory Reagent Water (CLRW type) can degrade quickly when standing in tubing and reservoirs during downtime, increasing bacterial counts and releasing ALP. When attached to any Millipore AFS or Elix Clinical water purification system as a final purification step, the filter will deliver ALP-free water with bacteria levels lower than 10 cfu/mL (typically < 1 cfu/mL). The filter allows flow rates up to 3 L/min at 1.5 bar and ensures up to 120 days of continuous operation. The BioPak C cartridge can be installed on most immunoassay and clinical chemistry analyzers.
Millipore Corp
(800) 645-5476
www.millipore.com