---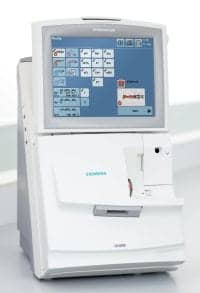 Blood Gas System
Cartridge-based point-of-care analyzer
Siemens Healthcare Diagnostics Inc, Deerfield, Ill, introduces the RAPIDPoint 500 Blood Gas System, the company's latest cartridge-based point-of-care (POC) analyzer for critical care testing. With results in approximately 60 seconds, the RAPIDPoint 500 analyzer offers a comprehensive menu of critical care tests for pH and blood gases, electrolytes, glucose and lactate,* and full CO-oximetry, including neonatal total bilirubin and total hemoglobin, all from a single, whole-blood sample. The measurement cartridges last up to 28 days and contain a full complement of tests, which reduces downtime. The system is also equipped with fully automated calibration and quality control.
*Not available for sale in US. Pending regulatory clearance.
Siemens Healthcare Diagnostics Inc
(877) 855-4873
www.siemens.com/healthcare
---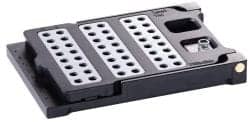 Micro-Volume Plate
Rapid nucleic acid and protein quantification
BioTek Instruments Inc, Winooski, Vt, introduces the new Take3 Trio, a microvolume, high-density plate for rapid nucleic acid and protein quantification without sample dilution. It is capable of measuring up to 48 2-µL samples. Microliter samples are pipetted onto specially coated slides that are simply wiped clean after the samples are read for simple maintenance. Take3 Trio and the original Take3 micro-volume plate are compatible with most of BioTek's microplate readers, including its newest Eon Microplate Spectrophotometer. Gen5 Data Analysis Software contains preprogrammed Take3 Trio protocols, and allows spectral scanning, sample naming, and parallel reading of samples and blanks.
BioTek Instruments Inc
(888) 451-5171
www.biotek.com
---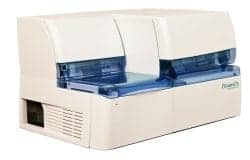 Iceplex Instrument
Simultaneous detection of disparate target types
PrimeraDx, Mansfield, Mass, offers the ICEPlex system, which is used for simultaneous detection and quantification of disparate target types, such as mRNA, miRNA, SNPs, and DNA. The company has developed an open platform enabling clinical labs to easily develop cost-effective, high-impact molecular diagnostic tests. The ICEPlex instrument has a simple workflow and comes with onboard software for assay design, data analysis, and reporting.
PrimeraDx
(508) 618-2300
www.primeradx.com
---
Embedding System
Can accommodate all cassette sizes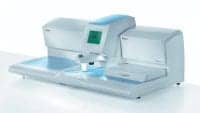 Thermo Fisher Scientific Inc, Fremont, Calif, introduces the Thermo Scientific HistoStar embedding system to deliver improved user comfort and productivity during the embedding process. The embedding center incorporates a continuously adjustable paraffin dispenser paddle for user-specific sample sizes. The HistoStar can also accommodate all cassette sizes and accept baskets from any tissue processor in its large-capacity specimen drawer. Its 5-Liter paraffin reservoir and large-area cold plate are designed to maximize productivity in the busiest of laboratories. Combined with patented cool LED lighting for improved specimen visibility, the HistoStar also provides five levels of illumination for both the specimen and accessory areas, eliminating the need for remote lamps and bulb replacement. The device offers a touch-screen design for parameter controls and programmable sleep mode for reduced energy consumption.
Thermo Fisher Scientific Inc
(800) 522-7270
www.thermo.com/pathology
---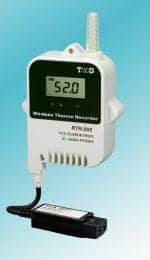 Wireless Data Recorder
Compatible with J-, K-, S-, and T-type thermocouples
T&D Corp, Saratoga Springs, NY, introduces its Wireless Data Recorder RTR-505TC, which can measure and record temperatures from -199°C to +1,300°C. These new data recorders are compatible with J-, K-, S-, and T-type thermocouples and accept industry-standard miniature connectors. The RTR-505TC has 15 recording intervals from 1 second to 60 minutes and a capacity to store 16,000 readings. Additional features include a large LCD display, IP64 water resistance, and battery life up to 4 years with "L" version. The units have a communication range up to 500 feet, which is extendable with a repeater. They are compatible with all T&D RTR-500 Series Wireless Data Collectors, which allow for data retrieval to a PC, over a network or the Internet, or through a cellular phone system.
T&D Corp
(518) 669-9227
www.tandd.com