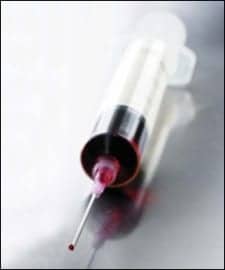 The measurement of gases in the blood is one of the first tests to be administered in the case of a critically ill or injured patient to make sure all the major organs are functioning properly, says Lauren Foohey, director of global commercial marketing, point of care, Siemens Healthcare Diagnostics, Deerfield, Ill.
"Blood gas analyzers assess a patient's oxygenation status, with results indicating whether appropriate levels of oxygen are getting into the blood and tissues. The test also indicates if carbon dioxide is being adequately removed from the body. Along with the oxygen and carbon dioxide levels, a basic blood gas test also measures the acidity of the blood, an indication of kidney malfunction if too high or too low."
Beyond the basic parameters, electrolytes, metabolites, and CO-oximetry are also commonly measured on blood gas systems. The electrolytes most frequently measured are sodium, potassium, ionized calcium chloride, and ionized magnesium. Metabolites typically measured are glucose, lactate, blood urea nitrogen, and creatinine, which evaluate blood sugar level, oxygen deficiency, and kidney function, respectively. CO-oximetry assesses the oxygen-carrying capability of blood measured by the total hemoglobin in the blood.
Direct Draws Reduce Contamination
Blood gas tests are unique in that they are not drawn into collection tubes. They are drawn directly into syringes and sampled from the syringe on the blood gas analyzer. Because gases are being measured, exposure to room air will alter the gas values of the blood, Foohey says.
Since patients requiring blood gas tests are typically in critical condition, hospitals often choose to perform blood gas testing at or near the patient. As a result, blood gas analyzers may be located at several sites throughout the hospital: in the main lab, in a STAT blood gas lab near the ICU, or in the operating room.
Siemens most recently introduced the neonatal total bilirubin parameter on the RAPIDLab® 1200 blood gas analyzers. Elevated levels of bilirubin can lead to a variety of health issues in newborn infants, from jaundice to neurological disorders, and, in severe cases, brain damage. The Siemens neonatal total bilirubin test requires a small amount of blood—only 100 µL—and offers test results in just 60 seconds. It is important to note that the neonatal total bilirubin test can be reported separately or as part of a panel that includes blood gases and pH, electrolytes, glucose, lactate, total hemoglobin, and full CO-oximetry.
"Siemens is actively working on developing the neonatal total bilirubin application on our point-of-care blood gas system, the RAPIDPoint® 405 analyzer," Foohey says. "Neonatal total bilirubin will be offered to all our existing RAPIDPoint 405 customers through a software upgrade. The results can be reported separately or as part of a panel that includes blood gases and pH, electrolytes, glucose, total hemoglobin, and full CO-oximetry."
She notes that point-of-care testing for critical care analytes continues to increase due to the demands for improved workflow and tangible, positive patient outcomes. With the continued migration of testing for these critical analytes from the laboratory to the point of care, there is the demand for simplicity in both instrument design and use, coupled with the need for an extensive critical care test menu. More importantly, manufacturers must address one of the most significant challenges in point-of-care testing: the growing demand for integrated informatics and data-management solutions.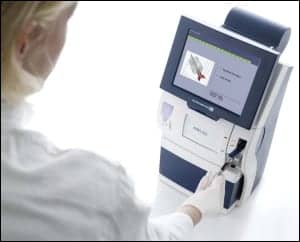 Radiometer America's ABL90 blood gas analyzer
Refined Technology Allows Faster Turnaround
Peter Will, general manager of Block Scientific Inc, Bohemia, NY, which offers recertified blood gas analyzers from leading manufacturers, says the technology used by blood gas analyzers hasn't undergone any major changes recently, but it has been refined. "Now," he says, "the focus is on analyzers with faster turnaround times or which require smaller sample sizes and that are more technician-friendly. Several analyzers that use electrodes to obtain results are now maintenance-free, and the analyzers have become smaller in size; analyzers used at point of care are now handheld."
Kevin Ball, global marketing manager, acute care, Abbott Point of Care, Abbott Park, Ill, says Abbott's i-STAT system is unique in that the device is small and portable and designed to be run by caregivers at the bedside, whereas most other blood gas analyzers are larger, benchtop models that are used in central laboratories or STAT labs. The i-STAT handheld device is usually used in critical care areas of the hospital for blood gas testing and usually utilized by nursing or a respiratory therapist.
The i-STAT system uses only two to three drops of blood, which is dosed in a cartridge and placed in the analyzer at the bedside. The i-STAT handheld device displays the results in about 2 minutes at the bedside. From there, the results are used in assessing the patient where treatment decisions are made, Ball says.
"Bedside testing is steadily growing as clinicians continue to look for ways to improve patient care and streamline departmental efficiencies. By moving testing to the bedside, departments are able to decrease complex steps seen in traditional laboratory processes, which allows for quicker time to results," Ball says.
The latest analyzer launch from Radiometer America Inc, Westlake, Ohio—the ABL90—received 510(k) clearance in August, says Jan Weaver, its marketing communications manager.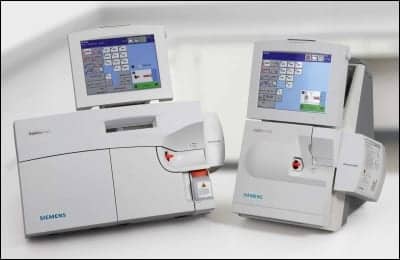 Siemens' blood gas analyzer
The ABL90 FLEX analyzer is the latest addition to Radiometer's blood gas line, offering speed and high throughput in a compact instrument, Weaver says. "It delivers blood gas results in 35 seconds, a turnaround time (TAT) unmatched by other blood gas analyzers on the market. And the analyzer also processes up to 44 samples per hour. The short TAT and high-throughput capacity, combined with the analyzer's time and labor-saving features, enable clinical caregivers to spend less time on testing and more on patient care," Weaver says.
Designed specifically for point-of-care testing, the ABL90 FLEX is a test-select analyzer that measures 16 parameters, including blood gases, electrolytes, metabolites, and CO-oximetry, from just 65 µL of whole blood. Weaver says the ABL90 FLEX is equally well-suited to lab or POC applications and offers automatic quality management (AQM) and easy replacement of consumables. With a footprint about the area of a sheet of paper, the ABL90 FLEX fits easily within the confines of the hospital's clinical POC areas, Weaver says.
The epoc® Blood Analysis System, distributed by Alere Inc, Waltham, Mass, mainly comprises a handheld computer referred to as the Host with a sample port area where patient testing is run. The epoc Blood Analysis System is Wi-Fi capable and includes an integrated bar code reader for patient identification, says Michelle Fradette, Alere marketing communications manager.
Prior to testing, the blood analysis system is calibrated with a few simple data entry steps. After successful sample addition to the "epoc Smart Card," the test card is inserted into the epoc Host Portal, where it makes contact with the onboard reader. The card is capable of simultaneously running a panel of a combined total of nine blood gas, electrolyte, and metabolite analytes from a single sample at the patient's bedside. It takes about 30 seconds to results after sample introduction. Used in hospitals mainly for inpatients, both children and adults, it is also found in NICU units where it is especially useful in monitoring premature infants, or infants with critical health issues where a small sample size (about 90 µL) can be an advantage.
According to Fradette, the epoc system's test cards, unlike many other systems, have no immediate refrigerated storage requirements, offering up to 6 months' storage at room temperature. The cards can be placed at the patient's bedside with the epoc system, at the nurses' station, in the operating suite—whenever and wherever it's most convenient for the flow of patient care. All that's required is a 90-µL blood sample.
The epoc BGEM test card is a blood gas, electrolyte, and metabolite panel consisting of the following:
measured analytes: pH, pCO2, pO2, Na+, K+, Ca++, Glu, Lac, and Hct; and
calculated values: HCO3–, TCO2, Base Excess, cSO2, and cHgb.
Fradette says that with its small size and wireless capability, epoc keeps caregivers at the bedside where they are needed most, not running back and forth between a distant workstation or laboratory. It seamlessly integrates into existing wireless networks and easily interfaces with most hospitals' LIS/HIS systems. Additional epoc readers can be placed where needed, and can interact with an unlimited number of epoc Host systems.
The epoc system simultaneously tests for a combined total of nine blood gas, electrolyte, and metabolite measures, including two that were added this year: glucose and lactate. Testing can take as little as a total time of 10 minutes from start to finish (results) with only about 30 seconds from sample addition to read results. And because of Wi-Fi, the results are in the hospital computer for the physicians or other personnel to access immediately, Fradette says.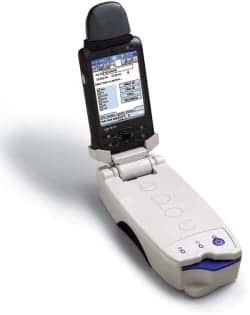 Alere's epoc One System
Controls, As Always, a Critical Piece
RNA Medical, Devens, Mass, manufactures quality control materials. Patricia Gowdy, from its marketing and technical support department, says regulatory requirements mandate that blood gas quality controls must be run every 8 hours of operation. Quality control samples are run to monitor the blood gas analyzer's performance. Blood gas quality controls are generally supplied at three levels that span the clinical range (low, normal, and high) of the analytes tested on the blood gas analyzer (pH, blood gas, electrolytes, metabolites, and CO-oximetry). Since external quality controls test the entire system, including the patient sample path, a successful QC test confirms that the analyzer is performing within spec and that the user is performing tests properly, Gowdy says.
Regulatory requirements state that CVC must be run every 6 months or after major maintenance to the blood gas analyzer is done, Gowdy says. "The CVC material is generally supplied at values that span the reportable or analytical measurement range of the blood gas analyzer. The CVC allows the user to check the linearity and calibration of their analyzer using known samples. The user can then submit their results and be compared to a peer group to verify the calibration of their analyzer. Similar to the external QC, the CVC tests the entire system also," she says.
Gowdy notes that most blood gas analyzers are located in the hospital laboratory or at point-of-care sites. The quality control and calibration verification materials are performed on all blood gas analyzers regardless of location. Quality control materials are introduced to the instrument in different manners, depending on which blood gas analyzer it is.
For the smaller cartridge-based instruments, QC materials might be introduced in the same manner as a patient sample would be, by using either a syringe or dropper. For the larger instruments, the material is introduced by direct aspiration, and in some instances an adapter may be required if the opening of the control vessel and the analyzer aspirator is not compatible. The frequency that QC materials are run is based on regulatory requirements, instrument manufacturers' suggestions, and hospital protocol.
The sample size required to do the testing is no more than 2 mL of solution, and usually much less, Gowdy says. For most analyzers, it takes between 1 and 3 minutes to achieve a reading.

To stay ahead on developments in analyzers, bookmark this website.
Quality control results may be reviewed in comparison to a peer group as part of an overall proficiency program. Analysis of peer group reports allows technicians to identify trends and deviations from other instruments participating in the group, Gowdy says, and this can be an invaluable tool in the proactive identification and/or verification of analyzer performance issues. This monthly evaluation can be complementary to typical proficiency programs that employ quarterly evaluations. Many interlaboratory statistics programs now support data entry over the Web with the more advanced solutions offering report printing and editing in real time instead of with a processing delay.
---
Gary Tufel is a contributing writer for CLP.