In the clinical laboratory, as in real estate, there are times when location is everything. Today's technologies for bar coding and radiofrequency identification (RFID) can make locating specimens, supplies, and even staff members foolproof. In addition, they can improve efficiency, ensure correct billing, and improve patient safety for a relatively small financial outlay.
Bar codes and RFID tags can tell information systems nearly anything that the user wants them to know. They can be used to follow a specimen from its acquisition through each stage of testing to its final disposition, so its physical location is always known.
These technologies also ensure that the specimen came from the right patient in the first place, and that the results will be matched with the correct patient record. Losing a specimen was once a fairly regular occurrence in many clinical laboratories, but bar codes and RFID tags make this far less likely. If the specimen was scanned into the information system initially, it can be located readily.
This avoids repeat testing and improves patient satisfaction by eliminating the need to provide additional samples. Any outpatient who must return to provide an additional specimen is likely, at the very least, to grumble. Since patients and referring physicians perceive the laboratory's quality of service to be much higher if specimens are not lost, many laboratories have adopted bar coding.
Busy laboratories, of course, have been known to lose more than specimens. Supplies and other inventory items can be tracked using bar codes or RFID tags so that they are less likely to be misplaced and more likely to be restocked before shortages occur. Some facilities with large, decentralized laboratory operations even have staff members scan in their locations as they move about throughout the day, allowing the nearest person to be sent to the place where a problem has arisen.
The other item sometimes lost in the laboratory is the charge. Where manual coding and billing are used, there are inevitably some tests performed that are never connected to a patient's record or billed to the payor. Using bar coding and RFID tagging, the laboratory can ensure that every test performed generates a charge. While this cannot improve per-test reimbursement rates, it can certainly help the laboratory gain reimbursement for more of its work.
RFID tagging in health care is fairly new. Capabilities are developing rapidly, but many of the companies involved have come from retail-operation backgrounds and are still fine-tuning their systems for hospital use. While bar coding is a more mature technology that has been available for many years, it also continues to evolve, with systems becoming more portable and flexible. With the addition of wireless Internet (Wi-Fi) and Bluetooth capabilities, bar coding and RFID systems are also becoming less location-dependent and more alike.
On the Market
Metrologic, Blackwood, NJ, makes the VoyagerBT™, a handheld bar-code scanner that uses Bluetooth technology to communicate with other devices and information systems. This is a single-line laser scanner that confirms each scan with visible and audible signals. The unit can be wall-mounted to conserve space and has automatic infrared activation to detect bar codes. The patented RangeGate® technology that is incorporated in the scanner lets it scan 250 bar codes while its host information system is out of range. CodeGate® data transmission, also included, is described by the manufacturer as ideal for applications that call for menu scanning.
The LS 2200 is a handheld bar-code scanner series that was originally developed by Symbol Technologies, now owned by Motorola, Schaumberg, Ill. These inexpensive scanners are small and weigh only 146 g. They are bidirectional and have been used extensively in hospital settings, particularly for inventory-control and pharmaceutical applications. They include the 123Scan utility for setup and have integral shock protection. Ergonomically designed and having a working range of up to 43 cm, the LS 2200 scanners are capable of handling 100 scans per second. Multiple interfaces are resident to guarantee connectivity, so the company describes these as future-proof scanners. Data can be modified before being sent to the host computer, and cables can be shared.
Hand Held Products Inc, Skaneateles Falls, NY, offers the HHP 4820 Cordless 2D Imager, which adds Bluetooth connectivity to a bar-code reader. Adaptus™ Imaging Technology 5.0 allows this unit to be used as either a cordless scanner or as a fixed countertop scanner with a small footprint. This model is exceptionally durable, with no moving parts. It has a rechargeable battery that can power 50,000 scans during a 16-hour period before it needs a 4-hour full recharge. It reduces data collisions in the RF and Wi-Fi bands most commonly used in hospitals through the Adaptive Frequency Hopping™ of Bluetooth v1.2.
Hema-Trax™ ISBT-128 is available from Digi-Trax Corp, Lincolnshire, Ill. This stand-alone software package for blood banking runs on Windows platforms. In addition to supporting the manufacturer's blood-bank bar-code printers and scanners, Hema-Trax can use EtherLite® ports for printing and communications. The software allows complete control of the label's data content, but does not require the user to deal with bar-code structure or printer commands. Hema-Trax produces about a dozen basic label types, covering the full range of blood-banking needs and including information on blood groups, expiration dates, facilities, instructions, products, unit-donation sets, intended recipients, and ID numbers.
Zebra Technologies Corp, Vernon Hills, Ill, manufactures the QL series of thermal bar-code printers for specimen labels. They can be used at the bedside for immediate specimen ID and can be used in the laboratory to label vials, slides, and petri dishes. Blood-bag labels with nonseeping adhesive can be printed for blood banking. Bar codes can be combined with text and graphics for printing, and Zebra supplies many specialty labels to fit unusual specimen containers. Bar codes stay sharp through centrifugation, heating, cooling, and autoclaving because of special label coatings. A rubberized overmolding makes QL printers durable. Secure wireless communications options are available for these printers, which can receive network messages via Bluetooth or 802.11/802.11b Wi-Fi.
Zebra's durable ZM400 thermal printer is designed for high-volume applications, and when combined with Zebra's thermal labels, generates crisp, smudge-free bar codes that remain scannable even when exposed to soap, alcohol, water, blood, lab washes, sterilization, and cold storage. The printer's rapid throughput and up to 10-inches-per-second print speed, along with simplified media loading and ease of maintenance, enhance lab productivity and streamline workflow. Integration with the leading laboratory information systems, flexible network connectivity, and upgradability ensure that the ZM400 can accommodate a lab's changing needs.
Featuring a space-saving desktop design, Zebra's direct thermal LP2844-Z bar code label printer is equipped with a 32-bit microprocessor for rapid label processing and throughput. A special design that tucks the printhead into the printer's top cover simplifies media loading, and a clear media window enables easy monitoring. The ability to utilize a 5-inch media roll results in fewer label roll changes, further increasing lab efficiency.
The RFID Anywhere system, offered by iAnywhere Solutions, a subsidiary of Sybase, Dublin, Calif, is designed to reduce errors and improve information handling while decreasing test turnaround times as much as 15% to 20%. In conjunction with the Sybase Provider Kiosk, this RFID system can provide secure test ordering and results distribution that are both integrated with physicians' practice-management systems. Restocking and billing/claims functions are also supported. A middleware component tracks specimens in real time, from acquisition to archiving. Each time a specimen is handled, the RFID tag stores data concerning when, where, and by whom it was touched. This can help technologists prove how busy they are, in addition to providing managers with productivity information.
SkyeTek, Westminster, Colo, produces RFID readers called SkyeModules that use Advanced Universal Reader Architecture, or AURA™, to allow a small RFID device to perform sophisticated duties. One of the company's strengths is its ability to customize embedded-RFID hardware and software to suit the needs of the clinical laboratory and blood bank. The company has helped clients select RFID tags, integrate various modules, design and tune antennae, train staff in RFID use, and meet regulatory and certification requirements. Encryption provides security for tag data. A formal SkyeTek process, Springboard™, can be used by laboratories that need feasibility analysis before proceeding with an embedded RFID project.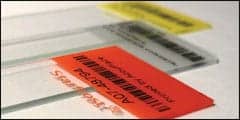 AccuPlace, Plantation, Fla, introduced the pathology slide identification machine (PSLIM) to provide labs with an efficient way to control slide identification and save costs.
Thermo Fisher Scientific Inc, Waltham, Mass, offers the Thermo Scientific VisionMate® Wireless 2D Barcode Reader (Item No 3123), a handheld, 2D bar-code reader with the capacity to also read 1D bar codes. The VisionMate Wireless can be used very simply as a plug-and-play reader via the USB cable. Alternately, with the included software and USB Bluetooth adapter, it can be used in wireless mode, enabling a laboratory technician to read 2D codes directly into a database, spreadsheet, or LIMS from up to 100 meters away.
The new Thermo Scientific VisionMate High Speed 2D Barcode Reader (Item No AB-1850) is the most flexible and universal full-rack reader available, reading full racks of tubes in virtually any array in a microplate footprint (for example, 8 x 12, 4 x 8, 2 x 2, etc). Additional features include automatic rack orientation, lights that are on only during use to conserve energy, operation down to -40°C, software designed to save computer memory, and Microsoft Windows XP and Windows Vista compatibility. Additionally, it has a single-tube mode, allowing it to operate like other single-tube readers, eliminating the need for supplemental readers in the laboratory.
AccuPlace, Plantation, Fla, introduced the pathology slide identification machine (PSLIM) to provide labs with an efficient way to control slide identification and save costs. PSLIM prints specimen slides on demand and can easily be integrated at workstations or put on shelves on top of workstations. It prints in direct transfer process, eliminating the need for labels, and does not require specific slides, which means considerable cost savings in consumables. PSLIM can receive the data to be printed from various sources: Ethernet or USB, allowing it to interface with a PC or a LIS. It prints up to 25 slides per minute and has a 150-slide input stack as well as a 10-slide output stack capacity. The machine's user interface is friendly and very easy to operate. With all these features, it meets the requirements for both small and large laboratories.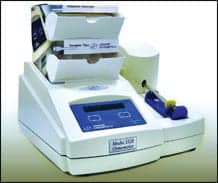 Advanced® Model 3320 Osmometer from Advanced Instruments Inc.
The Advanced® Model 3320 Osmometer from Advanced Instruments Inc, Norwood, Mass, features a bar code reader and printer features to surpass previous standards of performance for freezing-point measurement. A user-selectable, optional calibration routine optimizes the linearity in the instrument's upper range (up to 2,000 mOsm) and ensures testing accuracy and precision over the entire calibrated range. The instrument's low-profile, compact enclosure provides easy access to the sample probe and solenoid assembly. Its simple architecture eliminates sample errors, simplifies testing, and promotes maintenance-free operation. Features include 60-second testing time, bar-code capability for improved documentation, electronic storage and retrieval of up to 30 tests and calibration data, standard deviation, multiple language capability, data export capability for linking to an external computer, and downloadable software upgrades.
Blue Vector Systems, Palo Alto, Calif, offers the Blue Vector Serialization Station. The new product, available in several form factors, is a convenient user-friendly station for scanning the serial numbers of pallets, cases, totes, and items throughout the pharmaceutical supply chain. The station automatically handles the transmission of the status of each item to central pedigree systems and outside billing agencies. Because of the diversity of tagging standards employed by manufacturers around the world, the station supports any combination of commonly used serialization technologies, including linear and two-dimensional bar codes, and RFID tags, both UHF and HF types.
System Implementation
To stay up to speed on bar coding, bookmark our website.
RFID systems are typically sold as complete packages incorporating, at a minimum, tags, tag readers, RF signal networks, and information-system interfaces. Bar coding is more likely to take a best-of-breed approach, with existing laboratory/hospital information systems or middleware adapted to accept data from desktop or portable bar-code readers, and with handheld or fixed-location printers used to generate labels.
Many laboratory instruments also can use included or optional bar-coding systems, and several types of reagents and supplies can be purchased with bar codes already in place. For the most efficient system to be implemented, some professional assistance will probably be needed in coordinating information flow among various instruments and information systems, but bar-coding product vendors may make this expertise available as part of the laboratory's hardware/software purchase.
---
Kris Kyes is technical editor of CLP. Shannon Rose is a freelance health and medical writer based in Temecula, Calif.