Fastcam MC1
High-speed camera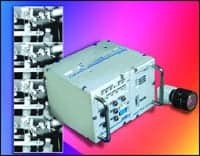 The new Fastcam MC1 from Photron Inc, San Diego, is a high-speed camera designed for production-line fault-finding and process control. The small (35-mm cubed, less than 1.5-inch) remote-head camera delivers 2,000 frames per second (fps) at full resolution, and up to 10,000 fps at reduced resolution. The compact camera housing eases installation in difficult-to-reach locations and makes it helpful for slow-motion trouble-shooting on the production line. The camera uses the same tiny, ruggedized camera head as the company's Fastcam MH-4 high-speed imager, which is designed to withstand up to 100 Gs in the harsh, automotive crash-test environment. The head connects to a compact processor unit via a flexible, shielded 7-meter (23-foot) camera cable, allowing for placement of the small imager into confined spaces. Two memory options provide for either 2 seconds (1GB) or 4 seconds (2GB) of record time at full 2,000 fps resolution, and 8 seconds (1GB) or 16 seconds (2GB) at 500 fps. Four user-set buttons on the front panel allow users to change their choice of camera parameters with only a display monitor connected to the processor's BNC video-out connector. For more complicated setups, the camera is available with an optional remote keypad with a built-in 5-inch LCD via the RS-422 connector. The company's fastcam viewer software is included, and it can be used via the supplied gigabit Ethernet connector for remote control and image download. For machine vision applications, the high-speed remote head camera is fitted with a C-mount lens adaptor. Power supply is 24V DC, though an AC power supply is provided.
Photron Inc
(800) 585-2129
www.photron.com
---
Multi-Sample 20G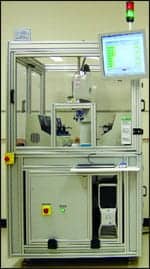 Freezing-point osmometer
Advanced Instruments Inc, Norwood, Mass, introduces a freezing-point osmometer. The high-throughput Multi-Sample 20G device measures more than 180 samples per hour, with each test taking less than 2 minutes. Designed to automate laboratory work and reduce the time for cell culture process optimization, it incorporates eight computer-controlled osmometers and a robotic sample-handling system, all enclosed in a safety cabinet. The model offers random-access, fully programmable system controls; statistical analysis components that provide mean, standard deviation, and coefficient of variation functions, data export, LIMS user interface, flexible reporting options, and results storage/retrieval; a bar code reader that provides additional input options; and a sterile consumables containment area that prevents contamination of cell-culture reactors.
Advanced Instruments Inc
(800) 225-4034
www.aicompanies.com
---
Quick Ship Program
Lab cabinets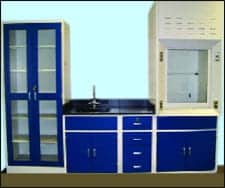 Laboratory casework and fume hoods can be shipped in 7 to 10 days via the quick-ship program from Duralab Corp, Parlin, NJ. A variety of base cabinets, including 24-inch, 35-inch, and 47-inch widths, sink units, table aprons, open-wall cabinets, and 47-inch and 70-inch fume hoods, are available. The components allow users to design a lab, with the materials ready to be installed within days. Over the past 40 years, the company has equipped thousands of laboratory facilities in the industrial, pharmaceutical, medical, and educational research marketplaces. The engineering department can assist in project planning, design, and cost estimating. A factory-trained labor force is available for nonmechanical installation.
Duralab Corp
(888) 805-1740
www.DuralabCorp.com
---
Energy-Efficient Fume Hood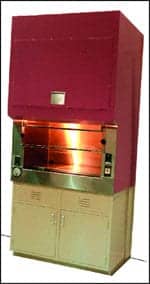 Vents to rear
Lab Fabricators Co, Cleveland, offers a redesigned air plenum and directional air vanes in its Energy Efficient Fume Hood line. The equipment creates a uniform, low-velocity air curtain across the hood's face that contains and carries away fumes inside the hood to the rear exhaust port. Supplemental air is not forced down and onto the hood operator. The combined supplemental air and exhaust air form a push-pull effect that requires less energy consumption of conditioned room air, while protecting lab personnel from toxic fumes. A 90% reduction of expensive heated and air-conditioned room air is achieved when the supplemental air comes from outside the lab. The cost to install new or larger air conditioning and heating equipment is reduced when additional fume hoods are installed in the lab. A 6-foot-long, 90% energy hood reduces consumption of conditioned room air. The equipment passes the three-stage ANSI/ASHRAE test. The average of the three tests recorded by the probe in the gas analyzer was 0.02 parts per million.
Lab Fabricators Co
(888) 431-5444
www.labfabricators.com