Photo courtesy of Carl Zeiss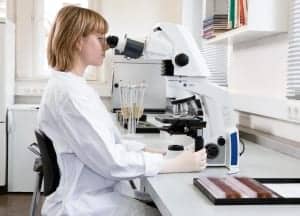 Clinical microscopes are vital tools used by clinical labs and physicians to make proper diagnoses and identify pathogens. The very specific needs by clinical labs for microscopes that are accurate and fast have narrowed the field to a focus on confocal microscopes. These microscopes use an optical imaging technique to increase the optical resolution and contrast of a micrograph by using point illumination and a spatial pinhole to eliminate out-of-focus light in specimens that are thicker than the focal plane, according to the 2006 Handbook of Biological Confocal Microscopy (JB Pawley, editor). It enables the reconstruction of three-dimensional structures from the obtained images.
But there are other microscopy considerations in the modern clinical lab.
Today, says Ron Zibilich, national clinical sales manager, Nikon Instruments Inc, Melville, NY, adaptability and security are two key microscopy trends Nikon Instruments is seeing in the clinical lab setting, and which it expects it will continue to see in the future. "From the adaptability of microscopes and digital cameras to the security of live and static image-sharing across labs, the marriage of adaptable microscopy tools with a collaboration-based approach is becoming increasingly essential," Zibilich says.
Why are these trends relevant? "It's all to aid in the speed and accuracy of a diagnosis, Zibilich says. "Overall, a microscope platform that enables viewing, capturing, and sharing of images quickly and easily is what our customers are asking for and what we are providing them," he says. "Nikon's adaptable microscopy and digital camera systems, together with secure, centralized image networks, help laboratories provide consultation and diagnosis more quickly."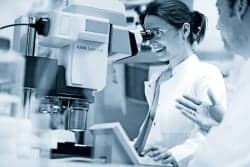 Lab technician using the Carl Zeiss Axio Zoom.V16, an advanced zoom microscope that is specifically designed to provide high resolution for large object fields.
Zibilich identifies a key challenge clinical laboratories face: budgetary constraints and the uncertainty of reimbursements. He says that with the uncertainty of health care reimbursements, laboratories are required to focus on more cost-effective alternatives.
"The Nikon products are ergonomically designed to provide additional comfort, increased productivity, and reduced operating costs," Zibilich says. "Nikon Instruments understands that superior image quality and the speed of diagnosis are crucial for the success of clinical labs nationwide. Due to the budgetary constraints labs are facing, when laboratorians are purchasing equipment, they must take into account the overall quality of the microscope and its suite of digital imaging tools to ensure both will not just increase productivity, but be durable enough to withstand frequent use and design for longevity."
But there are other industry challenges, such as the role of an aging and diminishing workforce.
"The graying and shrinking workforce across labs today reinforces the importance of creating more effective ways for labs to complete their workload," Zibilich says. "One area Nikon sees this manifest strongly is in working tirelessly to create microscope and digital systems that are easy to use and provide increased output."
TECHNOLOGY ADVANCES
The growing embrace of digital pathology has also changed the use of the microscope in the lab. Zibilich says that the unique enhancements of the microscope and camera systems offer the ability to share live and static images over the laboratory's Intranet or Internet without additional software that could compromise the integrity of the lab's network system. The resolution and color correction of the shared image leads to greater efficiency and faster diagnosis.
And, he says, additional changes are coming in the lab as technological advancements continue.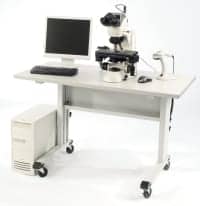 The BD FocalPoint™ GS Imaging System allows cytotechs to focus their efforts where their expertise is greatest; the finding and interpretation of disease.
"Nikon fully expects that image sharing and adaptable collaboration will continue to be at the forefront in clinical labs, particularly as technological advancements evolve," Zibilich says. "And as more images are shared and archived into centralized systems within labs, the speed at which diagnoses can be determined will increase."
According to Chris Demiris, worldwide group marketing manager, BD Diagnostics – Women's Health and Cancer, Sparks, Md, the BD FocalPoint™ GS Imaging System, with its unique technology, helps the pathology laboratory address issues surrounding disease detection, quality control, and throughput.
The system uses software algorithms that screen for more than 100 object analysis features to determine potential abnormality, Demiris says. "It identifies up to 10 fields of view on the slide that are most likely to contain abnormal cells and presents the slide results data to the cytotechnologist. This allows the cytotechs to focus their efforts where their expertise is greatest: the finding and interpretation of disease. These factors help to contribute to the 19.6% increase in detection of HSIL+ over manual screening.
"In today's laboratory, where there is a large focus on risk management, the BD FocalPoint GS Imaging System is the only system that currently targets this need with its Directed QC Technology™," Demiris says. "The directed QC targets up to 15% of the slides with the highest likelihood of containing an abnormality and interpreted as NILM by the cytotech to be QC rescreened. In our clinical trial, the system showed a 19.61% reduction in false negative cases in the HSIL+ category. This is currently the only FDA-approved system with a built-in directed QC method."
The system also allows for maximum screening efficiency to meet the current screening workload guidelines. Multiple BD FocalPoint GS Review Stations can be linked to one BD FocalPoint System to allow multiple cytotechs to comfortably screen more than 100 slides in a given workday. This may allow a lab to take on more cytology business or allow for more time to run other tests, such as the BD Affirm™ VPIII Microbial Identification Test.
---
Gary Tufel is a contributing writer for CLP. For more information, contact Editor Judy O'Rourke, .
NIKON INSTRUMENTS' UPGRADE TO MICROSCOPE AND CAMERA SOFTWARE ENHANCES IMAGE ACQUISITION, CONTROL, MANAGEMENT
In 2011, Nikon Instruments released NIS-Elements, Version 4.0. With more than 100 new functions, the new version of the company's software features an improved interface designed for ease of use. Multiple user accounts with customized settings are easier to manage, and image analysis functions are expanded with more flexibility and advanced computation. NIS Elements 4.0 also allows for powerful 3D volume rendering, measurement, and tracking.
An enhanced interface makes switching between microscope applications effortless, and a configurable quick-context option is available through a user-friendly menu. Image processing offers support for 32-bit floating-point image calculation and viewing. Custom equation building and custom feature creation is available, allowing for endless options for analysis and processing. Version 4.0 is compatible with the existing and latest Nikon systems, ensuring familiarity on all Nikon imaging platforms as well as third-party cameras and hardware.
The goal for the latest iteration of NIS-Elements was to make a simpler user experience while maintaining the powerful image-acquisition and management functions for which the software is known, according to Rich Gruskin, general manager of software systems, Nikon Instruments Inc. He says Version 4.0 meets that challenge and provides the support core facilities need to manage sophisticated projects.
Core equipment sharing is enhanced with an improved user-rights management function that allows the same Windows account to be used for multiple NIS-Elements user accounts. There is also a usage-time logging function for imaging facility managers. New developments in DAQ Control in NIS-Elements allow for an increase in the frequency of recorded data, precise acquisition times, and calibrated inputs and outputs.
NIS-Elements software continuously offers new options for acquisition controls to match the constant evolution and improvement in detection methods and imaging speed. In Version 4.0, there are new autofocus options using triggered piezo Z and focusing using surface information available to address a sample with a nonuniform surface. New updates to XYZ Overview and Scan Large Image create new options for navigating and managing multiple-stage positions.
Version 4.0 now offers a tracking functionality previously only available with dedicated tracking software products. Improved 2D tracking algorithms enable interactive tracking of numbers of objects (more than 2,000), object splitting, as well as objects entering, leaving, and disappearing from the field of view. The module also supports lineage tracking for cells over time. The software can now track objects live during acquisition, moving the X, Y coordinate according to the object's location.
Analysis of 3D images has also become essential with the increasing use of confocal and multiphoton microscopy. Tile view, slice view, and volume view have all been enhanced with extra features for improved viewing and manipulation, and 3D tracking and measurement have been added to the software's expanding functionality. Viewing time-lapse data sets in the Volume Viewer is a new function, which can show changes in a data set over time as a single-volume view.
Commonly used and popular analysis dialogs have also been enhanced and updated, and useful functions such as a bright-field channel opacity control to enable fluorescence and bright-field images to be viewed together without obscuring detail are offered. NIS-Elements now also supports additional file format options—including the medical imaging standard, digital imaging, and communications in medicine (DICOM) and the Nikon BioStation *.nex format.
NIS-Elements Version 4.0 is available with a current Nikon Software Update Agreement, allowing access to software updates as well as the ability to download the latest full retail releases of NIS-Elements at no additional charge during the first year, with further-year options available.
AMONG THE RESOURCES FOR MICROSCOPES AND MICROSCOPY-RELATED PRODUCTS:
CAMERAS, MICROSCOPES,
MISCELLANEOUS ACCESSORIES: