Variant II Turbo Link System
Automated hematology and HbA1c testing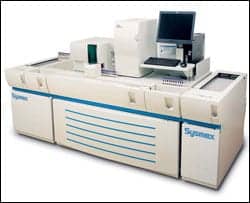 Bio-Rad Laboratories Inc, Hercules, Calif, and Sysmex, Mundelein, Ill, have developed an automated hematology and HbA1c testing solution that improves laboratory workflow. The Variant II Turbo Link integrates HbA1c testing into Sysmex's HST-N hematology automation platform. Benefits include efficient sample handling through workstation consolidation; quality patient care by exposing potential variant hemoglobins that may interfere with other methods; turnaround time improvements by automating data and sample decisions through the use of Sysmex's Molis Wam software.
Bio-Rad Laboratories Inc
(510) 724-7000
www.bio-rad.com
---
Digital Cell Morphology System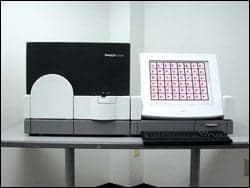 Automates location and preclassifies white blood cells
Abbott, Abbott Park, Ill, and Medica Corp, Bedford, Mass, have partnered to introduce the Cell-Dyn EasyCell digital cell morphology system, designed for use in hospitals and clinical labs. This product automates the location of white blood cells on a stained blood film and preclassifies them. Medica will manufacture the system, and Abbott will distribute it.
Abbott
(847) 937-6100
www.abbott.com
Medica Corp
(800) 777-5983
www.medicacorp.com
---
Hormone Test Kit
Unit dose test cups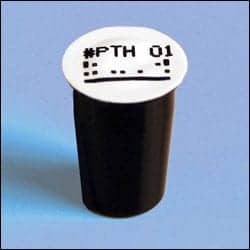 Tosoh Bioscience Inc, San Francisco, has created the ST AIA-Pack Intact PTH for the quantitative measurement of parathyroid hormone in human serum and EDTA plasma on all Tosoh AIA system analyzers. Measurements of parathyroid hormone levels are used in the differential diagnosis of hypercalcemia and hypocalcemia resulting from disorders of calcium metabolism. The product can be assayed on the company's AIA systems including the AIA-360, AIA-600II, and AIA-1800, and offers a 10-minute incubation period. Features include sensitivity of 1.0 pg/mL and 90-day calibration stability.
The AIA-360 is a small-footprint, lightweight automated immunoassay analyzer (16w x 16d x 21h, 61 pounds) for assaying intact PTH, which redefines the use of Intact PTH for patients undergoing parathyroid surgery. The AIA-360 is suited for surgical suites, dialysis clinics, and nephrology offices as a dedicated system, or for full-menu testing. Hospitals and laboratories with high-volume testing needs may opt for the AIA-600II and AIA-1800.
Tosoh Bioscience Inc
(800) 248-6764
www.tosohbioscience.us
---
Phosphatase Assay Kit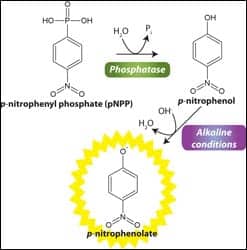 Performs up to 1,000 assays
The Phosphatase Assay kit from G-Biosciences/Genotech, St Louis, is designed to measure the activity of phosphatases in biological samples and to screen for agonists and inhibitors of phosphatases. The Phosphatase Assay kit uses paranitrophenyl phosphate (pNPP), a chromogenic substrate for most phosphatases, including alkaline phosphatases, acid phosphatases, protein tyrosine phosphatases, and serine/threonine phosphatases. The phosphatases remove the phosphate group to generate p-nitrophenol, which is deprotonated under alkaline conditions to produce p-nitrophenolate, which has strong absorption at 405 nm. The kit's components are sufficient for performing up to 1,000 assays in a 96-well plate format and are easily adaptable to cuvettes or 384-well plates.
G-Biosciences/Genotech
(800) 628-7730
www.gbiosciences.com
---
Kova-Style Urine Sedimentation System
Features a graduated urine tube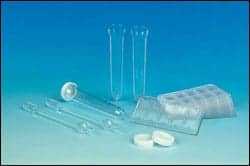 Biomedical Polymers Inc, Gardner, Mass, a manufacturer of plastic consumables for research and medical diagnostic laboratories, has announced the availability of its Kova-Style Urine Sedimentation System. The BMP system features a 15-mL graduated urine tube designed to yield 1 mL of urine-containing sediment for further evaluation. After centrifugation, the decanting pipette is inserted into the bottom of the tube, allowing the supernatant to be decanted off, leaving 1 mL of urine-containing sediment in the bottom of the tube. The system also provides optically clear acrylic slides that can be used to analyze up to 10 samples simultaneously. These slides feature an integral coverslip and 10 individual chambers that are sealed on three sides to prevent cross-contamination. The flatness of the slide as well as the uniform depth of field between the coverslip and the viewing platform provide a uniform monolayer and single focal plane across all 10 chambers.
Biomedical Polymers Inc
(800) 253-3684
www.biomedicalpolymers.com
---
Acetylcholine Receptor Autoantibody ELISA Test Kit
For measuring AchRAb antibodies
Kronus, Boise, Idaho, announces the availability of a nonisotopic ELISA test kit for the detection and measurement of antibodies to the acetylcholine receptor (AchRAb). The measurement of AchRAb is useful in the differential diagnosis and management of myasthenia gravis (MG), a neuromuscular disorder that results from a disruption of normal nerve-to-muscle signal transmission. AchRAb is present and measurable in approximately 80% to 90% of MG patients. As with the company's other AchRAb products, this new ELISA uses an optimally balanced mixture of affinity purified fetal and adult-type AchRAb preparations, resulting in unparalleled sensitivity and specificity.
Kronus Inc
(800) 4-KRONUS
www.kronus.com