Hand Sanitizer
Made from natural ingredients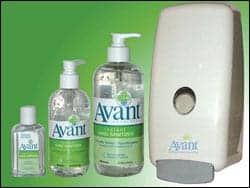 Unimed-Midwest Inc, Burnsville, Minn, offers Avant, a hand-hygiene product line produced from domestically grown, corn-based ethanol and other natural ingredients. The hand sanitizers, available in 60% and 70% ethyl alcohol standard gel or 62% foaming formulas, are clinically proven to kill 99.99% of a broad spectrum of germs within 15 seconds without soap and water. All formulas are free from dyes and environmentally damaging aerosols.
Unimed-Midwest Inc
(800) 347-9023
www.unimedmidwest.com
---
Laboratory Marking Pens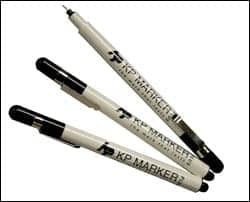 Permanent ink for marking specimens
Mercedes Medical, Sarasota, Fla, manufactures permanent ink marking pens for use on glass slides, plastic embedding cassettes, and other applications. The ink is resistant to xylene, alcohol, acetone, formalin, and xylene substitutes. It remains clear through histology processing, staining, fixatives, baths, dips, stains, bleaches, and other applications. The product is tailored for histology, microbiology, and hematology labs where permanent ink is needed to mark specimens.
Mercedes Medical
(800) 331-2716
www.mercedesmedical.com
---
Preinjection Skin Antiseptic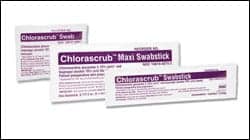 FDA approved
PDI, the health care division of Nice-Pak Products Inc, Orangeburg, NY, announces the FDA approval of Chlorascrub Swabstick and Maxi Swabstick 3.15% chlorhexidine gluconate (w/v) and 70% isopropyl alcohol (w/v) preinjection skin antiseptic for inclusion in kits. Their packaging has been specifically designed to withstand the ethylene oxide sterilization process for the manufacture of finished sterile kits. Chloroscrub, the delivery system for preinjection skin preparation, achieves a >2 log10 reduction in 30 seconds and maintains a >2 log10 reduction for at least 24 hours.
PDI
(845) 365-1700
www.pdipdi.com
---
Plant Protoplast Fusion Microslides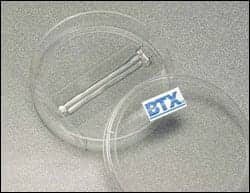 Useful for electrofusion
BTX, Holliston, Mass, has designed BTX microslides that fit on a microscope to aid in observation of the dimer formation during electrofusion. The product consists of a glass slide and two strips of stainless steel (wire or bar), and is available in 0.5-mm, 1.0-mm, 3.2-mm, and 10-mm gap sizes. The microslides are compatible with the company's ECM 2001 Electrofusion device.
BTX
(800) 272-2775
www.btxonline.com
---
Rolls for Benchliner Materials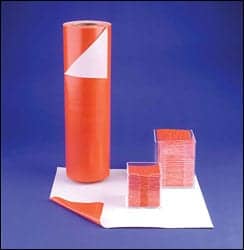 Polyethylene backing blocks leakage
Lab technicians can customize the length of benchliners from 100-foot rolls of biohazard absorbent material offered by Current Technologies, Crawfords- ville, Ind. Orange protective polyethylene backing blocks seepage of fluids and pathogens to surfaces and gloves when handling specimens, blood tubes, and pipettes. The product inhibits the subsequent transmission of microbes to phones, pens, and keyboards. The orange barrier side is impermeable to strong solvents including xylene, xylene substitutes, acetone, ketones, alcohols, and formalin. Rolls measuring 100 feet long and 16 inches wide are available in low-linting absorbencies.
Current Technologies
(800) 456-4022
[email protected]
---
Ultra Brand Tissue Grinders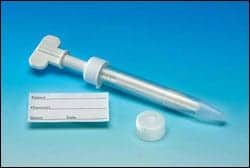 Handle difficult samples
Biomedical Polymers Inc, Gardner, Mass, a manufacturer of plastic consumables for diagnostic laboratories, announces the availability of its new Ultra brand Tissue Grinders, which provide the efficiency of ground glass with the safety and cost-effectiveness of a patented, closed disposable system. Developed to enable more efficient processing of difficult samples, BMP Ultra Tissue Grinders feature a vitrified, silica cast pestle that provides the enhanced grinding action needed for samples containing bone fragments as well as muscle and connective tissue. The new grinders incorporate a patented closed system design that prevents exposure to aerosols as well as sample contact.
Biomedical Polymers Inc
(800) 753-3684
www.biomedicalpolymers.com