Self-collection could be an effective way to increase access to screening for cervical cancer.
By Jeff Andrews, MD, FRCSC
Regardless of a patient's socioeconomic status, education, geographic location, employment, race, or gender, health care organizations have a responsibility to help enhance outcomes, lower costs, increase efficiencies, improve safety, and expand access to patient-driven and patient-centered healthcare. Laboratories can have a clear societal impact and, in partnership with both public and private stakeholders, we can reduce longstanding disparities in care in the vulnerable communities that need it most. An immediate way we can take action is by partnering to close the gaps in cervical cancer screening.
Although HPV screening and vaccination have been proven to dramatically reduce the incidence of cervical cancer, approximately 12,000 new cases of HPV-associated cervical cancer are recorded in America each year.[1] While that preventable statistic is staggering, what's more is that research has demonstrated that Black and Hispanic women are more likely to face an HPV-associated cervical cancer diagnosis than women of other ethnic backgrounds.[2]
This heightened rate found among Black and Hispanic women is, in part, due to lack of access to regular screenings, but also more widely due to the physical discomfort of an exam, cultural barriers, and a lack of time, transportation, insurance, and money.
Self-Collection Is Key to Cervical Cancer Screening
Self-collection is a viable option to reach under-screened or never-screened persons with a cervix for cervical pre-cancer screening, using HPV testing as the first test for risk assessment. Studies[3] have demonstrated that with vaginal self-collection as an option for HPV screening, persons with a cervix are far more inclined to participate in such care—with never-screened women demonstrating a more than two-fold increase in acceptance and participation—allowing healthcare providers an alternative option to identify HPV incidences.
At-home self-collection is currently approved for use in numerous countries and provides more choices and greater control over the process, which will hopefully lead to early detection of pre-cancer and prevention of cancer. For some people, options like a self-collection test that enable them to collect a specimen in the comfort and privacy of their own home could be a way forward to improve health equity. In the United States, the U.S. Food and Drug Administration approval of in-clinic self-collection using HPV testing as the basis for risk stratification is poised to be a first step to broaden access.
Overcoming Cervical Cancer Screening Barriers
In my career as a practicing gynecologist, many patients are uncomfortable with the inarguably and intrinsically intimate nature of endocervical sample collection by a clinician. For a variety of reasons including discomfort, pain, embarrassment, cultural or religious perspectives, past trauma experiences, privacy concerns, gender-identification status, or any other reason, that reticence can serve as a barrier to important and potentially life-saving screening.
For those patients, the ability to step into a private room with a simple kit comprised of a swab or brush, a tube, and an envelope or storage bag, and with minimal instruction beforehand be able to collect a vaginal sample within two to three minutes and hand it over to the clinician, could be a powerful and empowering way to enable action and facilitate access.
Consider, too, the time spent making an appointment, waiting at the clinic, preparing for and ultimately having the sample collected by a clinician. In-clinic self-collection could reduce much of the inconvenience of these steps, requiring little more time and effort than one spends providing a urine sample.
Improving Efficiency with Self-Collection
In-clinic self-collection can also help streamline processes within the clinic itself. By eliminating the need for an in-clinic pelvic speculum examination, clinicians can focus their attention, expertise, and resources on explaining, answering questions, managing care, and follow-ups. Further, an assay that offers self-collection, when partnered with a fully automated instrument, could help provide labs with workflow efficiencies and a test that may help grow their customer base.
A recent Harris Poll[4] found that 79% of American women say they would be interested in using a self-collection kit for HPV / cervical pre-cancer screening. Self-collection (in-clinic and at-home) is already approved for use outside the U.S. where there are organized screening programs, such as Australia, Denmark, Sweden, The Netherlands, India, and Kenya. It provides more choices and greater control over the process, which will hopefully lead to early detection and prevention of cervical precancer and cancer.
The American Cancer Society and the American Cancer Society Cancer Action Network (ACS CAN) have launched the National Roundtable on Cervical Cancer (NRTCC) with the support of the Biden-Harris' reignition of the Cancer Moonshot program. The roundtable seeks to engage key organizations to institute policy and systems changes that increase cervical cancer screening and follow-up, with a special focus on self-collection primary HPV testing as a method for reaching rarely or never-screened people.
If we agree that innovation is a cornerstone for improving people's health around the world, then we must also agree that the foundation must be built on a commitment to equitable access to the health care that those innovations support. Innovation is only truly useful if it reaches those who increasingly need it, and the healthcare and medical device industries have a responsibility to address these issues head-on, using scale and influence to drive continuous improvement across society's biggest challenges. In addition to innovations in sample collection, and with extended genotyping, innovations in integrated lab automation now also enable labs to process these samples faster and with minimal hands-on time.
Adding self-collection with HPV detection, and using an HPV test with extended genotyping that can individually identify HPV types beyond just 16, 18, and 45 as the basis for risk stratification to any cervical cancer prevention effort can help close the gap by effectively meeting patients where they are, with the goal of eliminating cervical cancer in our lifetime.
About the Author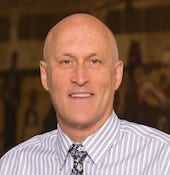 Jeff Andrews, MD, FRCSC, is vice president, Medical and Scientific Affairs for Integrated Diagnostic Solutions at BD. A board-certified obstetrician and gynecologist, Andrews has provided care in community settings in both metropolitan Toronto, Ontario, Canada, and Washington, D.C. He has also provided care in academic settings as an associate professor at Duke University Medical Center and at Vanderbilt University Medical Center. Andrews has held several prestigious roles at academic centers, including medical director of Women's Services, director of Quality Improvement and Patient Safety, director of the Vulvar Diseases Clinic, medical director of the Vanderbilt Center for Evidence-Based Medicine, and lead physician of the Colposcopy Clinic. More recently, he was a senior scientist of the Vanderbilt University Evidence-Based Practice Center and editor-in-chief of the Journal of Lower Genital Tract Disease. Before joining BD, Andrews was the chief medical research advisor for the American Society for Colposcopy and Cervical Pathology. He is a fellow of the Royal College of Physicians and Surgeons of Canada, the International Society for the Study of Vulvovaginal Disease, and the American College of Obstetrics and Gynecology, as well as a member of the International Papillomavirus Society, the American Society for Colposcopy and Cervical Pathology, and the GRADE Working Group. Andrews is also the author of many peer-reviewed articles, evidence-based guidelines, patient decision aids, algorithms, and care pathways. At BD, Andrews has focused on molecular diagnostics and the prevention of cervical cancer through early detection of cancer precursors, and on novel approaches to the diagnosis of infectious diseases in women.
References