The FDA has approved the Aptima HPV assay from Hologic Inc, Bedford, Mass, for use on the company's fully-automated Panther system (pictured).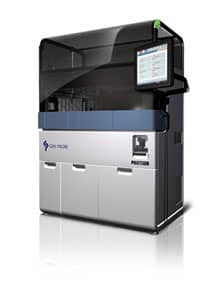 The test is performed with the company's ThinPrep liquid cytology specimen and can be tested before and after it has been processed for cytology testing on the ThinPrep 2000 system.
Hologic's Aptima HPV mRNA-based assay is a nucleic acid amplified test that detects 14 high-risk strains of human papillomavirus (HPV) associated with cervical cancer and precancerous lesions, and has demonstrated significantly improved specificity with no compromise in disease detection, according to the company.
The addition of this assay to the Panther menu extends the capability of low- to high-volume labs to run multiple tests from a single specimen, on the cost-effective, flexible and fully-automated molecular testing platform.
Created to be a "sample-in-result-out" instrument, the Panther system eliminates batch processing and automates all aspects of nucleic acid testing on a single, integrated platform.
[Source: Hologic]