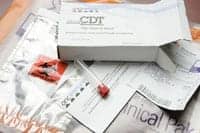 Mid America Clinical Laboratories (MACL), Indianapolis, will join forces with Oncimmune USA LLC, UK, with US headquarters and a CLIA-certified lab located near Kansas City, to offer EarlyCDT-Lung, a blood test that aids physicians in the early detection of lung cancer.
Early detection can be critical to the success of treatment of this deadly form of cancer.
Seventeen peer-reviewed publications support the EarlyCDT autoantibody platform.
Lung cancer is the leading cause of cancer deaths among men and women in the United States. The American Cancer Society predicts that in 2013, there will be approximately 228,190 new cases of lung cancer diagnosed and 159,480 lung cancer-associated deaths in the United States.
EarlyCDT-Lung has high specificity (93%), seven times fewer false positives and seven times better positive predictive value (PPV) than CT, and >91% accuracy, when considering a population with 2% prevalence of lung cancer (20 lung cancers per thousand).
Mid America Clinical Laboratories is a joint venture clinical laboratory owned by Quest Diagnostics, Community Health Network, St Vincent Health, and CoLab.
MACL serves communities throughout Indiana managing 18 hospital labs, more than 30 patient care centers and a regional lab located at the company's headquarters.
[Source: MACL]