In the past decade or so, the health care industry has been mobilizing to reduce human errors that can lead to adverse patient outcomes, such as unnecessary radiation treatment or surgery. In histopathology, this translates in part into automation of necessary procedures, such as labeling and printing.
Studies show that of the thousands of specimen identification errors that occur annually, a large portion are due to improperly labeled slides. According to the American Society for Clinical Pathology, slide labeling alone can account for upward of 67% of errors. Pathologists throughout the world are looking to reduce this statistic by eliminating clerical errors as well as reducing tech time.
According to Greg Strader, product manager of anatomical pathology at Thermo Fisher Scientific, two of the company's newest products—the SlideMate, launched in May, and the PrintMate, introduced in 2008—address these concerns.
"The best way to reduce the chance for specimen misidentification is by printing cassettes and slides just as they are needed, eliminating sorting and the chance for placing the incorrect specimen in the cassette or on the slide," Strader says.
Eliminating ID Errors
The small SlideMate footprint (about the size of a toaster) brings the convenience of on-demand slide printing directly to the microtome, drastically reducing errors by allowing the lab to reliably print accurate information at the moment the slide is required. While there are other label printers that are small, they require the user to apply a label to each slide. SlideMate prints directly onto the slide, eliminating the need for labels or hand-writing, and the chemical-resistant media ensures print reliability.
Since it fits next to the microtome, work flow is streamlined. In addition, the user can select the number of slides to print per case, which enhances lab productivity. The machine prints up to six slides per minute, keeping up with the speed of technicians sectioning at the microtome. Flexible data input methods make for easy integration into the laboratory, and slides are held inside the unit's side door to protect them from dust and the environment.
The PrintMate, used exclusively for printing tissue cassettes, is the only cassette printer that can be used for batch or on-demand printing, adapting to changing work flow. It can be expanded from two to six cassette hoppers as the needs in the lab change, ensuring that the machine won't be rendered obsolete. According to Strader, it offers the lowest operating cost of any cassette printer and offers the functionality of a large cassette printer in a size that fits nicely into the lab.
It sits next to the grossing area and prints fast enough to keep up when printing single cases. It prints cassettes quickly with no reduction time for printing 2D bar codes; the dual-track collection system collects up to 100 cassettes in organizer trays that are easily stacked to simplify matching cassettes to specimen containers at the grossing station. In addition, two technicians can share an instrument without the risk of mixing up cassettes because a special collection chute enables the PrintMate to be placed between two individuals. The chute makes sure that the right cassettes are delivered to the right technician.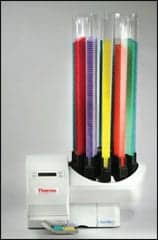 PrintMate
PrintMate is the only labeler to let the lab choose favorite cassettes and use them reliably due to its patented dispense system that can use a wide range of standard cassettes year after year without jamming or misfeeding. Every cassette is clearly marked with easy-to-read, permanent black type to ensure a higher level of specimen identification accuracy and sample integrity for improved patient care.
Automated whole slide imaging devices, first introduced in 1999, have become increasingly more reliable, fast, and capable, evolving in the 21st century to the point where they can be used for diagnostics in pathology labs.
Standardization of Imaging and Analysis
One such cutting-edge device is Genetix's Ariol (Applied Imagingª) platform, which brings objectivity, consistency, and standardization to the quantification of biomarkers in tissue sections and microarrays, according to Robert Sykes, product manager for Ariol (Genetix).
"Ariol standardizes the entire imaging and analysis process—image, analysis and quantitative report," he says.
The device offers a customizable, multiapplication system for both bright-field and fluorescent applications, and can be configured to facilitate an exchange of images and data between labs. According to Sykes, unlike conventional, subjective, manual imaging assessments, Ariol reviews every image objectively, providing consistent, quantitative analysis of tissue sections and microarrays. The proprietary color merging and color deconvolution image processing aids object detection and quantification, minimizing the chance of misidentifications.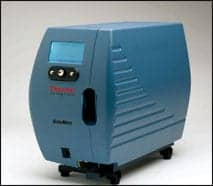 SlideMate
Analysis modules are available for immunohistochemistry (IHC)—looking at nuclear, cytoplasmic, or membrane biomarkers; fluorescence—immunofluorescence, cellular and tissue fluorescent in situ hybridization (FISH); rare events, such as tumor cells and micrometastases; and a general measurement module, including tissue measurements.
"Ariol was designed to address the inherent problems associated with manual reviewing and scoring," Sykes says. "The system also ensures reliable, high-quality data and integrity, and maximizes the data captured from every sample. Ultimately, Ariol drastically reduces review times with the added advantage of avoiding the fatigue of manual reviewing and scoring."
Other trends in histopathology include companion diagnostics and the use of multiplex IHC stains to help solve complex diagnostic problems for pathologists. The multiplex stains can also increase the sensitivity of cancer detection while simplifying interpretation.
Among Top Medical Breakthroughs
Biocare Medical's genetic test for breast cancer, the SPOT-Light® HER2 CISH, developed by Zymed/Invitrogen and distributed by Biocare, is a case in point. The companion diagnostic test, determined to be one of the top 10 medical breakthroughs in 2008 by TIME magazine, looks at patients' genes to determine who will respond best to the cancer drug Herceptin, which is effective against tumors that release an overabundance of the HER2 protein. The test measures how many HER2 genes are in a breast tissue biopsy—the more genes there are, the more likely the tumor will respond to Herceptin treatment.
According to Rhonda Henshall-Powell, PhD, product manager for Biocare, HER2 gene amplification—or overexpression—has been identified in 18% to 30% of breast cancers.
"We are showing that the CISH (chromogenic in situ hybridization) method is a reliable alternative to the more common IHC and FISH techniques for determining HER2 status in routine diagnostic settings," Henshall-Powell says.
Compared to FISH, CISH has a number of advantages, Henshall-Powell says. "It's quantifiable, uses brightfield microscopy, and is archivable." It increases test accuracy because it allows for evaluation of the tumor heterogeneity and tissue morphology over the whole specimen on the slide, rather than just a portion of the tumor. This makes it easier to recognize amplification and reduces the number of false-negative cases. In addition, any diagnosis may be confirmed at a later date because the results may be archived, unlike FISH, which fades after 6 months.
"You can actually see the tissue and visualize the HER2 copy number right under the microscope," Henshall-Powell says. "You don't have to be in the darkroom, looking at the fluorescence."
With a 99% concordance with FISH, CISH is more convenient and easier to score, Henshall-Powell adds. The only FDA-approved CISH kit, it contains all the reagents required to perform the procedure on formalin-fixed, paraffin-embedded tissues. The kit contains materials for 20 tests over two runs, and results are ready in 2 days. Labs must be certified through a two-part training program.
Biocare also offers a multiplex IHC platform that helps pathologists more rapidly diagnose disease, eliminates flipping from slide to slide to evaluate antigen ratios, and increases diagnostic value by combining highly sensitive and highly specific antibodies on one slide. It is the only company that can do multiplex IHC in a single test, without spending several more hours and using more expensive reagents to add to the new antibodies.
The multiplex stains replace up to four single-antibody stains. The PIN-4™ product was the first multiplex IHC test and helps determine if a patient has prostate cancer or a less serious condition called prostatic epithelial neoplasia (PIN). The company's newest multiplex stain, called ADH-5™ (atypical ductal hyperplasia), solves a similar problem by differentiating among three types of invasive breast cancers. A multiplex for primary and metastatic breast cancer, the stain can help the pathologist differentiate ductal hyperplasia of the usual type from atypical ductal hyperplasia, as well as distinguish microinvasion versus invasive ductal carcinoma and determine basal phenotypes on triple negatives in most breast cancers. The innovative product is composed of CK5, CK14, p63, CK7, and CK18 antibodies; and can be completed in a standard four-step IHC staining protocol.
Monoclonals Gaining Validation
BioMosaics Inc's monoclonal antibody product (clone 1G12) for detection of the antigen Glypican-3 (GPC3) has been steadily gaining validation since it was introduced 2 years ago, according to Chief Scientific Officer Mark Allegretta, PhD. Most recently, PhenoPath Laboratories, a state-of-the-art CLIA-certified reference lab, validated the product for use as an IHC test for diagnosis of primary liver cancer, one of the most common and aggressive malignant tumors worldwide.
"Using this antibody provides added specificity to the identification of liver cancer in patient tissue samples," Allegretta says.
In addition to testing performed at PhenoPath, the antibody is available in concentrated form or as a ready-to-use, prediluted product for IHC. Both formats are suitable for use with manual protocols or in automated immunostaining instruments. The validation studies were performed with formalin-fixed paraffin-embedded tissue sections, and 88% of cases with liver cancer showed strong positive immunostaining.
"Glypician-3 continues to be shown to be a useful marker," Allegretta says. "It detects liver cancer in a very early stage, and, unlike some other markers, it is undetectable in normal liver and in cirrhosis of the liver."
Dave Johnson, co-owner of Mercedes Medical, still sees a place for low-tech staining sets such as those offered by his company. According to Johnson, the changes in the CLIA laws have prompted many physician practices, such as dermatology and gastroenterology, to start their own histology labs to provide routine staining with quicker and less expensive results.
"These are smaller labs that can't afford the more expensive automated systems," Johnson says.
Mercedes offers durable and economical staining systems made with a stainless steel structure that is resistant to acid and solvents, and is easily cleaned. The staining dish, slide-staining holder, and brass handle of the holder are all resistant to acid solvents.

To keep current on histology, bookmark our website.
At the other end of the spectrum is the mass spectrometry imaging system (MSI) developed by Applied Biosystems, part of Life Technologies, for the emerging technique of molecular histology (MALDI). The AB SCIEX QSTAR 5800 system, launched at the beginning of April, is currently used as a research tool to visualize the spatial distribution of dosed drugs, metabolites, and proteins from the surface of a tissue section. Unlike traditional autoradiography or immunochemical imaging, the system can analyze multiple analytes without the need for labeling.
According to Aaron Hudson, PhD, of Applied Biosystems, MALDI is undergoing a coming of age.
"It takes new technology a while to get out of basic research to diagnostics," says Hudson, senior manager of global marketing. "We are looking to clinical use in the next 5 to 10 years. There are not antibodies needed with this—you just image the tissue and choose what proteins you want to look at this."
---
Shannon Rose is a freelance health and medical writer based in Temecula, Calif.