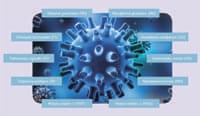 Sexually transmitted infections (STIs) are on the increase worldwide and present a major challenge to world public health.
STIs can be difficult to diagnose because of atypical or asymptomatic presentation and left untreated can result in serious health problems including infertility or complications during pregnancy, according to Randox Laboratories, UK.
The company has developed the STI Multiplex Array that can simultaneously detect 10 of the most prevalent STIs from a single urine or swab sample, in a single test within 5 hours. These STIs include Chlamydia trachomatis, Neisseria gonorrhoea, Trichomonas vaginalis, Treponema pallidum (syphilis), Herpes simplex 1 & 2, Mycoplasma hominis, Mycoplasma genitalium, Ureaplasma urealyticum, and Haemophilus ducreyi.
Testing for multiple STI pathogens can identify secondary infections, which are present in greater numbers than previously thought, and allow specific treatments for all infections diagnosed, the company says. Using this test has added benefits through more appropriate use of antibiotics, which will reduce the potential for antibiotic resistance, Randox says.
[Source: Randox]