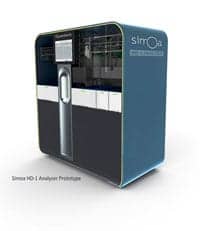 Quanterix, Lexington, Mass, and bioMérieux, Marcy l'Etoile, France, with US headquarters in Durham, NC, have signed an agreement that gives bioMérieux worldwide exclusive rights to Quanterix's Simoa technology in clinical labs and for industrial applications.
Under the agreement, Quanterix will deliver a new instrument and consumables based on its Simoa technology. bioMérieux will develop ultra-sensitive and multiplex assays on the platform.
Quanterix has invented an ultra-sensitive immunoassay technology. Unlike the traditional analog-based methods of detecting proteins or biomarkers in a biological sample, Simoa is based on a digital approach that enables detection of a signal from single molecules of a labelled analyte, and is much more sensitive than conventional analog-based protein detection technologies, according to the company.
bioMérieux will develop specialized tests for which high sensitivity and/or multiplex is required, with a particular focus on infectious diseases. The menu will include existing tests for which sensitivity needs to be improved and new biomarkers that are currently difficult to measure, opening up new applications.
The company's goal is to improve standard of care, by providing earlier detection of diseases and consequently enabling clinicians to make treatment decisions much more rapidly. Leveraging the high sensitivity of Quanterix's Simoa technology and the multiplex functionality, bioMérieux will create a unique offer of assays combining several clinically relevant tests, for improved patient care.
Under the terms of the agreement Quanterix will receive upfront and milestone payments, as well as royalties on future sales. bioMérieux will take an additional equity stake, contingent upon milestone achievement. In connection with the equity stake, bioMérieux has the right to designate one director for election to the Quanterix board. No further financial details of the transaction were disclosed.
[Source: Quanterix]