Controlling Freeze Dryers
TECHNOLOGY IMPLEMENTED FOR EASE OF USE
SP Industries has announced that its Benchtop "K" Series freeze dryers will now be supplied with the newest Sentry 2.0 controller. This microprocessor controller is designed to make operation intuitive and easy to monitor. A clear backlit synoptic LCD allows at-a-glance viewing of all functioning systems and their statuses. In addition, a graphic-wave LED display enables quick and easy confirmation of temperature and vacuum statuses. Optional workstation software enables data collection and historical trending of the freeze-drying process. The Sentry 2.0 controller provides full-function control plus precise vacuum regulation. Additional features include single-button auto startup, automatic operation of the drying mode, precise vacuum-pressure control, and inert gas backfill and bleed system. Expanded alarm capabilities include power outage, condenser overload, and vacuum safety alarms. The Sentry 2.0 Controller also provides for the factory-installed option of product and shelf monitoring and shelf temperature control up to 70ºC.
SP Industries
(800) 523-2327; www.SPindustries.com
Refrigerators and Freezers
ENERGY EFFICIENT
The BioLine range of refrigerators and freezers from Gram Commercial, Vojens, Denmark, uses natural refrigerants and features energy-optimized technology. The line is a comprehensive range of refrigerators and freezers designed to deal with special bioscience needs. All BioLine units comply with the guidelines contained in the ATEX directive for safety and use in potentially explosive atmospheres (zone 2). Another thing that BioLine units have in common is that they use the natural refrigerant R290, which has the added benefit of reducing energy consumption. And by using cyclopentane to foam the insulation material, BioLine storage solutions have only minimal environmental impact.
Gram Commercial
+45 73 20 12 96; www.gram-bioline.com
Incubator
ENCLOSED MICROSCOPES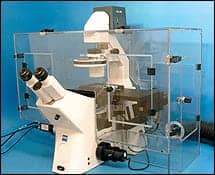 The CO2 Microscope Cage Incubator from Okolabs, Hamden, Conn, is designed to maintain all the required environmental conditions for cell culture around the microscopy workstation. Temperature, CO2/air mixture, and humidity are precisely controlled, enabling prolonged observations on biological specimens. Enclosing the microscope protects it from changes of ambient temperature and minimizes thermal focus drift. CO2 is mixed with air in the control unit and is continuously fed into a microenvironmental chamber placed on the microscope stage. Temperature is maintained by blowing warmed air into the cage. A tiny thermocouple, inserted into a reference well near the sample, provides feedback control. Features include windows on the front and side panels that allow full access to the microscope. Quick release hinges allow 5-minute removal of the enclosure when not needed, and optional light-obscuring panels are available for fluorescence experiments. The systems are custom designed to meet your specific requirements.
Warner Instruments
(800) 599-4203; www.warnerinstruments.com
Medical-Grade Power Strip
SPACE-SAVING DESIGN
Tripp Lite, a world-leading manufacturer of power-distribution and power-protection equipment, has introduced the first medical-grade power strip with full UL 60601-1/60950-1 compliance to its line of hospital/medical-grade products. The PS-415-HGULTRA features a patent-pending, internal site-wiring fault-protection circuit that prevents power to its outlets if it detects a missing ground, reversed polarities, or an open line. The power strip, tested to US and Canadian safety standards, is the first of its kind to be approved by the FDA for use in medical facilities. Where built-in outlets are limited, the PS-415-HGULTRA provides an effective power-distribution solution with four NEMA 5-15R hospital-grade receptacles. This permits multiple items of electrical equipment to be operated in rooms with only a single duplex outlet, enabling physician's offices, imaging centers, laboratories, and medical facilities to make more efficient use of available space. The power strip also features a rugged, all-metal case, a 15-foot AC power cord with a NEMA 5-15P hospital-grade plug, a resettable circuit breaker, and a switchless design to prevent accidental shutoff. Locking outlet safety covers (integrated to prevent accidental loss) guard against contact with unused outlets. Keyhole slots and flanges allow the unit to be mounted to a variety of surfaces. A diagnostic LED indicates that power is present with no ground faults or line/neutral reversals.
Tripp Lite
(773) 869-1240; www.tripplite.com
Star Light
AVAILABLE AS MOBILE OR WALL MOUNTED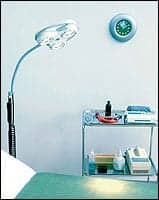 Sunnex's TriStar™ medical light offers medical professionals a durable, precise, and reliable illumination solution for examination light and minor surgical light needs. The light delivers bright, cool light that can be easily directed where needed. A mobile caster base allows for easy portability between examination rooms. The TriStar medical light is available in mobile and wall models. The mobile TriStar medical light features a mobile stand and a unique telescoping pole, designed for quick, one-handed height adjustment from 27 to 80 inches. This makes the light ideal for environments where space is limited or multiple procedures are performed. The wall-model medical light features a unique extension arm that provides 55 inches of reach—along with flexibility. Both models provide more than 4,000 foot-candles/43,200 lux of light intensity, with a color temperature of 4,100K. The TriStar uses three 20-W long-life bulbs, delivers more than 4,000 hours of use, and is available in 115- or 230-V versions.
Sunnex
(800) 445-7869; www.sunnexmedical.com
Syringe Pump
CAPABLE OF LOW- AND HIGH-FLOW RATES

This remotely operated MRI-compatible syringe pump meets the requirements of the MRI environment. The new MRI pump is designed for drug delivery and tracer studies when MRI imaging and real-time monitoring is essential. The MRI Syringe Pump from Harvard Apparatus, Holliston, Mass, combines a two-syringe pump mechanism, constructed mostly of nonferromagnetic metal, with a pump electronics control box. The two components are separated by a 30-foot cable with a 60-foot cable available if additional distance is needed between the pump mechanism and the control box. The pump accepts plastic or glass syringes ranging from 0.5 µl to 140 ml, giving the capability of extremely low flow rates (0.0001 µl/hr) to exceptionally high flow rates (220 ml/min). The unit is available as a standard infusion/withdrawal pump or a programmable infusion/withdrawal pump. This pump has +/- 0.35% accuracy and +/- 0.05% reproducibility. Harvard Apparatus develops and manufactures scientific and clinical instrumentation.
Harvard Apparatus Inc
(800) 272-2775; www.harvardapparatus.com
Moist Chamber
WITH TWO SEPARATE PERFUSION LINES
This new moist chamber with built-in weighing system from Hugo Sachs Elektronik – Harvard Apparatus, Holliston, Mass, is a useful tool for studying edema. The jacketed chamber maintains a warm and moist environment for the organ. The chamber has been configured for studying the edema evolution in a perfused intestine with attached mesenteric bed. It has two separate perfusion lines for simultaneous vascular and intraluminal perfusion. The chamber is supplied with the all-required heating coils and bubble traps. Measurement of perfusion pressures and flows is also available. The chamber can be used for any other rodent organ that requires continuous weighing during perfusion. The perfusion lines and cannula are mounted within an interchangeable adapter block, which can be customized for each type of organ to be perfused.
Hugo Sachs Elektronik – Harvard Apparatus
(800) 272-2775; www.hugo-sachs.de
Hematology Systems
NEW TOOLS AND ADVANCEMENTS
Beckman Coulter Inc, Fullerton, Calif, has introduced Coulter LH 780 hematology systems—analyzers that incorporate advancements to the company's proprietary volume, conductivity, and scatter (VCS) technology for high sensitivity, specificity, and efficiency in WBC differential analysis. The systems deliver new functionality that increases laboratory capability and helps reduce health care costs. The systems offer new parameters including RDW-SD, which measures deviation of the width of the red-cell population for applications such as anemia studies. Additional new tools enhance the study of cellular abnormalities. The LH 780 software includes new quality-control features that give users broader flexibility. The new XM quality-control package provides exponentially weighted moving average (EWMA) of CBC, five-part differential, NRBC, and reticulocyte parameters. XM also provides the flexibility to process up to 20 batches of two to 1,000 runs. The Extended QC Rules package offers three new filters for measurement of total error, imprecision, and bias on any file. The LH 780 can be configured to include an LH SlideMaker and LH SlideStainer, for automated slide preparation.
Beckman Coulter Inc
(800) 742-2345; www.beckmancoulter.com
Optical Module
MICROSCOPE, CAMERA, AND TEMPERATURE CONTROL UNIT IN ONE
Thermo Fisher Scientific, Pittsburgh, has introduced a new optical module for its rheometer platform HAAKE MARS. The RheoScope module simultaneously records rheological properties and changes in the microscopic structure of the tested sample. By combining rheological measurements with optical analysis, microstructures can be analyzed visually to obtain more information about a sample's mechanical properties. Combined methods work well for the analysis of shear thinning, dilatancy, thixotropy, aging, and emulsification. The compact module is a combination of an optical microscope, progressive-scan CCD digital video camera, and temperature-control unit that can be integrated easily into the MARS rheometer platform. The Thermo Scientific rheometer can perform normal force measurements and operate in a variety of modes, including CR or CS mode in rotation and oscillation while recording microscopic properties of the sample. HAAKE RheoWin software controls not only the rheometer, but also the optical unit—the focus and position of the polarizator.
Thermo Fisher Scientific
(800) 547-7429; www.thermo.com
Benchtop Centrifuge
AIR-COOLED OR REFRIGERATED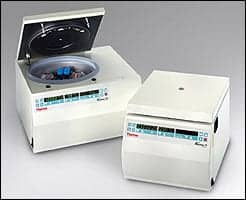 Thermo Fisher Scientific, Pittsburgh, has introduced its new Heraeus Megafuge 11 Series of benchtop centrifuges, the latest addition to its Heraeus centrifuge product family. The new series is designed to be a sample-processing solution for hospitals and high-throughput labs, providing capacity and performance for many applications such as cell and tissue culture and body-fluid processing. Available in air-cooled and refrigerated versions, the compact units offer a wide selection of rotors and accessories to support a variety of sample-preparation needs, making it a versatile and cost-effective choice for clinical separations. The series accepts up to 60 Vacutainer tubes, as well as 16- x 50-ml conical tubes, and microplates in sealed containers. Bucket-sealing lids provide certified protection and ensure operator safety by keeping hazardous materials securely contained. The Heraeus Megafuge 11 now offers a new high-capacity, 48- x 2-ml FIBERLite microtube rotor that supports higher G-forces and offers increased resistance to corrosive agents, making it a safe alternative to conventional metallic rotors.
Thermo Fisher Scientific
(800) 547-7429; www.thermo.com
Sample Taker
14 DESIGNED TO PREVENT CONTAMINATION
Cellexus Biosystems PLC, Cambridgeshire, United Kingdom, previewed its new device for taking samples from bioreactors at the IBC BioProcess conference in San Francisco. The sampling system has been designed to prevent contamination of the main bioreactor and is itself disposable. The Cellexus Sampler allows the user to withdraw a sample of cell-culture media from the bioreactor. An integrated one-way valve prevents any of the withdrawn sample from returning to the bioreactor. This is important because it reduces the possibility of contamination by viruses, micro-organisms, or chemicals that may otherwise find their way back into the main culture. The Sampler collects some of the cell culture into mini pouches, and these are then sealed and cut with a handheld welding device. The sealed pouches can then be removed from the culture suite and analyzed elsewhere.
Cellexus Biosystems
+44 1354 657 407; www.cellexusbiosystems.com