Verification Service
REGULATORY COMPLIANT
Artel, Westbrook, Me, is planning to announce its new Liquid Handler Performance Verification service at Lab Automation 2007 in Palm Springs, Calif, January 27–31. Part of the company's new liquid delivery quality assurance (LDQA) suite of services, Liquid Handler Performance Verification will supply laboratories with third-party, documented assessment of the accuracy and precision of their equipment. The new service provides performance results traceable to national standards, therefore ensuring repeatability between procedures, liquid handlers, and locations—hence, efficient method transfer as well as regulatory compliance. The performance of liquid handlers can also be checked for serial dilution dispensing and for delivery of nonaqueous reagents. All makes and models of liquid handlers can be verified, from single- to 384-channel devices, thereby giving laboratories complete confidence in the performance of their equipment.
Artel
(207) 854-0860; www.artel-usa.com
Laboratory Automation
REMOTE WORKSTATIONS AND WEB-BASED RESULTS
QSS LabHealth Software systems provide complete end-to-end medical laboratory automation. The PowerDocAI workstation supports results flagging and trending. The configurable system supports ABN medical necessity, diagnosis codes, electronic billing, triggers for denial codes, Web-based result access, financial analysis, and much more. With the remote results workstation users can enter patient data and print bar codes and manifests; and can use result printing and Web-based results to secure result access via remote. QSS is famous for rapid response to custom development requests. The PowerDocAI result workstation stores results at the physician's office, interfaces to practice management, and rapidly creates requisitions for the clinical lab.
Quality Software Systems Inc
(919) 596-4123; www.labhealth.com
Precision Dispensing
FOR ASSEMBLY OR INDUSTRIAL
Fluid Metering Inc has introduced the IDS2000 Industrial Dispenser with the new Quick Run Module. This new model provides a stand-alone solution for precision fluid dispensing in production and process environments. The IDS2000 consists of FMI's patented valveless ceramic piston pump direct-coupled to a precision stepper motor. The stepper motor and stepper driver electronics are packaged in a rugged, splashproof stainless steel enclosure. The integrally mounted Quick Run Module provides a ready-to-use interface accepting a foot switch or an external relay to activate dispensing. The IDS will dispense from 2 µl to 7 mL and is designed for dispensing solvents, lubricants, cleaning agents, flux, and adhesives. This new model has wide application for medical-component assembly or any industrial dispensing application. The unit is supplied complete with dispenser, Quick Run Module, power supply, and foot switch.
Fluid Metering Inc
(800) 223-3388; www.fmipump.com
Automated Dispenser
REQUIRES NO MAINTENANCE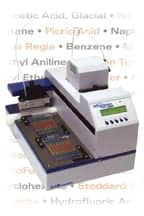 KD Scientific, Holliston, Mass, is the creator of the UltraSpense 2000, which dispenses difficult-to-handle organic solvents into microplates without suffering performance or material degradation. Even at the higher viscosities, CVs of <1% are achieved with no special equipment required. The unit incorporates a positive-displacement pump with a valveless inert fluid path consisting of PTFE, PVDF, glass, and ceramic materials. There are no parts to wear, so the UltraSpense is a stable platform that delivers consistent performance for more than 100 million cycles with no required maintenance or material replacement. The unit eliminates many problems experienced with peristaltic dispensers by using a specially designed manifold that uniformly distributes material to all eight tips. This is combined with a proprietary algorithm to handle the pumping that overcomes the natural tendency for fluids to accumulate on the outside of the manifold tips. And without the potential for uneven tubing wear associated with peristaltic rollers, the device maintains its consistent performance after millions of dispense cycles.
KD Scientific Inc
(508) 429-6809; www.kdscientific.com
Automated Cell Washing
12- OR 24-PLACE ROTOR
The UltraCW Automatic Cell Washing System from Helmer, Noblesville, Ind, offers advanced programming capabilities for consistent, reproducible results. The electronic flow meter allows for precise saline fills. Four wash cycles, spin time, decant speed, number of agitations, and rpm are user selectable. Five programs can be stored for repeated use. A 12-place rotor is standard, but an optional 24-place rotor provides twice the capacity and allows antibody identification to be completed in one spin. Each rotor accepts either 12- x 75-mm or 10- x 75-mm standard tubes. The unique rotor design ensures efficient decanting. The UltraCW has a quiet, brushless drive motor and a powder-coated body.
Helmer
800) 743-5637; www.helmerinc.com
Cell Counter
TALLIES DEAD AND LIVE NUCLEATED CELLS
Immunicon Corp, Huntingdon Valley, Pa, has made available the EasyCount System, a fluorescent microscopy-based imaging system that accurately counts dead and live nucleated cells and automatically calculates cell viability, in a single test. Currently, most cell-counting procedures are done manually using a microscope, which is a time-consuming and tedious process. This system, together with the EasyCount ViaSure Kit, automate this routine function, eliminating the variability associated with the subjective interpretation of the manual method. The researcher can perform up to six tests at a time using the Slide6 Multi-Well Slide provided with the kit and the instrument reports total and live cell counts and viability calculation in less than 1 minute per test. The system is based on Immunicon's rare cell-analysis technology that was developed for analysis of circulating tumor cells.
Immunicon Corp
(215) 830.0777; www.immunicon.com