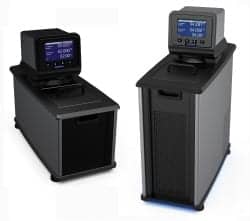 Programmable Circulators
Precise temperature control for external devices
Ideal for controlling exothermic and endothermic reactions, these sophisticated refrigerating/heating circulators from PolyScience, Niles, Ill, feature operating temperature ranges as broad as -40°C to 200°C and temperature stabilities as precise as ±0.005°C. Key is their ability to control temperature right at the point of application, which elimi- nates temperature shifts due to heat loss along tubing lines. Available in reservoir sizes from 7 to 45 liters, the circulators have a programmable controller with touch-screen display. A variable-speed pressure/suction pump is capable of delivering pressure flow rates as high as 20.1 LPM. Other standard features include RS232/RS485 and Ethernet communications capability, multi-language help menus, and a 4.3-inch SmartTouch display. Typical applications include the control of jacketed reactor vessels and reaction blocks as well as polymerization, polycondensation, and distillation.
PolyScience
(800) 229-7569; www.polyscience.com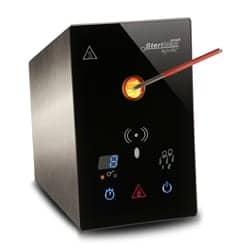 Smart Infrared Loop Sterilizer
High-speed annealing and sterilization without gas flame
The SteriMax Smart from WLD-TEC GmbH, Germany, is suitable for laboratories, anaerobic environments, and safety cabinets. This sterilizer uses specifically focused infrared light that generates a hot spot for sterilizing inoculating loops at a temperature of 650°C to 1100°C in 5 to 10 seconds, without preheating. Other features include auto-start through touchless infrared-sensor technology; adjustable sterilization and cool-down timers for two users by front panel operation; an annealing tube made of quartz glass or optional wear-resistant ceramics; efficient energy use and minimal heat dissipation due to Thermo Control; and Cool-Touch housing comprised of stainless steel and safety glass.
WLD-TEC GmbH
(310) 589-3709; www.WLD-TEC.com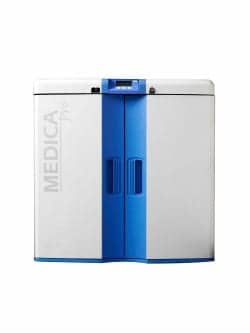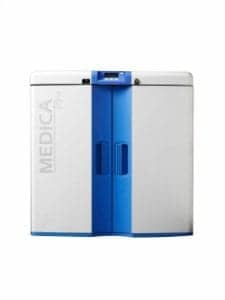 High Flow Purification System
Pure water solutions for clinical analyzer feed
The MEDICA range, manufactured by ELGA LabWater, Woodridge, Ill, delivers consistent water quality to provide clinical analyzers with accurate and reproducible diagnostic test results. These reliable, compact water purification systems can feed a single clinical analyzer, large automated analyzers, and multiple analyzers while ensuring bacterial control, optimal purity, and uninterrupted workflow. With built-in wrap-around reservoirs that occupy a minimal amount of lab space, the MEDICA range results in predictable low consumable and running costs. The MEDICA Pro can deliver up to 4 liters per minute of CLRW standard water. All MEDICA units have a bypass loop that continues to provide compliant water to the analyzer in emergency situations.
ELGA LabWater
(877) 315-3542; www.elgalabwater.com
Dual-Compressor Ultra-Low Freezer
Built-in security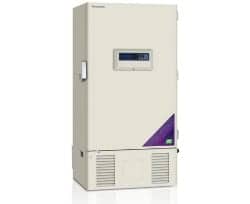 Traditional freezers rely on a single compressor system with interdependent parts, putting valuable laboratory samples at risk in the event of a shutdown. The Twin Guard series freezers from Panasonic, Secaucus, NJ, house a second, independent compres- sor that functions as a long-term backup system. The two parts collaborate during normal functioning, but if one half fails, the other can maintain steady temperatures at -65°C for an extended period of time. Advanced insulation technology helps maintain uniform temperatures and reduce energy consumption, inhibiting moisture accumulation that can lead to icing. Twin Guard series freezers are managed by an integrated microprocessor controller with an LCD information center to simplify all freezer functions.
Panasonic USA
(800) 858-8442; us.sanyo.com
Portable Laboratory Installations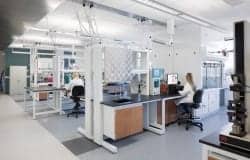 Customizable solutions
Hamilton Scientific, De Pere, Wisc, provides customizable, contemporary laboratory workstations that offer utility access ease and movable laboratory benches. Adaptable workstations with lockable casters enable users to easily relocate the units wherever horizontal workspace is needed. The benchtops of the 6-feet-wide portable workstations can support 1200 pounds and are reinforced to accommodate heavy equipment, including analytical instrumentation and lab equipment. Hamilton Scientific also supplies mobile workstations without benchtops, enabling users to bring lab utilities into equipment islands without obstructing premium floor space.
Hamilton Scientific
(920) 793-1121; www.hamiltonscientific.com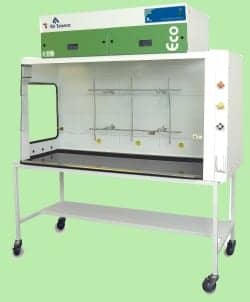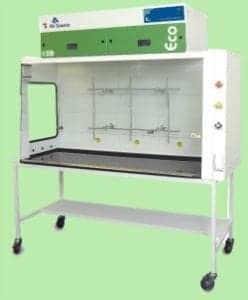 Purair ECO Fume Hoods
Energy-saving, ductless hoods
The Purair ECO line of energy-saving ductless fume hoods from Air Science USA, Fort Myers, Fla, are designed for both chemical and particulate protection over a broad range of laboratory and industrial applications. The hoods are available with a choice of controllers, including the company's new ECOair touch pad control with color display interface. An optional BACnet network interface connects all cabinet control, monitoring, and alarm functions to an open-source facility monitoring system. The system is based on an industry-wide, nonproprietary ASHRAE-compliant protocol for green building management. The Purair ECO is available in five standard sizes from 30 to 69 inches wide.
Air Science USA
(800) 306-0656; www.airscience.com
3D Surgical Microscopes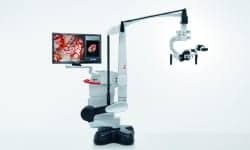 Easy recording and video editing
The first 3D surgical microscopes?from Leica Microsystems, Buffalo?Grove, Ill, with TrueVision 3D technology inside eliminate the need for?a separate 3D cart. TrueVision 3D?provides visualization of microsurgical operations and surgical anatomy for the operating room team?while using the same footprint as?the microscope itself. Surgeons?can control the recording functions?without interrupting their workflow?via the microscope hand and foot?controls. Staff will benefit from easier, faster setup and more space to maneuver in the operating room. Available on select models of Leica Microsystems' surgical microscopes, including the M720 OH5 and M525 OH4, the system simultaneously streams 3D and 2D video to external video monitors in the operating room or over distance. The TrueVision® 3D platform is also upgradable to support future surgical guidance applications.
Leica Microsystems Inc
(800) 248-0123; www.leica-microsystems.com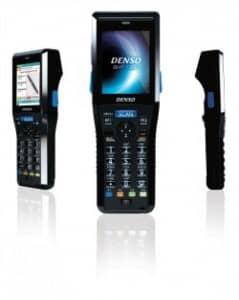 Barcode Scanners
Wireless, handheld terminals
The BHT-1300 series 1D and 2D wireless handheld barcode scanners from DENSO ADC, Long Beach, Calif, process data faster than lasers and are suitable for clinical labs performing in vitro diagnostics. Revamped to offer a hardier design alongside a 3-year warranty, the terminals are 15% smaller and lighter than their predecessors, with curved keys that permit navigation by gloved hands. The LCD display's wide viewing angle allows for quick readability even in bright sunlight, and the 2D model offers 360-degree scanning capability, potentially reducing use time by up to 30%. Both models have been designed to withstand crash tests on concrete from a height of 2 meters up to 30 times. With batteries that support up to 28 hours of continuous use, the devices also have the longest operating time in their class.
Denso
(888) 693-3676; www.denso-adc.com

Precision Pipette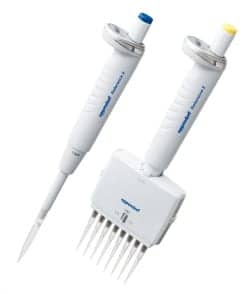 Ergonomic handling and improved reproducibility
The Reference 2 pipette from Eppendorf, Hauppauge, NY, enhances the technology of its predecessor, the Reference pipette, with a new look, reduced weight and operating forces, and multi-channel versions. One-button operation offers fast and ergonomic handling with reduced operating effort and active aerosol reduction. The spring-loaded tip cone improves user-to-user reproducibility by lowering tip attachment and ejection force. Volume lock prevents accidental changes, while a four-digit volume display with a magnifying window allows for easier volume identification, providing increased security for the most stringent lab environments. An embedded RFID chip also contains all relevant data regarding the pipette, providing simple identification and tracking in the lab.
Eppendorf
(800) 645-3050; www.eppendorfna.com