Biomic V3 Software
Microbiology system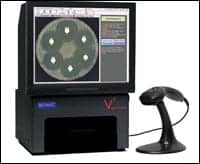 The latest 2008 Interpretive CLSI M100-S18 document guidelines are in Biomic V3 software from Giles Scientific Inc, Santa Barbara, Calif. Antibiotic disk-diffusion test results are checked by a Resistance Monitoring Center™ to flag unlikely results. Users may also define their own expert rules. The Biomic V3 microbiology system includes DigiCounter™ software to count microbial colonies and viral plaques. Entire plates or selected areas are instantly counted. Counts may be differentiated by size and/or color, and touching colonies can be discriminated. Individual colonies may be manually included or excluded. Color digital imaging technology automates the reading, interpretation, and recording of CLSI antibiotic disk-diffusion tests and commercial identification panels, such as RapID™ (Remel), API® (bioMérieux), and BBL™ Crystal™ (BD). The addition of a bar code reader coupled with bidirectional LIS interface capability further aids workflow. The product serves as a primary or complementary AST-ID system for microbiology labs of varied sizes and setups.
Giles Scientific Inc
(800) 603-9290
www.biomic.com
---
Sfax™
Electronic fax record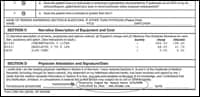 SecureCare Technologies, Austin, Tex, introduces digital signature and annotation features for Sfax, the first and only EFR™ (electronic fax record) for the health care industry. The product now operates as a paperless, Internet-based fax-management system for health care providers and serves as a seamless transitioning agent to EMR platforms. Users do not need to scan each manual fax into their EMR systems, since documentation will already be electronic. The digital signature feature provides users with a true digital certificate, allowing a provider to digitally sign each fax from a secure, HIPAA-ready platform. The feature saves health care providers time that would be spent scanning and printing faxes to physically sign them. Annotation features allow users to edit faxed documents with tools such as checkmarks and text boxes without printing a single page.
SecureCare Technologies
(888) 447-3707
www.sfaxme.com
---
ToxID™
Software for LC/MS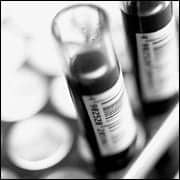 Thermo Fisher Scientific Inc, Waltham, Mass, introduces ToxID software for liquid chromatography coupled with mass spectrometry (LC/MS) analyses. The intuitive software is the latest addition to the company's solutions for toxicology and forensic applications. The software uses compound retention time and MS/MS spectra for compound identification. Predefined LC-MS/MS instrument and sample-preparation methods are provided to handle several classes of compounds for general unknown screening (GUS) analysis. The freeware and its compound library are customizable and expandable to fit labs' needs. The software works with the company's Xcalibur® Data system and LCQUAN™ quantitation software for an integrated operation. Sample reports are generated automatically. The software is compatible with the company's ion trap mass spectrometers for qualitative power in compound identification for the toughest samples or with the company's triple quadrupole mass spectrometers for simultaneous quantitative and qualitative compound confirmation.
Thermo Fisher Scientific Inc
(800) 532-4752
www.thermo.com/forensics
---
Stitching Software
Software inspection system
For more information lab products, go to www.clpmag.com and search for the companies listed in this section..
The Value Engineering Alliance, Cambridge, Mass, offers stitching software that produces a single, seamless image from several smaller ones. Developed as a key component of a color CCD camera-based microscanner system used to acquire images of tissue-sample slides processed through medical education programs, pathological diagnostic investigations, and sundry scientific research and development efforts, the software can be used in other areas involving items that are too large to be imaged in their entirety at the desired or required resolutions. Stitched-together images of items, such as semiconductor devices, microcircuits, flexible circuits, solar cells, and printed substrates, help companies implement automated inspection of such products by automated visual information analysis and other machine-vision software that provides detection of subtle defects that reside in extremely large images.
Value Engineering Alliance
(617) 492-1252
www.The-V-E-A.com