DiaSorin Inc, Stillwater, Minn, has received FDA clearance for its LIAISON® direct renin immunoassay to aid in the diagnosis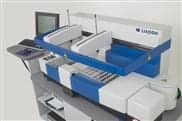 and treatment of certain types of hypertension.
The immunoassay runs on an automated, random-access platform, providing rapid results on the Liaison system (pictured).
"Hypertension affects approximately 67 million US adults and is the major contributor to cardiovascular diseases worldwide," says John Eskdale, president, DiaSorin Inc. "We are proud to introduce the first, fully automated, chemiluminescent direct renin test to assist in differentiation of this disease."
The company has 20-plus years' experience in renin IVD testing.
Labs will benefit from high throughput, complete walk-away automation, with excellent precision and sensitivity.
[Source: DiaSorin Inc]