AutoMate 800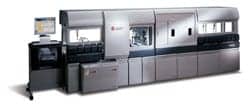 Automated sample processor
Beckman Coulter Inc, Fullerton, Calif, released the AutoMate 800 Sample Processor, a fully automated system designed to streamline pre- and post-analytical sample handling processes for mid- to high-volume laboratories. The system offers a number of automated technologies that may help labs increase efficiency, reduce manual processing errors, accommodate higher testing volumes, and post significant gains in test result delivery. Its features include a single point of entry to manage all tubes, from sample receipt to disposal or storage; automated sample loading and sorting to minimize manual sample handling; fully integrated, programmable, on-demand centrifugation; and intelligent aliquotting and tube labeling that eliminates manual sample preparation errors and ensures faster, more accurate secondary-tube preparation. The dedicated Stat-input area enables priority processing for rapid test turnaround time. The AutoMate 800 offers centrifuge throughput of up to 300 samples per hour, and can aliquot up to 420 total samples per hour, including 140 primary and 280 secondary tubes.
Beckman Coulter Inc
(800) 742-2345
www.beckmancoulter.com
---
Streamlab Analytical Workcell

Updated version
Dade Behring Inc, Deerfield, Ill, has introduced several enhancements to the company's scalable automation solution, the StreamLAB Analytical Workcell. The new enhancements will assure the opportunity for clinical laboratories of all types and sizes to install automation in a smaller space and also take advantage of new capabilities such as connectivity to a new middleware data-management solution. Enhancements include a 90-degree track-turn configuration so it fits into smaller spaces; connectivity to the EasyLink Informatics System, a middleware software program that improves data management capabilities among the Workcell, multiple diagnostic systems, and a laboratory information system; and a tube sealer that applies a seal to patient samples, allowing hands-off sample management. The Integrated Workcell is designed to evolve with a clinical laboratory's changing needs. It is a scalable system that provides for workstation consolidation while automating pre- and post-analytical functions.
Dade Behring Inc
(847) 267-5300
www.dadebehring.com