---
Automated Aliquoting Liquid Handler
Dispense liquid volumes from 100 to 875 µL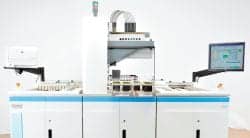 Thermo Fisher Scientific Inc, Fremont, Calif, offers the Thermo Scientific CV2000 automated aliquoting liquid handler. The CV2000 can accurately dispense liquid volumes from 100 to 875 µL and process up to 1,000 samples per hour. With its robotic arm and rotary height sensors, it fits easily into automated workflows to boost sample throughput. The system is compatible with a wide variety of sample-management software, but it can also be used as a stand-alone instrument. The system effectively manages samples to boost efficiency and productivity with zero cross-contamination. Fully compatible with multiple rack formats, the system allows users to change the loading and dispensing routine to suit their needs. A tip-preservation system allows the instrument to discharge only used tips, reducing waste while eliminating contamination. Capable of holding up to 300 samples and accommodating both 45- and 90-mL urine containers, the system can automate the process of aliquoting urine from primary samples to analyzer racks.
Thermo Fisher Scientific Inc
(800) 772-8871
www.thermoscientific.com/CV2000
---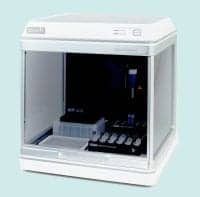 Automated Pipetting
Automate a single task or an entire application
Biohit Inc, Neptune, NJ, offers the new Roboline™ automate, which is used to automate your pipetting work. The compact liquid handling automate is easy to place anywhere in the lab. Open programmability and the drag-and-drop function make the Roboline easy to use and suitable for a wide range of applications. The device enables you to automate a single task or an entire application. The robotic dispensing module guarantees that results are accurate and precise, without human error. The Roboline can pipette any combination of columns, rows, single wells, or entire plates, and the closed environment protects reagents and samples from any contamination. The fully electronic air-displacement pipetting operation produces error-free results and is capable of forward pipetting, reverse pipetting, multiple dispensing, and diluting volumes from 5 µL to 200 µL using liquid-level sensing for small-volume pipetting.
Biohit Inc
(800) 922-0784
www.us.biohit.com
---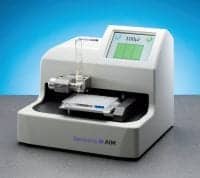 Automated Inoculation Delivery System
Use with all sensititre dried plates
The FDA has cleared the TREK Diagnostic Systems-brand Sensititre AIM Automated Inoculation Delivery System from Magellan Biosciences, Chelmsford, Mass, for use with all Sensititre dried plates. The small-footprint Sensititre AIM System quickly doses microtitre plates, eliminating both skipped wells and costly repeat tests. The system's compact design is suited for use directly on the benchtop or under a microbiology safety cabinet, providing flexible storage and accessibility, and conserving laboratory space. The icon-driven touch screen facilitates quick selection of dosing volumes and patterns for intuitive operation. The AIM System is also CE/IVD-marked for sale outside of the United States.
Magellan Biosciences
(978) 856-2345
www.magellanbio.com