Proline Plus Mechanical Pipettors
Fully autoclavable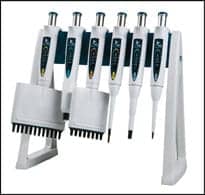 Proline Plus Mechanical Pipettors from Biohit Inc, Neptune, NJ, are fully autoclavable and available in single-channel, multichannel, and fixed-volume models to span applications across a volume range from 0.1 µL to 10 mL. The multichannel units provide the Optiload design feature for user-friendly tip loading and ejection. Most models with a nominal volume greater than 10 µL can use the Safe-Cone filters. The products carry a 3-year warranty, are manufactured per IVD/CE directives, and can be conveniently calibrated in the lab. The company is a subsidiary of Biohit Oyj, Finland, which develops, manufactures, and markets liquid-handling and diagnostic products.
Biohit Inc
(800) 922-0784
www.biohit.com
---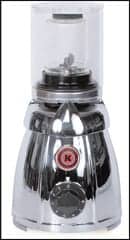 Microtron MB 550
Lab blender
Brinkmann Instruments Inc, Westbury, NY, introduces Kinematica Inc's Microtron MB 550 lab blender for mixing, dispersing, homogenizing, emulsifying, and reducing the size of cuttable materials. Featuring an 800-watt drive and speeds from 0 to 14,000 rpm, the unit is stainless steel with a 2,000-mL borosilicate glass vessel that transports samples and furnishes storage. Safety features include a thermal cutoff switch to protect against drive overload. Four blade options are offered for sample sizes from 125 mL to 1,000 mL, and four sealing options are available to address various application needs. The complete mixing attachment may be autoclaved or cleaned in a dishwasher. The unit is backed by Brinkmann application and service support.
Brinkmann Instruments Inc
(800) 645-3050
www.brinkmann.com
---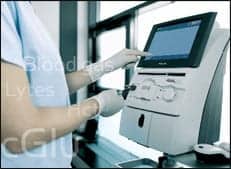 ABL80 FLEX
Portable STAT analyzer
The ABL80 FLEX from Radiometer America Inc, Westlake, Ohio, delivers accuracy, stability, and interference-free glucose performance in a portable STAT analyzer. The glucose sensor demonstrates a wide measuring range (0-75 mmol/L) and linearity. Sensor cassettes require no special handling, and can be stored at room temperature. The glucose sensor demonstrates noninterference (< |0.1| mmol/L) from common therapeutic substances.
Radiometer America Inc
(800) 736-0600, ext 333
www.radiometeramerica.com
---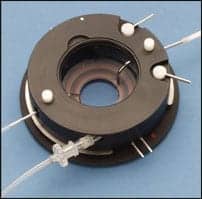 DH-40i
Microincubation chamber
The new DH-40i microincubation chamber from Warner Instruments, Hamden, Conn, is designed for imaging live cells at the required temperature and atmospheric conditions. This versatile chamber is useful for a variety of applications, such as high-resolution image analysis, fluorescence microscopy, and time-lapse imaging studies. Designed for the Warner Instruments RC-40 quick change imaging chambers and 35-mm culture dishes, the device can be adapted for use with most 35-mm Petri dishes. It accommodates upright and inverted microscopes, and features an optional heated-top cover slip to eliminate condensation when used as a closed system.
Warner Instruments
(800) 599-4203
www.warnerinstruments.com
---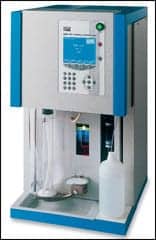 VELP Scientifica® Instruments
For AOAC methods
Brinkmann Instruments Inc, Westbury, NY, introduces VELP Scientifica instruments to optimize manual procedures for labs' AOAC methods. The line includes GDE enzymatic digesters and CSF6 filtration for dietary fiber determination; SER 148 solvent extractors for fat determination; Kjeldahl instruments for nitrogen/protein determination, such as DK digestion blocks; and basic to fully automatic UDK distillation units that feature internal colorimetric titrators or integration with potentiometric titrators.
Brinkmann Instruments Inc
(800) 645-3050
www.brinkmann.com
---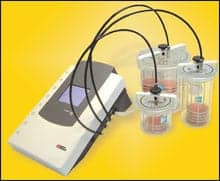 Anoxomat Mark II
Anaerobic system for cultivating bacteria
Spiral Biotech, a subsidiary of Advanced Instruments, Norwood, Mass, offers the Anoxomat™ Mark II anaerobic system for the cultivation of anaerobic, microaerophilic, and capnophilic bacteria. Each cycle involves an evacuation phase, followed by replacement using an oxygen-free gas mixture. One cycle achieves 70% to 80% removal of the original atmosphere and gives a microaerophilic environment in 1 minute. Three cycles achieve an anaerobic atmosphere in less than 3 minutes. The resulting gas mixture stays within 0.5% of the desired value. Users can move plates in and out of jars and return them to anaerobic environments in minutes, and the system provides an alternative to anaerobic chambers and gas bags. The new, intuitive software and touch-screen interface offer walk-away convenience. Automatic, quality assurance programming features help ensure an airtight status, warn of pressure leaks, and bind residual oxygen after evacuation cycling. The system checks whether a catalyst is capable of achieving desired conditions and warns of threats of gas failure. It offers cost-of-ownership savings compared with the expense of consumables, prereduced media, and ongoing costs from chambers and gas bags.
Spiral Biotech
(800) 554-1620
www.aicompanies.com
---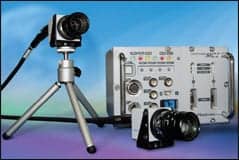 Fastcam MC2
High-speed, video-imaging system
Photron Inc, San Diego introduces the new Fastcam MC2, a high-speed, video-imaging system incorporating two 35- x 35- x 35-mm, 3.2-ounce camera heads. Designed for production line and automation faultfinding, the system features a global electronic shuttering rate from 20 microseconds to 6 microseconds for clear, slow-motion image capture. The camera's high frame rate, crisp image resolution, and precision motion analysis meet the requirements of manufacturing, processing, and quality control. With the automatic download feature, the cameras can be left unattended, recording indefinitely on a production line. When a line jam or problem occurs, the alarm signal triggers the cameras to automatically download the high-speed imagery to a remote computer, which allows engineers and management to see what occurred and what caused the problem. The light-sensitive, CMOS (Bayer system color), 10-micron pixel, single-sensor camera is available in three models featuring 512- x 512-pixel resolution. Model 500 features frames rates up to 500 frames per second (fps), Model 2K offers frame rates up to 2,000 fps, and Model 10K operates at frame rates from 60 to 2,000 fps at full resolution and up to 10,000 fps at reduced resolution. An optional, handheld remote controller with a 5-inch, built-in LCD display for viewing while recording is offered. Two memory options are available.
Photron Inc
(800) 585-2129
www.photron.com
---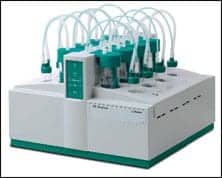 Rancimat Model 743
Customized, at-line automation analyzer
Brinkmann Instruments Inc, Westbury, NY, introduces the Metrohm Rancimat® 743 customized, at-line automation analyzer for handling high sample volumes in the QC environment and meeting the demands of oxidative-stability research. It features a temperature range from 50°C to 200°C; eight independently controlled sample positions; two heating blocks; and Windows® software for creating sample-specific methods, parameter modifications, data storage, and control of up to four separate units (32 samples) and eight separate temperatures. It is accepted for the AOCS air oxidative methods.
Brinkmann Instruments Inc
(800) 645-3050
www.brinkmann.com
---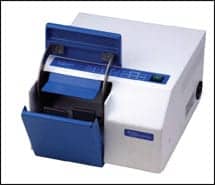 80 MicroBiomaster
Lab blender
The Seward® Stomacher® 80 MicroBiomaster lab blender from Brinkmann Instruments Inc, Westbury, NY, processes 250-µL to 80-mL samples with continuous adjustment of paddle speed, pressure, and processing time—right on the door panel. The patented feature is useful when processing tissue and other samples without diluents and/or solvents. The control mechanism can be purchased separately to upgrade other 80 Biomasters in the lab.
Brinkmann Instruments Inc
(800) 645-3050
www.brinkmann.com