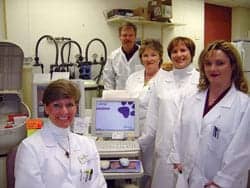 The laboratory of Grove Hill Medical Center, New Britain, Conn, has been serving the group's multispecialty physician offices for nearly 40 years. The facility has five technologists, 10 phlebotomy and processing staff members, and a billing coordinator working in-house. From the center's multiple locations the team serves approximately 75 doctors who treat patients of all ages in varied specialties. Among them are internal medicine, cardiology, dermatology, ear/nose/throat, gastroenterology, obstetrics/gynecology, hematology, oncology, ophthalmology, orthopedics, radiology, and urology.
The Search for an LIS
When Doug Dyer became the lab manager at Grove Hill Medical Center in 2001 there was no laboratory information system (LIS) in place aside from the old-fashioned box-and-courier system. Printed results were placed in files and hand-delivered to the doctors, whether they were upstairs or across town.
The first order of business for Dyer was to secure a new system to bring the lab into the 21st century. After conducting an exhaustive search, Dyer decided on LabDAQ from Antek HealthWare. One of his two final choices, the Antek software was more economical to set up, coming in at half the cost of his second choice and offering what he calls "a very similar program." A key component that propelled Antek to his top choice was the company's reputation for customer service.
After conducting a site visit to see the system running in a nearby clinic (a courtesy he would later extend to another potential buyer), and speaking with everyday users, Dyer saw the value in choosing a system that was backed by people who are quick to answer a distress call. "I did a pretty good study to figure out which product to go with, and we've never really looked back. It's been a good decision."
How LabDAQ works
LabDAQ is the tool that allows the lab to communicate with the doctors, whose care depends on the results from the lab. Instead of waiting for someone to let them know a test has been completed, with the system in place, as the lab finishes tests, the reports automatically go to the physicians' local printers or fax machines, improving turnaround time and cutting down on unnecessary retesting.
To make the system more personalized, the lab has since interfaced with the local reference lab, enabling it to order testing directly in LabDAQ with the results coming back electronically into the system. The software also works with the lab's billing system, and charges are automatically entered, reducing the chance for erroneous charges or wasted time entering information by hand.
When Dyer decided he wanted the LabDAQ to interface with third-party vendors, Antek helped facilitate the integration. After implementing the system, Dyer says he saw an improvement in patient care, service, and revenue.
According to Dyer, another key feature of the system is its stability. "If the LIS goes down, the lab, and by extension the clinic, will be severely impacted."
In the 5 years they have had it, Dyer reports that the longest Grove Hill Medical Center lab has been down is a few hours, and that was for a scheduled upgrade, not a random system crash.
Getting Used to the New System
Dyer remembers the transition to the electronic system being quick and pain-free. "We were probably down 1 day after Antek came in to do the set-up, and the second day we slowly came up," he says. "Considering all they had to do, it was fairly quick." Within 2 weeks all users were comfortable with what was a drastically different way of working than the previous dig-and-file method.
After seeing the way the lab runs with LabDAQ, Dyer has first-hand experience in seeing the reasoning behind the government's urging medical facilities to go digital. "It vastly improves patient care when any clinic has an electronic medical record [EMR] or anything like that, because there are a lot fewer clerical errors," he says. "Transmission of results, people keying in information—all of that gets done automatically, so you cut down on all kinds of mistakes."
Future of Grove Hill Medical Center Lab
The lab is continuing to embrace the digital frontier. It is currently putting the finishing touches on interfacing its clinical information system with LabDAQ. Soon, all of the center's doctors with access to the Web will be able to get lab results electronically, cutting down on paper and illegible handwritten notes. Functioning very similarly to an EMR, the new system will be a portal for the doctors to access everything from radiology to the pharmacy. "It's almost done, we're just tweaking it, Dyer says. "While it's not a true EMR, it functions very similarly, and also functions as an archival system. We're very happy with it, and the doctors love it so far."
With the ever-changing world of insurance contracts and national service laboratories taking on more of the market, smaller independent labs may have a hard time trying to maintain test volumes. With an aggressive management team, Grove Hill will try to stay on the cutting edge by quickly adopting necessary products and technology.
Zac Dillon is associate editor for  CLP.