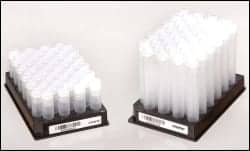 Larger-Volume Cryobank Vials
Now incorporate 2D bar code technology
Thermo Fisher Scientific Inc, Milford, Mass, now offers new Thermo Scientific Nunc 2-mL and 5-mL Cryobank Vials. The larger volume vials incorporate 2D bar code tracking for tracking and retrieval. The Cryobank cap is fully compatible with automated decappers. With the same height as standard Nunc Cryotube vials, they can be used with both standard freezer racks and cryoboxes.
Thermo Fisher Scientific Inc
(800) 332-3331
www.thermofisher.com
---
EchoTherm IC20XR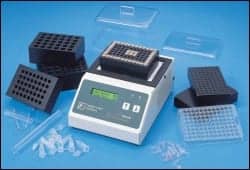 Compact chilling/heating dry bath
Torrey Pines Scientific, Carlsbad, Calif, introduces its EchoTherm™ model IC20XR, Peltier driven, compact chilling/heating dry bath. The unit offers a broad variety of precision-made aluminum sample blocks, and can freeze, chill, or heat samples from -10°C to 110°C in assay plates, centrifuge tubes of all sizes, vials, and nearly any size test tube. It is ideal for hybridizations, sample prep for PCR, ligations, and enzyme reactions. The Model IC20XR features a digital display and control of temperature to 1°C; a countdown timer in days, hours, minutes, and seconds; a data logger; and an RS232 interface to control the unit by computer or to record data. More than 25 standard sample blocks are available.
Torrey Pines Scientific
(760) 930-9400
www.torreypinesscientific.com
---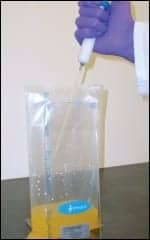 Simplette Straw
Alternative to graduated pipettes
Seward Ltd, Worthing, UK, now offers new universal-fit Simplette Straws. Designed for use with fixed- or variable-volume pipette handsets, they provide an inexpensive alternative to graduated pipettes for sample-handling applications. The Simplette Straw has been specifically designed to reach the bottom of all Stomacher® bags, allowing users to recover samples for microbiological inoculations without risk of cross contamination via the pipette handsets. They are packaged irradiated sterile and available in two lengths: 170 mm and 250 mm.
Seward Ltd
(631) 750-5660
www.seward.co.uk