Incorporating automated processes into the preparation required for testing in the clinical lab is not about eliminating humans; it is about eliminating human error.
"You will never be able to totally automate the preanalytical phase, because humans will always be involved in the process; it is such a hands-on part of the entire laboratory process," says Dennis J. Ernst, MT(ASCP), director, the Center for Phlebotomy Education, Ramsey, Ind. "But when facilities implement patient ID systems that can lock out the potential for human error, then we've gone a long way in preventing medical mistakes and catastrophic outcome."
The Center develops educational materials for health care professionals who are performing, supervising, and managing blood specimen collection procedures. In electronic media, lectures and seminars, training emphasizes the importance of following industry guidelines in every aspect of laboratory testing.
Materials are based on recommendations from the CLSI and OSHA. Because these standards are universal, the educational resources produced by the Center are applicable to all lab professionals.
Not only do standardized procedures assist with compliance issues, they are critical for accurate test results and patient safety.
"There is so much that can happen during collection and processing that will alter the test results that, without a fair knowledge of the effect of the procedure on those test results, patients can possibly be treated, diagnosed, managed, and medicated according to inaccurate test results. That leads to patient complications and medical mistakes," says Ernst. He says that when a facility trains its staff according to the standards and everyone is performing the procedure the same way, the highest quality of care is possible. "Conversely, without that awareness, you end up with poor-quality specimens that don't accurately reflect the patient's physiology."
Ernst, who is also coordinator for the Coalition for Phlebotomy Personnel Standards, notes that the mistakes committed during the collection process often go unnoticed and are rarely, if ever, traced back to the way the specimen was processed.
"When specimens are not collected properly and the test produces erroneous results, it leaves physicians scratching their heads as to the cause of patient complication," he says. "So it has to be addressed proactively, in the form of proper education and standardizing the steps of collection."
In addition to VHS and DVD training materials, a multitude of documents are available at www.phlebotomy.com. These items can be incorporated into a facility's continuing education program, or they can serve as reference material for labs to develop internal procedures.
On-site lectures can address any topic or issue. A common subject Ernst addresses with labs is the need to adhere to proper means of patient ID. He stresses approaching patient identification diligently, not only by labeling specimens at the patient's side and double-checking the information on the wristband, but asking patients to state their names as verification that the ID bracelets are correct.
Ernst says it is imperative for facilities to make sure their staff are not relying on ID bracelets not attached to patients and resting on a bedside table or attached to a bed railing instead. "The staff must be the patient's last line of defense against medical mistakes when they are posed with those kinds of invalid forms of identification," he says.
A Faster, Safer Alternative
As part of the preanalytical market focused on simplifying the process as much as possible, with the goal of minimizing opportunities for human error, Gen-Probe, San Diego, offers an end-to-end approach to automation.
"Every time a human handles a sample, every time a human processes it, puts a bar code on it, or runs it in a centrifuge, there is definitely a chance for error," says Brad Blake, vice president of Instrument Systems for Gen-Probe. "Our systems take that all out of the loop."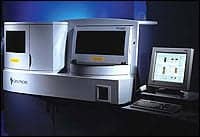 Gen-Probe's Tigris DTS System provides "walk-away freedom."
The company's Tigris DTS System provides what Gen-Probe calls "walk-away freedom," which allows lab professionals to focus their efforts on other tasks while the all-in-one product automatically ferries the specimen through the testing process, without need for oversight.
"That's a function of the technology and a function of all the automated sample prep we do," says Mike Watts, senior director of investor relations and corporate communications. "The Tigris is able to detect out of a fairly messy sample, such as a urine sample, the RNA that we need to find chlamydia, for example. That sample prep is completed with target capture technology."
Target capture makes use of magnetic beads that are included in the test tube used to collect the specimen. The genetic material separates in the vial, binding with the magnetic beads. Once onboard the Tigris, a magnetic field is applied to the test tube, and those beads are pulled to its sides.
"What is left is washed away and what you are left with is a very target-rich sample," says Blake. "It is an automated, no-hands way to purify the sample and to concentrate on the target you are after."
While the process itself is fairly complex, the system has been designed for easy operation by those without extensive knowledge of computer systems. This makes it possible for all types of facilities and lab techs to make use of the technology.
One of the most important aspects of this process is that once the tube is capped after specimen collection, it is never uncapped. Each vial is topped with a penetrable cap by the clinician who collected the sample.
After being loaded into the Tigris, the system's pipettes access the fluids by piercing the cap. Not only does this computerized approach limit the number of full-time employees required to successfully operate the lab, but it limits those techs' exposure to biohazards.
"The technician at the lab never has to unscrew a tube and doesn't have to worry about spilling urine in the lab," says Watts. "Any aerosols, for example, that might be sprayed up are contained in the test tube, so there is no risk of cross-contamination."
This is especially important when testing for infections, a market in which Gen-Probe is extremely active.
"It's important to remember these tests are being run because there is a possibility the individual has this infectious disease," Blake says. "Because the specimen is in a closed vial and people are never handling it, we're actually lessening the risk that someone in the lab could possibly get contaminated by whatever is in the vial."
Inherent knowledge
The Biomic V3 Microbiology System, manufactured by Giles Scientific Inc, Santa Barbara, Calif, is also helping clinical labs make strides in curtailing errors through removal of the human element.
Designed to automate the reading and interpretation of antibiotic susceptibility tests and organism identification panels with color digital image analysis technology, Biomic V3 is unique in the industry because it does not require the use of proprietary disposables.
"Our system is like a universal reader," says David Gibbs, PhD, president of Giles Scientific. "It can automatically read the consumables manufactured by all major producers of antibiotic test plates and identification panels."
This fact holds the potential for labs to see significant cost and labor savings. It also makes it possible for facilities to use the compact system either as the sole testing unit or as a complement to the big systems that are already in routine use.
"Many of the laboratories already have systems which can only read the proprietary panels and cards. Often, anywhere from 10% to 50% of the antibiotic and identification tests must be done manually, outside of the big system, and that is where we come in," says Gibbs. "We automate the reading and interpretation of all of the other tests that are done and then convert the results into an electronic format and feed directly into the LIS."
Aside from processing tests, Biomic V3 includes quality control and resistance detection centers that incorporate thousands of rules defined by CLSI experts and Giles Scientific to monitor test-result quality and drug resistance.
The parameters of each sample inserted into the system are examined to identify any unusual, unexpected, or incorrect readings. If recognized, these abnormalities trigger an alarm for the lab tech and automatically note it in the doctor's final report.
"The time savings are phenomenal, because it used to be that the supervisor of the laboratory would have to sit down and carefully review every test," Gibbs says. This personal scrutiny relied heavily on that individual's training and expertise. "We bring the expert right into the system and eliminate most of the supervisory review."
Biomic V3's resident "expert" can also share its knowledge with staff. The product includes a number of built-in training modules, including CD programs titled Microbiology Mystery Theater, which are provided by the Colorado Association for Continuing Medical Laboratory Education (CACMLE).
"When our instrument is not being used to run tests, lab techs can select one of the training modules they want to study, and then work on that topic," Gibbs says. "They are independent training modules, so if they want to learn more about antibiotic susceptibility testing or identification, they have quite a few different options."
Lessons are based on recommendations published by the CDC, CLSI, and CACMLE. Program updates made throughout the year ensure the content's accuracy.
Should lab professionals need some assistance with the product or any of its components, Gibbs says Giles Scientific can reach a live person 7 days a week, 24 hours a day, from anywhere in the world.
Dana Hinesly is a contributing writer to CLP.
Theory in action
Specialty Labs in Valencia, Calif, needs no convincing about the benefits of a fully automated preanalytical workflow. In fact, the clinical reference laboratory, which offers a menu of 3,000 test options, has removed the manual process for all ambient temperature and refrigerated samples.
Front-end automation is handled by an aliquotting system, which reads bar codes on the "mother" tube and creates as many "daughter" tubes as are required to complete the number of tests requested. Once the correct number of tubes is created, the vial's path is capped and then "mapped" — sorted according to the type of test to be run.
Results are scanned and then delivered to the rack headed for the appropriate department. The information read during the scan is transferred to the LIS, where a work list of all included results is created automatically.
When the test is finished, serum and plasma samples — retained by the facility for 28 days — are returned to the sorter and racked for transport to long-term storage.
"This level of automation helps your efficiency and your accuracy, but most of all, your quality, because it eliminates human error altogether," Says Maryam Sadri, vice president of operations at Specialty Labs.
She notes that since installation of the automated system, the lab's turnaround time has been reduced by 50%. Leaving the task of creating vials for multiple tests to the aliquotting system has proven particularly rewarding for the facility.
"Most laboratories don't have this process automated, so humans have to eyeball how much is needed for each of the assays. Because this instrument does that automatically, it eliminates any mispours, which can cause another patient sample to be required," says Sadri. Allowing the technology to divvy up the original specimen has eliminated mispouring issues and misjudgments that result in insufficient quantities for the final test. "It brought down the number of our 'quantity not sufficient' cases, and it has also eliminated missing samples, which cause the client to have to resubmit a sample. Our customers are very happy."