When Rice Memorial Hospital was built in the late 1930s, it had only 35 beds. Today, the 136-bed multispecialty regional referral center in west central Minnesota serves more than 220,000 patients in 14 counties. It is the largest city-owned hospital in the state and the only acute care facility in Willmar.
The lab has relied on computerized information systems for years, but Orchard Software's Harvest LIS is boosting the hospital's bottom line by streamlining outreach services provided to some 38 clients—nursing homes, clinics, hospitals, and veterinarian offices. Officials hope more clients will follow.
Reaching Out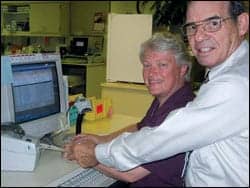 In 2004, the Rice Memorial Hospital lab went live with the Orchard Harvest LIS.
The lab was computerized in 1994 with a results interface to the hospital's EMR, and the status quo stood for about a decade. In 2004, the lab went live with Orchard software, the Harvest LIS, and another Orchard product called Copia, which sits in front of the LIS. Copia furnishes connectivity to outreach clients who log onto the system at their home bases.
"The client places an order at their location where both requisitions and labels for the specimen are printed out," says LaDonna Hebrink, the lab's LIS coordinator.
Clients label specimens, which are whisked away by couriers once daily on weekdays. Ensconced in the lab, the label's bar code is scanned into the system, which routes the order into the LIS, where it is downloaded to one of several automated analyzers.
The tube is placed on the analyzer, which scans the bar code, determining which test to run. The result shifts from the instrument back to the LIS, where a technician reviews and approves it. Clients then retrieve results on Copia. Simple tests performed on the automated analyzer have a quick turnaround. Items are picked up before 9:30 pm, and results are sent to clients by 2 am to be on hand when they arrive at work the next day.
The lab has two interface projects in the works. When they are complete, clients will be able to retrieve results from their own EMRs rather than relying on a printed hard-copy report generated at their offices.
Rice did not have a portal to its information systems before 2004. Many software companies promise to modify software to meet clients' needs, "but in Orchard's case it has proven to be true," Hebrink says. The products' broad rules-based decision-making tools are key.
"Say one physician wants things one way, and another physician wants option B. It gives you flexibility to make that system yours," she says.
Custom tailoring extends to outreach clients. Perhaps a physician or client facility always wants ferriton done if an iron result is less than 50.
"Say all the rest of them do not want that—it allows you to be able to do that for that client," says John Thon, the lab's manager.
Hebrink can write a rule alerting users when an order they place is not appropriate. Copia prompts the user, suggesting what the correct order should be. This eliminates errors at the front end, saving the lab and the customer time and money, Hebrink says.
The rules-based system is an indirect selling point. "We offer this electronic service, but when the user finds out what it can do and how it can be used—often after they decided to go with us as a reference lab—it seems to solidify the process," Thon says.
Most of the lab's clients have never used a remote-access ordering tool, so lab officials walk the client through the process at their place of business.
"Our only requirement is that they have some type of high-speed Internet access," Hebrink says. Outreach efforts may someday banish borders. "Our hope is, if we can find a way to transport a specimen, we can take a client from just about anywhere."
Rice went live with 10 to 12 instrument interfaces. Meticulous planning aside, with the EMR there was no way to imagine all of the things that needed to be defined. Among the countless bits of data were 1,000 lab tests and normal ranges for each of them.
"No matter how much planning you do, your go-live date will always be permanently etched in your memory," Hebrink says. "You do the best you can—it is a stressful time."
On the Horizon
The lab has come a long way since its manual order days, but challenges abound. Hebrink looks forward to zapping connectivity to the next level for Rice's clients, so that their final report would be an electronic message to their EMR. She expects one of the interface projects to be done by early 2008, and if all goes well with testing, both could be done. Sophisticated technology has been a boon for outreach, but a click of the mouse cannot deliver instant gratification all the time.
"There is a big difference—if you have a hospital system that owns two hospitals and six clinics, you can put information systems into all of the places," Thon says. "With us, the clients are independent. Each one has a different information system. That is what has to work."
Copia's security allows each client access to only their practice's client results, a must-have in the face of stringent HIPAA mandates.
The system allows Rice to cut costs in many areas on the test menu. "Orchard's software gives us some pretty reliable data to determine cost-per-test information," Hebrink says. In addition, Thon adds, "The lab contributes positively to the fiscal bottom line of the hospital by more outreach volume."
Hebrink's gaze is fixed on growth in the clinical laboratory, histology, and cytology. Rice would like to expand its menu of testing because it has the volume to support it. A potential growth area is molecular testing of infectious-disease agents. The move would bode well for the internal hospital patients.
"If we were to rely only on internal patient volume, that group of people would not produce sufficient volume to support the testing we would like to offer," Hebrink says. "By expanding the volume, we can provide testing we would otherwise have had to refer out to another reference lab."
Judy O'Rourke is associate editor of CLP.