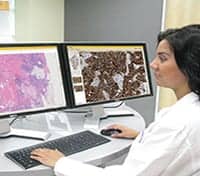 Ventana Medical Systems Inc, Tucson, Ariz, a member of the Roche Group, and Tucson Medical Center (TMC) will hold a formal ribbon cutting ceremony in TMC's lab to celebrate its state-of-the-art laboratory, on June 21 at 4 pm.
"We've implemented at TMC what we call the Lab of the Future—meaning, we've connected multiple state-of-the-art technologies for the best patient results," says Mara G. Aspinall, president and CEO, Ventana. " … our goal is to be the premier educational partner to our customers for advancing the practice of pathology by demonstrating the value of diagnostics in delivering personalized health care,"
CLICK HERE FOR A TOUR OF THE LAB.
The lab setup, which includes four Ventana instruments and the accompanying software, allows the hospital to perform more in-house tests, reducing the need for outside labs, which can add to turnaround time. The automation also allows for stronger management of patient identification throughout the process, reducing the opportunity for misdiagnosis and mislabeling. Since one technologist or one pathologist works with one patient at a time through the entire process, there is greater continuity of care.
"This equipment is key to enhancing patient safety and improving quality," says Judy Rich, president and CEO, TMC. "It also helps position the hospital for growth while providing exceptional and reliable service to our community."
Although the lab was finalized at the end of February, TMC and Ventana are continuing to work on building a long-term relationship that will also provide a forum for advancing the practice of pathology with thought leaders across the United States and around the world.
[Source: Ventana Medical Systems]