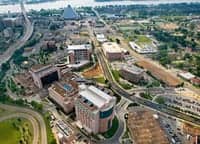 Insight Genetics has entered into an exclusive worldwide licensing agreement with St Jude Children's Research Hospital that will help the company create a new diagnostic test that will assist physicians in monitoring cancer patients and make more effective treatment selection decisions.
Under the terms of the agreement, Insight Genetics has licensed rights for mutations in the anaplastic lymphoma kinase (ALK) gene that confer resistance to ALK inhibitors. ALK has been identified as a cause of a number of cancers. As a result, several pharmaceutical companies are developing ALK inhibitors to treat ALK-positive tumors.
The challenge with ALK inhibitors is that, over time, patients can develop resistance to them, rendering the therapies ineffective. The Insight Genetics-St Jude license covers genetic mutations that can spontaneously arise following treatment with ALK inhibitors. The diagnostic test under development by the company, Insight ALK Resistance™, will provide patients and health care providers with valuable, real-time information about the mutation status of ALK in cancers and help guide the prescription of alternate treatments.
"The test we are developing from discoveries made at St Jude will yield great improvements in the care of patients with a variety of cancers caused by ALK, including lung cancers, lymphomas, certain sarcomas, and other malignancies," said Dr. Josh Nickols, chief technology officer and VP of research and development at Insight Genetics. "We believe the test will be able to provide clinicians with the ability to make rapid, informed decisions about therapy selection for their patients during the course of treatment with ALK inhibitors."
Insight Genetics' development efforts have been supported by an ongoing collaboration with Dr. Stephan Morris of St Jude, who discovered the ALK oncogene and mutations conferring resistance to ALK inhibitors. In addition to Insight ALK Resistance, the company is developing another ALK-related companion diagnostic, Insight ALK Screen™ (patent pending), which offers labs a unique method for detecting the presence of any cancer-causing ALK fusion mutation as well as wild-type ALK upregulation.
"Clinical studies have shown that cancers caused by ALK mutations are very sensitive to ALK inhibitor therapies whereas cancers caused by 'non-ALK' mechanisms exhibit little or no antitumor responsiveness," said Dr. Morris. "The promise for these therapies to treat cancer is very exciting, but to ensure that they are appropriately used and optimally effective, it is essential that patients be tested at diagnosis and monitored subsequently with respect to the ALK mutational status of their cancers. Insight Genetics' assays have great potential to help identify those patients who can benefit from ALK inhibitors and assist in monitoring the ongoing effectiveness of these therapies."
[Source: Insight Genetics]