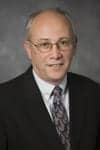 Donald E. Hricik, MD, professor of medicine, Nephrology and Hypertension, division chief, Case Western Reserve University, and co-author of the studyLevels of a protein in the urine of kidney transplant recipients can differentiate those at low risk of developing kidney injury from those at high risk, a study suggests.
The results also suggest that low levels of this protein, called CXCL9, can rule out rejection as a cause of kidney injury.
The study appears online August 22 in the American Journal of Transplantation.
To prevent rejection, kidney transplant recipients typically take immunosuppressive drugs every day. However, the drugs can cause kidney damage and lead to other serious side effects such as cancer, infection, and infertility. Even with immunosuppressive therapy, 10% to 15% of kidney recipients experience rejection during the first year after transplantation.
The only sure way to distinguish rejection from other causes of kidney injury is by performing a biopsy. Although this procedure is generally considered safe, it carries some minor risks for the patient and does not always provide an accurate impression of the overall state of the kidney, according to the researchers.
"A noninvasive urine test to accurately monitor the risk of kidney rejection could dramatically reduce the need for biopsies and possibly enable doctors to safely reduce immunosuppressive therapy in some patients," says Anthony S. Fauci, MD, director, National Institute of Allergy and Infectious Diseases (NIAID). "The results of this study support the further development of noninvasive tests for the detection and management of transplant rejection."
"Development of noninvasive tests to detect immune activation before kidney damage occurs would help guide the care of kidney transplant recipients," says Nancy Bridges, MD, NIAID Transplantation Branch Chief, and a co-author of the paper. "Clinical application of the findings from this study could help avoid unnecessary biopsies and excess immunosuppression."
References:
DE Hricik et al. Multicenter validation of urinary CXCL9 as a risk-stratifying biomarker for kidney transplant injury. American Journal of Transplantation (2013).
[Source: NIH]