A peer-reviewed study conducted by the University of Illinois College of Medicine at Chicago (UIC) and EpicGenetics, Santa Monica, Calif, helped lead to developing The FM/a® Test, a simple blood test with more than 93% sensitivity, which objectively diagnoses fibromyalgia, according to the company.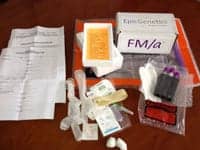 Researchers at the UIC Department of Pathology conducted a statistically significant study of more than 200 patients, comparing those clinically diagnosed with fibromyalgia to healthy patients.
"The results of our research have allowed us to 'pull back the curtain' and identify specific diagnostic biomarkers in fibromyalgia," says Bruce S. Gillis, MD, MPH, member of the clinical faculty at the UIC College of Medicine and founder, EpicGenetics.
"For decades, the medical community has viewed fibromyalgia with much skepticism," Gillis says. "Patients have been stigmatized, and many are spending thousands of dollars and years of frustration in search of a diagnosis. Our breakthrough provides patients with hope and validation that their symptoms are real, and we hope physicians who commonly see patients with fibromyalgia will embrace and value this test for its role in the advancement of medical care."
The study revealed that patients with fibromyalgia have a dysregulation disorder affecting protein molecules called chemokines and cytokines, produced by white blood cells.
According to the American College of Rheumatology, fibromyalgia affects more than 12.3 million people in the United States, comparable to the number of people affected by cancer. Until now, there has been no conclusive test to confirm the diagnosis of fibromyalgia, the company notes.
Conclusive results are made available to most patients usually in a week or less.
By completing a symptoms questionnaire at www.thefmtest.com, patients and their physicians can find out if the patient qualifies for the test. If a patient meets the requirements, he or she can arrange for the test at their physician's office or at an independent blood draw facility.
[Source: EpicGenetics]