Color Microscope Camera with Fluorescence Imaging
Enables images of fast-moving specimens
The new Olympus DP74 color fluorescence microscope camera combines advanced image processing technology, a low-noise design, and easy-to-use software for true-to-life images in life science and industrial applications. Features of the microscope include a high frame rate of up to 60 frames per second, high-definition resolution of up to 1200p, color imaging up to 20.7 million pixels for high-resolution images, a leading-edge complementary metal-oxide semiconductor (CMOS) image sensor, low-noise design, 3CMOS software mode, and software integration. The DP74 camera also offers one of the widest fields of view available, with a 16:10 aspect ratio.
Olympus
(800) 225-8330; www.olympus-lifescience.com
Single-Interface Pathology Platform
For cataloging and active casework
For more than ten years, Deep Lens's Viper solution has enabled pathology groups to collaborate on global cancer research initiatives for activities such as tumor boards, rapid reviews, biospecimen quality control, second opinions, and more. The solution was built by pathologists for pathologists, to optimize workflow and help bridge the gaps between research and clinical needs. Viper enables users to manage their entire pathology process via a single interface, whether using glass or digital slides. As a result, Viper is able to help with labor-intensive activities such as cataloging and finding historical cases, prioritizing active casework, simplifying histology examination via artificial intelligence-enabled cell counting, mitotic indexing, and directly filling information into pathology forms to create reports efficiently.
Deep Lens
(614) 453-1313; www.deeplens.ai
Enterprise-Class Digital Platform
Serves as a single unified hub
Proscia's Concentriq is an enterprise-class digital pathology platform that manages whole-slide images, data, and workflows in order to optimize lab operations and drive increased productivity. Serving as a single unified hub for day-to-day pathology work in anatomic pathology labs, Concentriq handles critical tasks with powerful capabilities—including automated case assignment, case life-cycle management, and collaboration—augmented with disease-specific artificial intelligence applications. The platform seamlessly integrates with existing hardware and software, from scanners to laboratory information systems (LIS), laboratory information management systems (LIMS), and image analysis systems, and can be deployed onsite or in the Cloud. Available in editions for clinical enterprises, life sciences, and academic research and education.
Proscia
(877) 255-1341; www.proscia.com
Subscription-Based Scanning System
One-touch walkaway automation
The OS-15 Brightfield scanner is a small-footprint, high-throughput, whole-slide desktop scanning system designed to perform high-resolution imaging of digital slides and associated metadata. The OS-15 features one-touch walkaway automation, with a user-friendly, intuitive LCD touchscreen; 20x and 40x magnification; and scanning capacity of up to 15 slides. The scanner is Cloud-enabled, and offers instant Cloud-loading capability. The scanner comes preloaded with OptraScan's proprietary software systems: ImagePath, for viewing, storing, and archiving; and TelePath for real-time telepathology and remote consultations.
OptraScan
(408) 524-5300; www.optrascan.com
Comprehensive Reporting Technology
Pulls multidisciplinary information into a single system

Sunquest Vue is an intuitive technology solution that advances comprehensive reporting and streamlines the diagnostic process for anatomic pathologists. Diagnosticians gain a single, holistic view of relevant patient data from multiple sources—including anatomic pathology reports, electronic health records, electronic medical records, and laboratory information systems—reducing the time spent authoring reports and switching among multiple systems. Sunquest Vue pulls multidisciplinary information from multiple systems into a single application, using an electronically linked patient identifier to help eliminate manual lookups, prevent case data reentry across systems, and reduce the occurrence of case addendums for missed concurrent test results. Users can customize the reporting layout to meet their individual needs.
Sunquest Information Systems
(805) 479-6775; www.sunquestinfo.com
Tissue Staining Solution
Improves workflow and reduces cross-contamination
The Ventana HE 600 tissue staining system is a fully automated hematoxylin and eosin tissue staining system that enhances patient and technician safety and produces exceptional staining quality. The Ventana HE 600 system delivers fresh reagents to each individual slide—without relying on user-supplied alcohol or deionized water—resulting in improved consistency and tissue staining quality. The individual slide-staining technology mitigates the risk of specimen cross-contamination that can occur with other technologies, helping to reduce patient misdiagnosis. The system offers more than 400 individual staining protocols, and is fully customizable, permitting adjustments to account for tissue variations as well for the preferences of laboratories and pathologists.
Roche Diagnostics
(646) 461-5500; www.roche.com
Remote Robotic Microscopes
User control with brightfield flexibility
Mikroscan provides technology-enabled products, software, and services that increase pathologists' reach, remove barriers to workload efficiency, and enable new discoveries. The company's telepathology solutions are utilized in clinics, hospitals, pathology labs, research institutions, and universities all over the world. The systems are suited for a variety of applications, including cytology, frozen section analysis, mobile use, subspecialty consultations, and tumor boards. In live mode, Mikroscan's L5 and SL5 models feature 5 high-quality microscope objectives, and serve as fully functional remotely controlled robotic microscopes for the examination of specimens on glass slides. Users have remote control over slide navigation, focus, and illumination, thereby providing all the flexibility of a traditional brightfield microscope.
Mikroscan
(760) 893-8095; www.mikroscan.com
Reflectance Confocal Microscope
For fresh or needle-aspirated specimens
The Vivascope 2500 by Caliber ID is a reflectance and fluorescence confocal microscope for rapid imaging of fresh or needle-aspirated specimens. Excised specimens can range in size from 0.5 mm to 20 mm, and several millimeters thick. Software tools provide zoom features for viewing high-resolution digital images at low and high power, and pseudocoloring can be applied to the grayscale images captured in reflectance and fluorescence (with fluorochromes) modes. Electronic reports can be completed on the device and transmitted or printed. The Vivascope 2500 allows for fresh specimens to be examined in near real-time, without the time-consuming procedures necessary for processing frozen sections or standard tissue specimens.
Caliber Imaging and Diagnostics
(585) 239-9800; www.caliberid.com
Ultrafast Pathology Slide Scanner
Digital solution cleared for primary diagnostic use
Digital pathology aims to reduce pressure on pathology services by streamlining workflow and extending collaboration. The Philips IntelliSite pathology solution is an automated digital pathology image creation, viewing, and management system comprising an ultrafast pathology slide scanner, an image management system, and a display. The solution is complemented by advanced software tools for managing the scanning, storage, presentation, reviewing, and sharing of information. As the first digital pathology solution to receive clearance for primary diagnostic use in the United States, the technology can aid pathologists in viewing and diagnosing digital images of surgical pathology slides.
Philips
(800) 722-9377; www.philips.com
High-Throughput Multiformat Analyzer
Maximizes results with 40-slide capacity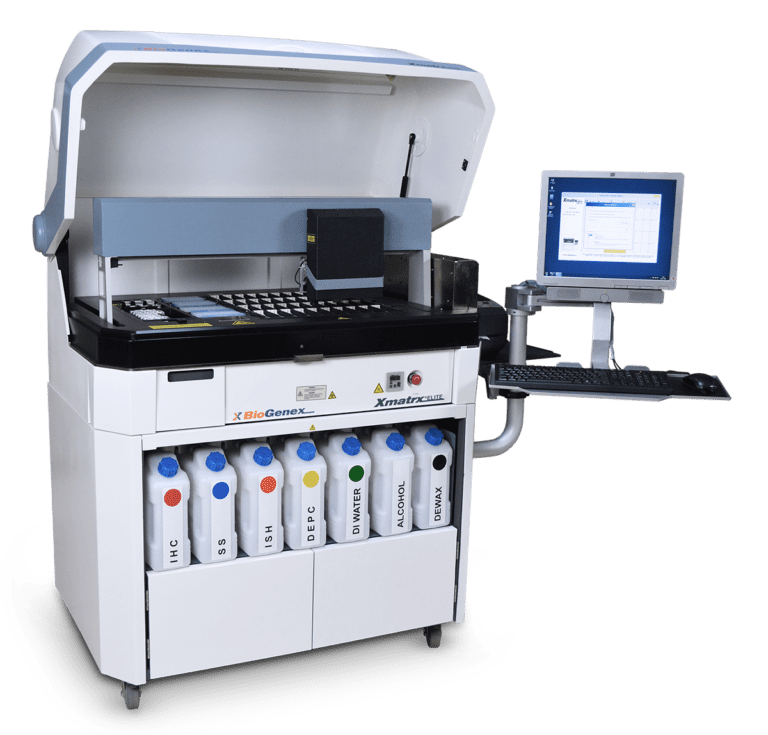 The Xmatrx Elite is an all-in-one and all-at-once fully automated system that provides an adaptable workflow solution for codetection and multiplex applications, fluorescence in situ hybridization, immunohistochemistry, in situ hybridization, in situ polymerase chain reaction (PCR), microRNA detection and modulation, and special staining. The system standardizes complete automation from microtome to microscope in three steps–load, click, and view—for all slide-based assays. The Xmatrx Elite maximizes results with a 40-slide capacity, independent temperature-controlled slide stations, multiformat specimen handling, digital reports, and barcoded reagents for error-free assays.
BioGenex Laboratories
(510) 824-1400; www.biogenex.com