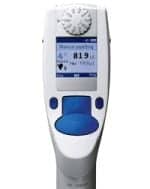 Electronic Pipette
Designed for users working with complex or long pipetting series
Eppendorf, Hauppauge, NY, offers its new electronic pipette Eppendorf Xplorer plus®. The Eppendorf Xplorer is specially designed for users working with complex or long pipetting series requiring the utmost in exact setting of parameters, maximum reproducibility, and low operating force. The Xplorer plus also includes a history function that automatically saves the last parameters for faster handling. A password can be entered to guarantee the highest degree of protection for your programming and settings. These features eliminate delays due to complicated programming or inflexible processes.
Eppendorf
(800) 645-3050
www.eppendorfna.com
---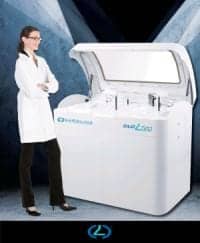 Floor Model Chemistry Analyzer
Analyzes 100 different blood chemistry tests
Carolina Liquid Chemistries, Brea, Calif, introduces the CLC 720 floor model chemistry analyzer. The CLC 720 analyzes 100 different blood chemistry tests, such as glucose, cholesterol, and drugs of abuse with a throughput of 400 photometric tests per hour and 320 ISEs per hour. The system's design is "greener," which means it generates less heat, operates more quietly, and consumes 40% less chemicals, 25% less water, 20% less serum, and 50% less electricity. It also takes up 25% less space than many other systems in its class.
Carolina Liquid Chemistries
(336) 722-8910
www.carolinachemistries.com
---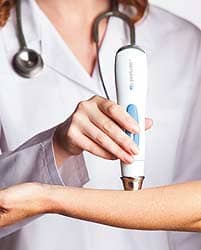 Biosensors
Needle-free, handheld blood sugar monitoring devices
Echo Therapeutics Inc, Philadelphia, introduces two new needle-free technologies, the Symphony® tCGM System and the Prelude® SkinPrep System. Symphony monitors blood sugar levels transdermally, meaning through the skin, so no needles are needed. The sensor reacts to the glucose and sends the reading by electric signal to a wireless handheld device, a personal computer, or a smartphone. Hospital personnel can place the sensors on patients to give real-time continuous readings to monitor patients and eliminate any margin of error. If a patient's glucose levels begin to change, physicians can be alerted in minutes of any fluctuations. A gentle adhesive keeps the sensor in place, and the device continuously monitors glucose levels every minute.
Echo Therapeutics Inc
(215) 717-4100
www.echotx.com