Looking at the clinical laboratory industry today, it seems the same forces have been driving its evolution for the past decade, if not longer: increased testing volumes, decreased reimbursements, demand for greater quality, and a shrinking labor pool. With Baby Boomers beginning to retire and the cost of health care under scrutiny, these forces can be expected to continue to exert heavy pressure. To survive, laboratories are responding with leaner processes and meaner machinery.
"I think the demands placed upon the clinical laboratory are likely to increase over time, and that means chemistry analyzers will need to be smarter, better, faster in order to meet the needs of laboratories in the future," says Jay Snyder, vice president, global marketing, with Siemens Healthcare Diagnostics in Deerfield, Ill.
Chemistry analyzers may also need to be something else—something more. The growing popularity of integrated instruments—those that combine more than one discipline on a system, such as chemistry and immunoassay—is based on their ability to help a laboratory operate smarter, better, faster, and—ultimately—cheaper as well. Consolidation saves time and money.
"I think rarely is [an analyzer purchase] a pure chemistry analyzer decision anymore. It's more likely that chemistry and immunoassay testing are a joint consideration, and in larger laboratories, automation solutions and informatics play a more significant role," Snyder says.
Manufacturers are therefore developing integrated solutions that are comprehensive, flexible, and scalable, designed to be able to meet the specific needs of an individual laboratory. Each lab is unique, but every lab wants a system that will integrate into its existing and future environment and help achieve its service, safety, and savings goals.
Smarter
Smarter systems help bring these goals closer by doing more on their own, reducing operator intervention. Less manual involvement decreases error and frees the technologist for more complex tasks. Appropriate automation can help to produce reportable results on the first run, speeding turnaround, reducing consumable use, and creating greater workflow efficiency.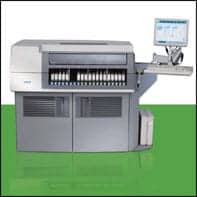 The Abbott Architect ci4100, the company's newest integrated IA/CC system, will launch in time for Both very large and very small AACC this year.
"If the operator has to go to the analyzer to manually handle patient samples again or manually redo procedures, there's an obvious unmeasured cost of labor involved—beyond the reagent," says Mark Jackman, senior product manager for Abbott Diagnostics in Abbott Park, Ill. This cost is better spent on more complex tests that cannot be automated.
Standardization can further help to streamline workflows. If interfaces, features, and protocols are the same across different instruments (as may be the case with a family of analyzers), the operator and laboratory enjoy the same potential and productivity benefits without having to invest much extra time learning the instrumentation.
"For operators, this means there's less variation in their daily tasks. When you eliminate variation, you eliminate potential errors, improving the quality of results and reducing training requirements," Jackman says.
Sophistication is another trend reducing the operator role. Software features, such as auto-verification, auto-retest, and decision support capability, help to organize data and report clinically relevant results. "People are asking for things outside of analytics nowadays, in terms of handling patient results, which is where middleware comes in," Jackman says.
Remote diagnostics remove some of the manual service and maintenance requirements. Using the Internet, manufacturers can monitor analyzers in the field for functionality and performance in real time. "You can look at the pressure in the pumps. You can look at whether the glucose is in range as far as the quality control is concerned. You can look at any calibrations that failed or were running," says James (Jim) Rigo, director of strategic marketing and product management for the chemistry business center of Beckman Coulter Inc, in Brea, Calif.
When problems are found, they can sometimes be fixed remotely or parts may be ordered immediately, shortening equipment downtime and reducing service representative travel time. In some cases, issues are found and resolved before the client has even noticed a problem. "The service is invisible," Rigo says.
Better
A better analyzer is not invisible but does help the laboratory achieve "less with more," a consistent drumbeat for the industry. Next-generation analyzers offer features designed to improve quality, productivity, and efficiency while costing laboratories less money and requiring less staff. Instruments need to offer extreme reliability and enhanced ease of use.
"People just want to press a button and tell the analyzer to go," says Frank Coviello, director of clinical studies for Polymedco Inc, located in Cortlandt Manor, NY.
Broader testing menus expand that push-n-go approach. The more tests that are automated, the fewer manual processes remain routinely under the umbrella of technologists. With the associated benefits of automation, testing menus have grown over time. Today, new tests often target disease states.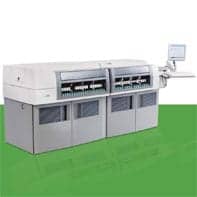 The Abbott Architect ci4000, the company's latest chemistry analyzer, will also debut at this year's AACC.
"I think the customers and vendors are focused on trying to group and develop panels of testing for disease state management," says Hiro Sekiya, director of marketing for the Olympus Diagnostic System Group (DSG), of Olympus America Inc, Center Valley, Pa.
The new diagnostics are intended to deliver more clinically relevant information to physicians, who can use the data to arrive at a diagnosis and treatment plan more quickly. New diagnostics can also generate revenue.
"A broad testing menu allows the laboratory to run more tests right on-site, which gives them either a better turnaround time for tests or allows them to run tests in-house that they weren't running before," says Ed Gilligan, group marketing manager for systems with Roche Diagnostics Corp, Indianapolis.
"Less is more" also applies to sample size. Patients are happy to give less blood, and laboratories benefit from not having to store and dispose of a large number of tubes. In addition, smaller samples use less reagent and can be spread over more tests.
Manufacturers have responded with testing technologies that can use small samples, and many feel that the minimum threshold may have already been reached. "There's only so low you can go and still maintain the quality and accuracy of the test," Gilligan says. Subsequently, systems that use small volumes can benefit from onboard quality control systems to ensure the sample is appropriate (eg, unclotted) and has been aspirated correctly. This quality control can ensure the result is accurate and the patient outcome better.
Faster
But better is still not enough. Laboratory clients demand fast turnaround, and with some tests, regulatory agencies require it. High throughput, rapid time to first result, and delivery of the right result the first time all contribute to faster speeds and improved laboratory performance.
Consolidation of testing also produces faster speeds, particularly when instruments employ parallel processing. "The immunoassay and the chemistry are done at the same time. They don't have to wait for all the chemistry to be run and then for that sample to be sent to the immunoassay portion of the instrument to be done," Rigo says.
These benefits have made the instruments popular. Snyder cites a recent study that suggested that in the United States, the percentage of laboratories using integrated chemistry and immunoassay systems has increased by roughly 20% over the last 5 years.
Beckman Coulter represents the trend with the equation e=mc2. "That means efficiency equals maximizing clinical chemistry, so the c-squared is clinical chemistry. And that means that any test that can be run on a chemistry platform will be run on a chemistry platform," Rigo says, explaining, "Where there's chemistry, there's immunoassay, there's therapeutic drugs, there's drugs of abuse, there's even whole blood assay like hemoglobin A1C."
Fewer workstations require fewer operators, fewer samples, and less space. "By bringing multiple technologies into one system and having a single user interface, it allows for greater technologist productivity," Snyder says.
Disadvantages are few and include the need for backups to ensure testing is uninterrupted should service be required. "Like any purchasing decision in the laboratory, choosing an integrated chemistry-immunoassay system requires a robust risk-benefit analysis," Snyder says.
Each laboratory must consider its unique needs in determining whether an integrated instrument is the right move. Because systems can often be upgraded in the field, implementation rarely poses an obstacle.
"Depending on the needs of a specific laboratory, dedicated chemistry and immunoassay systems may be a more optimal solution, especially in high-volume laboratories where turnaround times and peak workload period is critical. From my perspective, a deep, deep understanding of the very specific needs of an individual laboratory is required to determine the best fit," Snyder says.
Low-volume or low-complexity laboratories, such as those located within physicians' offices, may also not be the best candidates for an integrated system. "We have seen two things happen. One, companies develop a small system that does everything, but reduces the system capability in classic chemistry. Or two, the system is very reliable and strong, but also weighs 500 pounds and occupies 6 feet of floor space," says Bruno Borganti, vice president of the North America Operation for AMS Diagnostics LLC, Charleston, SC.

To research the latest in chemistry analyzers, bookmark our website.
Even so, both very large and very small labs (like their mid-volume counterparts) have the need to operate smarter, better, faster. And with roughly 70% of treatment decisions based on the diagnostic information produced by the clinical laboratory, the medical community benefits from improved laboratory operations as well.
Analyzers will, therefore, continue to improve, and workstations will continue to consolidate. Manufacturers will develop more assays that are likely to be run on fewer workstations. Less will continue to be more, and laboratories will continue to become smarter, better, faster.
---
Renee Diiulio is a contributing writer for CLP.