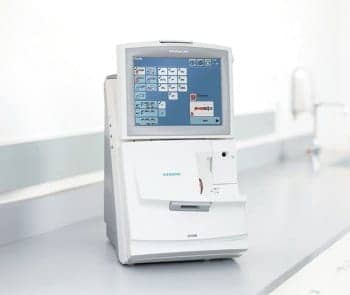 The RAPIDPoint 500 System, a next-generation blood gas analyzer, delivers results in approximately 60 seconds, uses measurement cartridges that last up to 28 days, and features a full complement of tests to enhance productivity.
Point-of-care testing—or POCT—has many benefits, but the biggest is implied simply by its name: testing at the point of care. Bringing the test closer to the patient can help to reduce the time and cost required to get a result, which in turn may help to improve treatment paths and outcomes. So it is not surprising that the market is expanding.
"In general, the demand for near-patient testing solutions is increasing in both the United States and worldwide," says David Stein, PhD, CEO, Point of Care Business Unit at Siemens Healthcare Diagnostics, Tarrytown, NY. "To date, we've seen the most increase in developed countries. However, we are also starting to see more demand for broader POC testing in emerging markets." Demand has been driven by the introduction of simpler tests, physician need for improved workflow, patient need for added convenience, and changes in reimbursement policies. Even so, at the same time, concerns regarding reliability and connectivity have limited adoption: POC tests have traditionally been less accurate than their centralized laboratory counterparts. But as the technology improves, their clinical value is enhanced.
"Increasing productivity through connectivity and IT solutions, improved efficiency through predictive analytics and remote services, compliance through proficiency testing, and effective training for an ever-increasing number of operators—these are just a few examples of what our customers are looking for in POC testing," Stein says. Companies are, therefore, focused on providing solutions that meet these demands.
GROWTH POINTS TO DECENTRALIZATION
Some areas have grown more rapidly than others. "We continue to see a steady increase in POC testing for BG [blood gas], electrolytes, glucose/lactate, and even some chemistries on critical care testing platforms," says Ted Maione, director of worldwide Critical Care marketing, Instrumentation Laboratory (IL), Bedford, Mass. "This type of testing in centralized locations remains flat to declining, while movement to POC continues to grow at nearly 10% per year."
Stein has seen increases in POC testing for prothrombin time (PT/NR), HbA1c, and cardiac patients, the latter area seeing growth of about 6% per year. "There is evidence supporting better patient outcomes for suspected myocardial infarction (MI) and other cardiovascular issues when the result is reviewed within 30 minutes and the next right step is taken at that point," Stein says.
More popular than cardiac point-of-care tests are those for infectious disease. "The use of lateral flow devices for infectious disease testing at the point of care has exploded and now amounts to more than 20% of the POC testing market by revenue, making it the single largest segment of that market," says Andrew Schaeffer, senior R&D scientist, Quantimetrix Corp, Redondo Beach, Calif.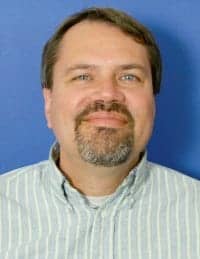 Lateral flow devices for infectious disease testing at the point of care are the single largest segment of the market, according to Andrew Schaeffer, senior R&D scientist, Quantimetrix Corp.
GOOD POINTS, BAD POINTS
The growth is driven by the value of the tests. Productivity typically improves when the physician is able to review the lab results, perform any follow-up, and speak to the patient about the result in one visit. "The physician can assess the patient's understanding of the information and judge his willingness to comply with recommendations," Stein says. "This saves time and money for the health care professional while providing added convenience to the patient who only has to attend one physician visit."
In a study on the cost and outcomes for POCT that appeared in Clinical in Laboratory Medicine (Vol 29, issue 3), Lee-Lewandrowski et al found that POCT technologies have improved patient outcomes or hospital or emergency department operations primarily due to the rapid turnaround time. (They also found that making a new test available rather than performing it at the point of care can also improve outcome.)
Traditionally, concerns regarding POCT have focused on their reliability. Centralized laboratory techniques tend to be more accurate than the POC test; in addition, POCT often does not have the same reproducibility as is found within centralized testing. Newer technologies, however, are closing this gap.
"Given the number of differing technologies, instruments, and tests being performed at the point of care, reliability can vary, but I do believe that overall, the reliability of POC testing has improved in recent years," Stein says.
One area in particular that has seen improvement in POC testing is blood gas. "In fact, with blood gas testing, many of the analyzers that are used in the ER or OR are the same as those used in the central laboratory," Stein says. Offering the Siemens RAPIDPoint 500 system as an example, he adds, "The analyzer has a sample mechanism that reduces operator variability and an automatic quality control (AQC) to eliminate variability when maintained and run appropriately."
Similarly, Schaeffer has seen improvement in the performance of handheld glucose meters. "Most now include advanced features, for instance, to ensure that QC is run at the appropriate intervals and [facilitate] corrections for hemoglobin levels," Schaeffer says.
CONNECTING THE POINTS
A key feature of growing importance to POC test users is automation, particularly in the form of connectivity. "Connectivity automates the management of a strong, quality POC program," Maione says. "If tasks associated with management of the program are not automated by the system, they may not get done."
With decentralized testing, POC coordinators may be responsible for monitoring large numbers of instruments spread throughout a hospital or various sites within the network. The devices may be operated by several hundred to several thousand operators and feature varying levels of networking ability.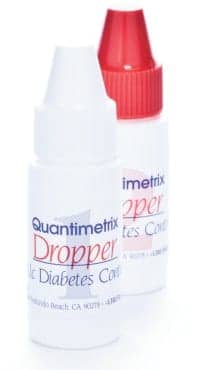 Quantimetrix's Dropper A1c Diabetes Control offers 21 days' stability at room temperature and 6 months' stability refrigerated.
"The growth of independent delivery networks contributes to the need to have seamless connectivity across different departments and sites," Stein says. "Coordinators are challenged with reviewing and approving POC results, ensuring operator certification is up to date, and that QC procedures are being adhered to and documented."
Integration of instruments with a data manager can help to meet these challenges, with greater automation ideally resulting in fewer errors and improved efficiency. Today's typical POCT programs have their key POCT devices interfaced, networked, and managed with a data management system, preferably advanced, and so POCT providers are expanding their offerings in this area. "I don't think any manufacturer would introduce a new reader-type device without network connectivity and compatibility with the major LIMS systems," Schaeffer says.
IL's GEMweb Plus Custom Connectivity automates tasks such as operator competency exams and audit logs. Siemens' RAPIDComm Data Management System, the fourth generation of which is now available, permits remote monitoring and management of diabetes, blood gas, and microalbumin.
THE DIRECTION DEVELOPMENT IS POINTED
All vendors can be expected to continue to improve the capabilities of their POCT devices, though technologies will likely remain similar. Efforts to produce noninvasive methodologies, such as skin testing, have been in development for a number of years but have faced significant technical hurdles and have been applicable in only a few niche areas.
"There are concepts for glucose, bilirubin, and alcohol in the IVD industry, although none have been broadly commercially successful as of yet," Stein says. "And there are several companies that have methods to test for glucose via an indwelling sensor, although these are in the early stages as well."
The methods offer great potential for benefit, but only if the required performance levels can be achieved. "One of current importance is neonatal bilirubin measurement, which is recommended by the American College of Pediatrics," Schaeffer says. However, it is one of few, and while the innovation may be one to watch, many manufacturers continue to focus their primary efforts on existing technologies.
IL plans to continue investing heavily in the development of its data management system as well as to expand its menu and introduce functionality enhancements.
Siemens has focused its development on easier-to-use products, seamless connectivity, miniaturization of instruments, and cost-effective solutions, as well as enhanced testing accuracy and speed. The company recently signed a strategic partnership agreement with Universal Biosensors Inc (UBI), Victoria, Australia, to launch a new POC coagulation testing platform for the global hemostasis market.
"Together, the companies will develop, manufacture, and distribute a series of novel handheld POC coagulation testing systems providing unique value and quality to health care professionals," Stein says. "The first solution scheduled for release is a prothrombin time (PT) test."
WEB BOX
For more on point-of-care testing, see our Tech Guide.
As more POC tests become available and as they continue to improve performance and ease of use, demand will increase and adoption will follow. "Because of the simplicity and automation of these systems, acceptance of the technologies has grown significantly. In the end, the clinician and the patient receive a more accurate, higher-quality result at the point of care today versus 5 or 10 years ago," Maione says, noting that hospitals now build POC teams to manage their POCT programs.
Some even envision a day of completely decentralized testing, including Schaeffer, who says, "Eventually, the central laboratory will become largely a thing of the past with only the most esoteric tests found there. The hospital laboratory will likely become a more diffuse net of functions occurring at point of need and held together by a highly sophisticated LIMS solution." So the point of care may become the whole point.
---
Renee Diiulio is a contributing writer for CLP.
New POCT on the Market
The point-of-care testing market is a large and diverse one, and manufacturers are constantly releasing new products. Some of the latest include:
Instrumentation Laboratory, Bedford, Mass, recently released the GEMweb Plus 200, its data-management and connectivity platform. Customers now have access to an advanced operator competency program (including customizable exams) and improved automation of regulatory management. For users of the company's GEM Premier 4000 analyzer, a new 600-test cartridge is designed to provide convenience to high-volume labs. The addition of GEMdraw Arterial Blood Gas Samplers to the portfolio is intended to help customers better manage the preanalytic testing phase and eliminate air contamination with rearventing technology.
Quantimetrix Corp, Redondo Beach, Calif, has introduced the Dropper A1c Diabetes control, a new hemoglobin A1c control intended for the point-of-care market. It offers 21 days of room-temperature stability and 6 months refrigerated. The dropper tip design increases convenience and ease of use.
Siemens Healthcare Diagnostics, Tarrytown, NY, debuted two products in its POCT portfolio. The RAPIDPoint 500 System, a next-generation blood gas analyzer, offers a comprehensive menu of critical care tests for pH and blood gases, electrolytes, glucose, lactate, and full CO-oximetry, including neonatal total bilirubin and total hemoglobin. All utilize a single, whole-blood sample; results are delivered in approximately 60 seconds; and the measurement cartridges last up to 28 days and contain a full complement of tests to enhance productivity. The RAPIDComm Data Management Solution Version 4.0 has extended the system's connectivity to the company's DCA Vantage HbA1c and Microalbumin analyzer.
—RD