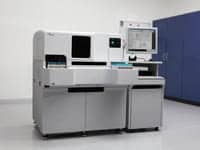 Siemens Healthcare Diagnostics, Tarrytown, NY, introduces the Sysmex CS-5100 system, a random access high-volume coagulation analyzer, in multiple markets across the world including Europe, Africa, Canada, Latin America, Australia, and New Zealand.
It is not for sale in the United States.
This addition to the Siemens Sysmex CS portfolio is equipped with simultaneous, multiwavelength preanalytical sample integrity (PSI) technology, enabling high-volume laboratories to achieve first-run accuracy by identifying and managing unsuitable test specimens prior to analysis.?
Leveraging PSI technology, the system automates and standardizes sample management, detecting unsuitable samples prior to analysis.
This technology enhances results reliability while improving efficiency by minimizing the need for manual sample inspections.
?The system also features third-generation cap-piercing technology, which contributes to reduced sample processing time and maintains the analyzer's high throughput capability. With onboard capacity of up to 3,000 tests and up to 40 reagents, the Sysmex CS-5100 system delivers extended walkway time to streamline workflow.
[Source: Siemens]