Nanosphere Inc, Northbrook, Ill, has voiced its support of the Centers for Disease Control and Prevention (CDC) first-ever report on antibiotic resistance threats in the United States, issued recently.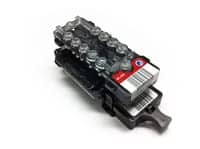 Each year, more than two million people get antibiotic-resistant infections, leading to complications such as sepsis and even death. At least 23,000 deaths are linked to antibiotic resistance each year, and another 14,000 people die due to Clostridium difficile (C. difficile). These infections cost the United States economy as much as $20 billion per year. To curb this threat to human and economic health, the CDC has called for improved antibiotic stewardship and the development of new diagnostic tests to track resistance among other things.
"The CDC landmark report highlights the critical problem of antibiotic-resistant bacteria and calls for action, including the adoption and implementation of diagnostic tests to advance more targeted therapy associated with antibiotic stewardship," says Michael McGarrity, president and CEO, Nanosphere. "We believe our growing menu of infectious disease tests has the ability to provide every hospital in the US and globally with this directed capability of more effectively diagnosing and treating patients with these critical infections."
The company filed a 510(k) submission with the FDA in early September seeking clearance for the Verigene Gram-Negative Blood Culture Nucleic Acid (BC-GN) Test to aid in the diagnosis of bacterial bloodstream infections. The test simultaneously detects a broad panel of gram-negative bacteria commonly associated with bloodstream infections and the critical genetic markers of antimicrobial resistance, including the KPC and NDM genes, which can identify Carbapenem-resistant Enterobacteriaceae (CRE) and other antibiotic-resistant bloodstream infections.The company has obtained the CE IVD Mark for this test.
Nanosphere manufactures and markets the FDA-cleared [removed]Verigene Gram-Positive Nucleic Acid Blood Culture (BC-GP)[/removed] and [removed]C. difficile Nucleic Acid Tests[/removed], which not only rapidly and accurately identify infections such as sepsis and C. difficile, but also pinpoint antibiotic resistance, leading to optimized therapy and improved antibiotic stewardship. Studies presented at the recent Interscience Conference on Antimicrobial Agents and Chemotherapy (ICAAC) and General Meeting of the American Society for Microbiology (ASM) showed that clinicians changed therapy more frequently based on Verigene BC-GP test results, leading to more optimized care.
[Source: Nanosphere]