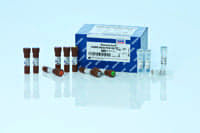 The FDA has approved GILOTRIF™ (afatinib) for treatment of metastatic non-small cell lung cancer (NSCLC) along with the companion diagnostic, therascreen EGFR RGQ PCR kit, from QIAGEN.
The therascreen EGFR test helps physicians identify EGFR mutation-positive patients eligible for treatment with GILOTRIF.
More than 200,000 new lung cancer cases are diagnosed each year in the United States, with NSCLC comprising approximately 85% of cases, leading to an estimated 160,000 deaths.
The companies—[removed]Boehringer Ingelheim[/removed], Germany, with US headquarters in Ridgefield, Conn, (maker of GILOTRIF), and QIAGEN, Germany, with US headquarters in Germantown, Md—have been collaborating since 2009 to develop a real-time polymerase chain reaction assay (real-time PCR) companion diagnostic for afatinib.
FDA approval of the therascreen EGFR test follows an FDA priority review of GILOTRIF (afatinib), and the drug's labeling requires the use of an FDA-approved test to select EGFR mutation-positive patients for the therapy.
Analytical performance of the therascreen EGFR test has been established for 21 EGFR mutations, including the most prevalent resistance mutation (T790M). The test also includes features that are valuable for pathologists, such as the detection of EGFR mutations in separate tubes.
Unlike laboratory-developed tests (LDTs), this test technology offers performance proven by comprehensive analytical studies and clinical data. The kit covers the complete workflow from sample prep to detection technology, through generation of test reports by the Rotor-Gene Q MDx. This standardized workflow delivers reproducible and objective results for oncologists. QIAGEN will provide labs with conversion and validation support for the therascreen EGFR test, plus ongoing assistance with co-marketing and reimbursement.
GILOTRIF (afatinib) is indicated for NSCLC patients with the most common mutations in the EGFR gene, which are EGFR exon 19 deletions and exon 21 L858R substitution mutations.
EGFR (the epidermal growth factor receptor) is a protein found on the surface of cells. In some patients, genetic mutations involving EGFR lead to constant activation, which is associated with uncontrolled cell division and development of advanced NSCLC. By using a companion diagnostic to identify patients whose cancer involves these EGFR mutations, oncologists can determine who is likely to benefit from targeted therapy that inhibits the EGFR protein.
The FDA approval of this test adds a third FDA-approved or cleared diagnostic kit to run on QIAGEN's Rotor-Gene Q MDx instrument. Approximately 120,000 metastatic NSCLC patients each year in the United States could benefit from testing for EGFR mutations, a total potential testing market of about $35 million, according to QIAGEN estimates.
QIAGEN has more than 15 projects to co-develop and market companion diagnostics with pharma and biotech companies such as Amgen, AstraZeneca, Bristol-Myers Squibb, Eli Lilly and Company, and Pfizer.
[Source: QIAGEN]