Mini Series of Non-Ball Lead Screws
For sample handling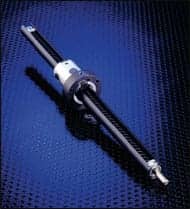 Kerk Motion Products Inc, Hollis, NH, offers its Mini series of non-ball lead screw assemblies for a variety of medical-device applications. The products are suited for demanding applications, such as pumps and dispensing systems, and sample handling. The products' size has adapted to changing technology, offering the same performance as larger screws, but in a smaller version. They are built to last hundreds of millions of inches of travel without requiring external lubrication, maintenance, or adjustment, and are offered in antibacklash and general-purpose lead screw assemblies, in NTB, NTG, and B-series. The lead screws are made of 303 stainless steel, and are available with proprietary Kerkote® TFE coating. Designed to run smoothly and efficiently on the company's precision-rolled screws, the assemblies' maintenance-free nuts are manufactured with self-lubricatingpolymers. The series is provided with standard diameters as small as .125 inches/3 mm. Custom diameters less than 2 mm and custom-designed nuts are also available.
Kerk Motion Products Inc
(603) 465-7227
www.kerkmotion.com
---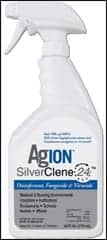 Touchstone Silver Hand Sanitizing Spray and Agion SilverClene24
Human-safe germ killers
AliMed® inc, Dedham, Mass, offers Touchstone Silver™ hand sanitizing spray and Agion® SilverClene24™, which feature new technologies with extended sanitizing power. Touchstone Silver includes a silver-ion agent that is human-friendly but deadly on more than 240 pathogens. Its persistence (effective killing power) lasts up to 150 minutes. SilverClene is a human-safe surface sanitizer. When sprayed onto hard or soft surfaces it retains its kill rate on more than 240 pathogens for up to 24 hours, making it useful for doors, tables, vinyl cushions, and transport vehicle interiors.
AliMed inc
(800) 225-2610
www.AliMed.com
---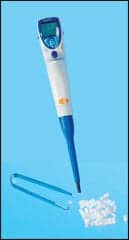 Safe-Cone Filters
Help prevent contamination
Biohit Inc, Neptune, NJ, offers Safe-Cone tip cone filters as part of its line of precision pipettors, which help prevent contamination of pipettors and samples. Regular use of the filters helps prolong the service life of pipettors by protecting the internal mechanisms. Parts of the pipettors are also protected from vapors and/or liquids that might otherwise enter instruments and contaminate or damage internal components. Contaminated pipettors pose a high risk of cross-contamination of samples, but the filters are useful for liquid-handling applications requiring safe, accurate, and precise delivery of fluid samples. The filters are available in two versions: standard filters for general work and plus filters for radioactive, cell-culture, and molecular-biological applications.
Biohit Inc
(800) 922-0784
www.biohit.com
---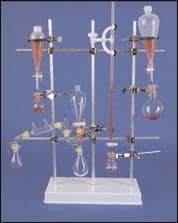 Lattice Support Stand
Provides maximum capacity for any experimental setup
The new, space-saving Lattice support stand from Bel-Art Products, Pequannock, NJ, is comprised of an extended base and three, evenly spaced, rigid aluminum support rods for experimental setups. The stand supports light items, such as small glassware, and heavy items, such as mechanical stirrers. A weighted, polypropylene base provides stability and stain resistance, and it is useful in severe corrosive conditions. The trio of solid aluminum rods are securely screwed into the base and will not show wear with everyday use of clamps. The stand can be paired with many of the company's clamps, such as spring-action burrette or bosshead styles—and with a number of accessories. The stand serves as an economical accessory to existing lattice and support systems.
Bel-Art Products
(800) 423-5278
www.belart.com
---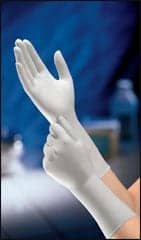 Sterling Nitrile Exam Gloves
Provide added splash protection
Kimberly-Clark Professional, Roswell, Ga, has added Sterling Nitrile exam gloves to its line of Kimtech Science, with a new 12-inch glove that provides added splash protection at the cuff. The new latex-free gloves provide the protection of nitrile with the sensitivity of latex. Eliminating employee exposure to latex may help to reduce employee lost time and employer health costs due to allergic reactions. The ambidextrous gloves are 3.5 mils thick and are available in extrasmall through extralarge sizes. Textured fingertips offer tactile sensitivity for ease in handling of delicate instruments, and the gloves are static dissipative in use. The packaging offers 100% more gloves in each box than with traditional 12-inch gloves, which may help labs stockpile gloves for emergency use. The gloves are also available in a 9.5-inch length.
Kimberly-Clark Professional
(800) 255-6401
www.kimtech.com
---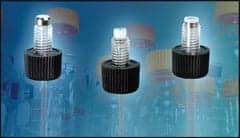 Click-N-Seal Ferrule-Type Fitting
Helps prevent over-tightening
Diba Industries, Danbury, Conn, has expanded its line of Click-N-Seal™ connection fittings to suit a wider range of fluid-connection types. Previously available only for flared connections, the Ferrule line helps prevent overtightening of these fittings in scientific and IVD instruments. Designed for Bio-Chem Fluidics' Omnifit Gripper, Type S and inverted cone ferrules, the reusable fittings provide objective feedback to prevent excess torque. The preassembled device prevents the fitting over- or undertightening that causes poor fluid connections and leaky processing, without tools. When the correct torque is reached, the reusable fitting produces a click the installer can feel and hear, and physically prevents tightening beyond that point. The fitting can be unthreaded and reused, stopping at the correct torque every time. In ferrule-type fittings, over-torquing can compress tubing, interrupting consistent fluid flow and leading to leaks. Connections are available with 1/4-28 and M6 thread-size fittings in three colors for convenient connection coding and identification. Configurations are custom fit to any instrument manufacturer's specification, and customers may specify tubing material, inside diameter, and outside diameter of up to 1/8 inch.
Diba Industries
(877) 342-2463
www.dibaind.com
---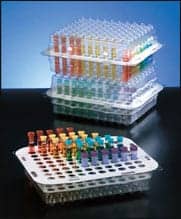 Test N' Toss Disposable Test-Tube Rack
Holds up to 80 test tubes
Whitney Products Inc, Niles, Ill, introduces the new Test N' Toss™ disposable test-tube rack, which holds, transports, stores, refrigerates, incubates, and disposes of test tubes in one unit. The rack holds up to 80 16- x 100-mm tubes in a leak-resistant plastic shell that helps contain spills. It is suitable for refrigeration to 0°F and can be incubated to 140°F. The rack can be discarded when contaminated.
Whitney Products Inc
(800) 338-4237
www.whitneyproducts.com