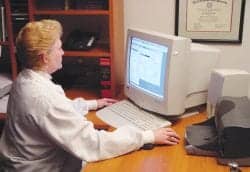 LAB/HEX Laboratory Information System
Handles testing, resulting, and reporting needs
LAB/HEX from HEX Laboratory Systems, Encinitas, Calif, is a laboratory information system that offers flexibility and the ability to handle unique testing, resulting, and reporting needs. HEX is intended for independent commercial labs, nursing homes' labs, large clinics, small hospitals, and specialty labs. Features include analyzer interfaces, EMR and other system interfaces, user-defined tests and other system definitions, custom report formats, and a Web module for orders and results. Integrated billing medical necessity module, electronic billing, electronic remittance, and cash management are available. The billing system can be purchased separate from the LIS and interfaced to an existing system or systems. VET/HEX is available with special features for those labs with veterinary or research needs.<
HEX Laboratory Systems
(800) 729-2085
www.hexlab.com
---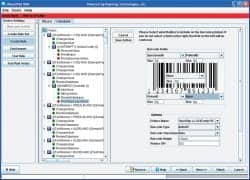 JResultNet Middleware Software
Complements and Enhances Existing Workflow
JResultNet Middleware software from Dawning Technologies Inc, Fort Myers, Fla, is the core of Dawning's various middleware applications. The solution is flexible and can be configured by the customer to best complement and enhance existing workflow. JResultNet is a Java-based application that is platform portable; able to serve enterprise-wide multihospital auto-verification implementations or single instrument connectivity equally well. The system provides a common user interface and a set of configuration tools, including support of a variety of industry-standard protocols and a complete set of message mapping tools. JResultNet software includes tools such as the JResultNet Workstation, Rules Development Kit, QC integration, and data mining.
Dawning Technologies Inc
(800) 332-0499
www.dawning.com
---
Starfruit Technologies LIS
Bar code samples, cases, plates, and inventories

Data Unlimited International Inc, Rockville Md, offers the Starfruit Technologies® laboratory information management system. Starfruit Technologies® enables you to bar code samples, cases, plates, and inventories. The system prints labels that withstand extreme cold temperatures and adhere well to small, tight-diameter vials and tubes. Starfruit labels are alcohol-, DMSO-, and moisture-resistant. The system is designed to organize laboratory functions that include tissue culture, freezer stocks, DNA storage, and embryo storage, among other uses.
Data Unlimited International Inc
(240) 631-7933
www.duii.com
---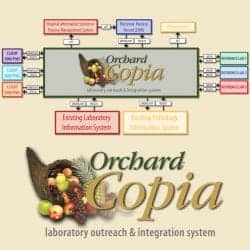 Orchard Copia Software
For Complex Outreach Business Scenarios
Orchard Copia from Orchard Software, Carmel, Ind, is an outreach and EMR connectivity system used by hospital and reference laboratories and lab networks doing outreach. The software links multiple labs and enables Web-based access and client EMR integration for order entry and result delivery. Copia is designed to work with most existing laboratory information systems, allowing an organization to utilize all the advantages of Web-based outreach and EMR integration without replacing an existing LIS. For multiple lab locations with disparate LISs, Copia can also be used to link the disparate lab systems and create a single depository database for patient results. The solution is designed for complex outreach business scenarios such as those found in hospitals and reference laboratories serving multiple business entities.
Orchard Software
(800) 856-1948
www.orchardsoft.com
---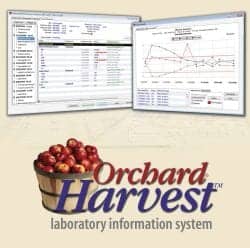 Orchard Harvest LIS
Simplifies Laboratory Workflow
The Orchard® Harvest™ LIS from Orchard Software, Carmel, Ind, utilizes process automation and rules-based technology to simplify laboratory workflow. The solution improves reimbursements and simplifies medical-necessity validation during order entry by automatically screening ICD-9 codes, testing frequency, and experimental procedures. Customizable rules reduce errors and aid decision-making for order entry, billing/CPT codes, splitting orders, auto-approval of patient results, reflexing additional testing, automatic comments, clinical follow-up recommendations, and result delivery.
Orchard Software
(800) 856-1948
www.orchardsoft.com
---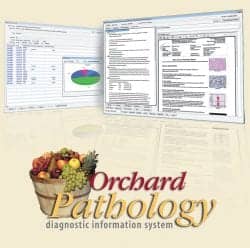 Pathology Information System
Stand alone system for anatomic pathology testing
Orchard® Pathology from Orchard Software, Carmel, Ind, is a comprehensive pathology information system designed to meet the current and future trends in pathology and handle the complexities of clinical, molecular, and pathology testing and reporting. Orchard Pathology can be used as a stand-alone system for anatomic pathology testing or as a complete system that includes clinical and molecular testing. The shared database used by these various diagnostic disciplines provides access to the patient's entire history and enables the consolidation of clinical results to the cytology or pathology report. Image-management tools make it easy to link digital images, annotated diagrams, and scanned documents to case worksheets and incorporate them onto patient reports. Information on each report is stored in discrete data fields that enhance EMR integration and simplify the process to mine data for evaluations, correlation studies, quality assurance, regulatory, statistical, and many other management reports.
Orchard Software
(800) 856-1948
www.orchardsoft.com
---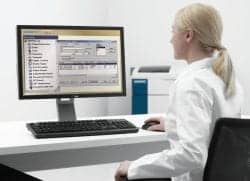 NOVIUS Lab LIS
Manage all laboratory workflows and results
NOVIUS® Lab from Siemens Healthcare Diagnostics Inc, Tarrytown, NY, is a rules-based LIS that helps laboratory professionals manage all laboratory workflows and results. NOVIUS Lab interfaces with reference laboratories, point-of-care data managers, instruments, lab automation systems, clinical repositories, and financial systems. The solution provides a flexible system that accurately enters information from multiple inpatient and outpatient facilities; increases overall laboratory productivity and supports better patient outcomes; reduces costs, improves customer service, and enhances overall laboratory workflow and efficiencies; provides an easy-to-use graphical interface, high-performance capabilities, and scalability to accommodate future growth; and gives labs a way to control specimen collection and testing and test results routing.
Siemens Healthcare Diagnostics Inc
(888) 588-3916
www.siemens.com/diagnostics
---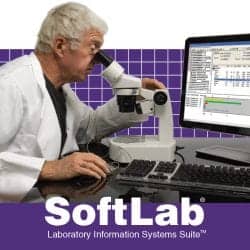 SoftLab LIS
Simplifies complex operating environments
The laboratory suite from SCC Soft Computer, Clearwater, Fla, includes the company's flagship LIS, SoftLab. The solution's functionality simplifies even the most complex operating environments where speed, accuracy, and cost are important considerations. The fully integrated SoftLab system provides an interface that links all clinical laboratory departments throughout the enterprise. Tremendous flexibility is provided to allow the distribution of data and results from the laboratory to the entire Integrated Delivery Network.
SCC Soft Computer
(727) 789-0100
www.softcomputer.com
---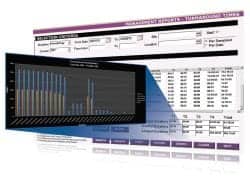 WAM Decision Support Software
Comprehensive hematology decision management system
Sysmex WAM™ decision support software for the clinical laboratory from Sysmex America Inc, Mundelein, Ill, is a comprehensive hematology decision management system that provides auto and manual validation with differential and morphology reporting to the LIS. Specifically designed for the hematology environment, Sysmex WAM manages all result and reflexing contingencies for instruments, manual differential, morphology, and smear results. It brings advanced, rules-based intelligence to the Sysmex hematology automation line. Sysmex WAM connects multiple hematology sites and multiple LISs by consolidating and communicating data from multiple hematology analyzers to the LIS. This enterprise-wide solution may decrease tech workload, reduces turnaround times, and supports the management of patient and quality control results, enabling standardization of rules and processes across labs for improved quality and continuity of care.
Sysmex America Inc
(847) 996-4500
www.sysmex.com/us
---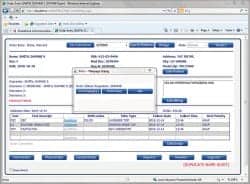 e.Outreach Software Solution
Route orders directly to the appropriate testing location
e.Outreach from Psyche Systems Corp, Milford, Mass, allows labs to offer their customers the ability to order a full range of clinical, pathology, and molecular tests. The solution offers labs the ability to route orders directly to the appropriate testing location and to receive customized reports back. Other features include support for mobile and handheld device access, e-mail notification, performing location-based requisition rules, courier functionality, the ability to display case documents with result reports, viewing of patient's entire history, and support of electronic signatures for Outreach requisitions, among others. The solution is designed for laboratories of all sizes.
Psyche Systems Corp.
(760) 603-7200
www.psychesystems.com
---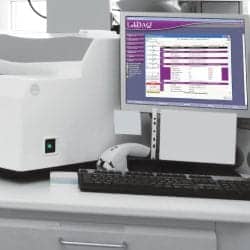 LabDAQ LIS
Web-based ordering and results retrieval
LabDAQ from Antek HealthWare, Reisterstown, Md, is a comprehensive LIS suited for POLs, clinics, reference labs, and community hospitals. LabDAQ is easy to learn and use, which significantly reduces training time. Antek's technical support department is extremely knowledgeable; a support staff member answers 97% of all calls. Powered by an Oracle database, all critical information is stored safely and securely. Web-based ordering and results retrieval allows physicians to access results from home or from other facilities. A comprehensive rules engine allows users to define a wide variety of specific actions, by physician, location, test, result, etc. With LabDAQ, the rules are turned on only if they are required or requested, resulting in a system designed to meet users' specific needs.
Antek HealthWare
(800) 359-0911
www.antekhealthware.com