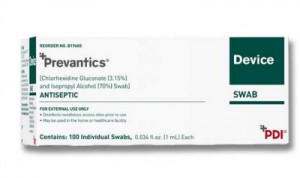 The Prevantics device swab from PDI, Orangeburg, NY, is the only chlorhexidine gluconate/alcohol solution swab that has received market authorization from FDA for disinfecting needleless access sites prior to use on ports and hubs.
"The CDC guidelines for the prevention of intravascular catheter-related infections state that some clinical evidence shows disinfection of devices with chlorhexidine/alcohol solutions appear to be the most effective method to reduce colonization," says Hudson Garrett, PhD, vice president of clinical affairs for PDI.
The swab features a 3.15% chlorhexidine gluconate (w/v) and 70% isopropyl alcohol (v/v) formulation, and is fully compliant with the evidence-based guidelines and recommendations from the US Centers for Disease Control and Prevention, the Infusion Nurses Society, the Association for Vascular Access, and the Association for Professionals in Infection Control and Epidemiology.
Other Prevantics skin antiseptics include the 1.0 mL Swab, 1.6 mL Swabstick, and 5.1 mL Maxi-Swabstick designed for preoperative and pre-injection skin preparation. For more information, visit PDI.