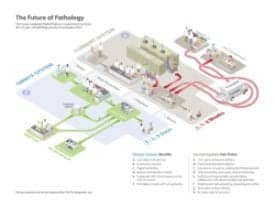 Digital Pathology Platform
Research testing at three US sites
GE Healthcare, Barrington, Ill, and UPMC's joint venture, Omnyx, is initiating clinical research testing of a digital pathology platform. The Omnyx technology is a combination of patented scanners that boost scan speed by using one camera to scan the slide and a second to simultaneously focus; new imaging software for high-quality images; and an information technology backbone that digitizes a pathology department's workflow. The technology aims to increase efficiency of the pathology process; facilitate collaboration among pathologists; and increase access by facilitating real-time consultation with specialists, regardless of the patient's or specialist's location. The technology is part of GE Healthcare's $6 billion healthymagination initiative and has initiated research testing at three sites in the United States and a fourth in Canada.
GE Healthcare
(414) 469-5499
www.gehealthcare.com
---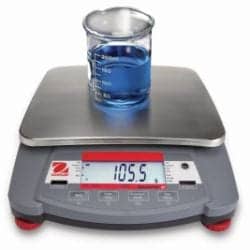 Portable Scales
Touchless sensors free operators' hands
OHAUS Corp, Pine Brook, NJ, introduces the Navigator™ XT series of portable scales, which are designed primarily for lab applications such as formulation, quality inspection, testing, and experimentation. Features include sensors for touchless operation, overload protection, a spill-resistant housing, percent weighing mode, and security. The touchless sensors free operators' hands, which helps prevent a loss of focus. The touch-free control of tare, zero, print, function, and display backlight helps to minimize touching the keypad, which assists in avoiding cross-contamination or unwanted residue on the scale. The scales have multiple application modes, including counting, percent weighing, checkweighing, display hold, and accumulation/totalization.
OHAUS Corp
(973) 377-9000
www.ohaus.com
---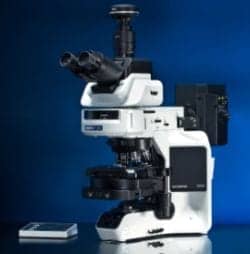 Motorized Microscopes
Optional programmable handset
Olympus, Center Valley, Pa, introduces two new microscopes to its BX3 series: the BX53 Motorized Advanced Research Microscope and BX43 Motorized Clinical and Research Microscope. The BX53 Motorized Advanced Research Microscope features an eight-position motorized filter turret, mated integration of objectives and motorized universal condenser, motorized attenuator wheel and fluorescence illuminator, and a programmable handset. The BX43 Motorized Clinical and Research Microscope is designed for users who need to control microscope functions automatically to ensure maximum repeatability and streamlined operation over long hours of use. The BX43 Motorized Microscope is also available with a programmable handset.
Olympus
(484) 896-3381
www.olympusamerica.com
---
Microscope Software Update
Controls microscope automated functions and components
cellSens software from Olympus Center Valley, Pa, has recently been updated to cellSens version 1.4. The latest version of the software will control all the automated functions and components for the company's recently introduced BX3® series motorized microscopes. The software controls both manual-encoded and motorized components for the two new Olympus microscope systems, including the instruments' revolving nosepieces, fluorescence illuminators, universal condensers, and the attenuation wheel that controls the intensity of the mercury light source for research fluorescence imaging. A handset is available and can be customized so that specific hardware configurations can be turned into templates for repeated use in image capture or analysis.
Olympus
(484) 896-3381
www.olympusamerica.com
---
SFOV Digital Camera
Wide range of easily exchangeable collimators
Scandia Corp, Des Moines, Iowa, has gained FDA approval for the Scandia-45 Planar Gama Camera, a high-resolution, SFOV digital camera for thyroid, heart, mammoscintigraphy, and small organs imaging. Features of the camera include a lightweight, 500-mm motorized detector motion with digital height display; a wide range of easily exchangeable collimators; microcast collimators: LEGP, LEHR, special collimators for thyroid, pinhole collimators for both TC99m and I131; integrated ECG triggering device; typical intrinsic resolution FWHM less than or equal to 2.7 mm; and 270 x 270-mm FOV high-resolution detector.
Scandia Corp
(877) 334-5131
www.scandiacorporation.com
---
DXR/SERS Analysis Package
Designed to simplify SERS technique
Thermo Fisher Scientific Inc, Waltham, Mass, launches the DXR/SERS Analysis Package, which is designed to simplify the Surface-Enhanced Raman Spectroscopy (SERS) technique. The package features instrumentation from the DXR family of Raman spectrometers and offers the efficiency and precision of SERS along with a preconfigured sampling method that facilitates implementation without the need for specialist expertise. The DXR/SERS Analysis Package is a complete kit for SERS analysis, integrating the full range of Thermo Scientific DXR Raman instrumentation, software, sampling accessories, SERS substrates, and instructions. The package offers precision laser power control to help users avoid sample damage or detector saturation. Interchangeable lasers can also be used for substrates that demand different wavelengths alongside a verification solution, which allows the user to easily check the validity and performance of substrates.
Thermo Fisher Scientific Inc
(781) 622-1000
www.thermofisher.com