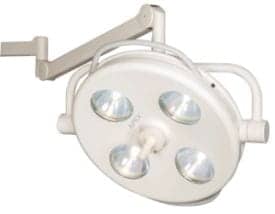 Surgical Lighting Solution
Available in single- and dual-ceiling mounts
The APEX surgical lighting solutions from Philips Burton, Chatsworth, Calif, have a 4200 Kelvin color temperature and a 95 CRI, creating high-intensity, pure white lighting. APEX features a durable arm system that features drift-free and trouble-free operation, offering an unlimited arm rotation. Products also include a convenient center handle for a smooth focus and a sterilizable handle that locks into position with one hand, adjusting easily and helping prevent the spread of germs and bacteria in health care facilities. APEX features a multibulb design that eliminates the need for backup systems in single-source lights, internal heat shields to ensure low heat output, and continuous dimming adjustments from the control panel. The product is available in single- and dual-ceiling mounts.
Philips Burton
(818) 709-3484
www.burtonmedical.com
---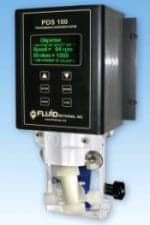 Pilot Plant Pumps
Eliminate accuracy drift
Fluid Metering Inc, Syosset, NY, offers pilot plant valveless, ceramic pumps. The pumps routinely meter monomers, catalysts, food additives, acids, extraction solvents, alternative fuels, water treatment chemicals, viscous fluids, and slurries. The product has been proven to work for pilot plant fluid control. The sapphire-hard internal components of the pumps eliminate accuracy drift typical of pumping systems that rely on valves and elastomers to move fluid through the pump. The products provide a valveless rotating/reciprocation piston design that eliminates the need for check valves, which can clog, leak, or fail over time. The drift-free fluid control will hold an accuracy of 1% or better for millions of cycles. Flow control is viscosity independent for added flow rate stability. Pump models are available to dispense as low as 5 µL per dispense up to 4 L per minute continuous metering.
Fluid Metering Inc
(800) 223-3388
www.fmipump.com
---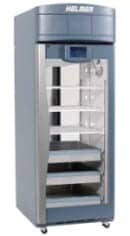 Pass-Thru Refrigerators
Feature temperature uniformity
Pass-Thru refrigerators from HELMER, Noblesville, Ind, are available in pharmacy/laboratory and blood bank models. The refrigerators feature temperature uniformity with quick recovery, a self-closing door with magnetic gaskets, and a drawer midstop that ensures proper closure to maintain airflow. A covered top on the "clean room" side prevents accumulation of dust particles in clean rooms. Pharmacy/laboratory models feature reduced humidity levels and offer a drier storage environment. Custom storage options include drawers, roll-out baskets, and shelves. A skirt can be purchased that attaches to the bottom of the "clean room" side to conceal the space between the refrigerator and floor. Pass-Thru refrigerators are available in both i.Series® and Horizon Series™ lines and in 25 and 56-cubic-foot capacity.
HELMER
(800) 743-5637
www.helmerinc.com