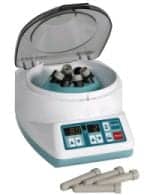 Centrifuge Package
Developed for STAT and coagulation applications
HELMER Inc, Noblesville, Ind, offers the QuickSpin PLUS centrifuge package. The package was developed for STAT and coagulation applications, including platelet-poor plasma. The high-speed centrifuge has a maximum RPM of 8,000 and RCF of 6,153, offering faster results and greater productivity. Platelet-poor plasma can be produced in 2 minutes. The QuickSpin PLUS features high-quality construction with durable, double-walled plastic and a brushless drive. It processes up to eight samples at one time and has an programmable control panel. In addition, the QuickSpin PLUS accommodates many tube sizes for added versatility.
HELMER Inc
(800) 743-5637
www.helmerinc.com
---
BestScope Microscopes and Cameras
Multiple features for clinical labs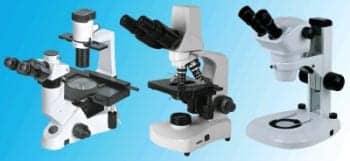 Carltex Inc, Nyack, NY, has been appointed the distributor for BestScope International Ltd, a supplier in the field of microscopy and scientific instrumentation. BestScope microscopes and cameras provide multiple features for clinical lab settings. Carltex now offers this diverse selection of products including monocular zoom microscopes, biological microscopes, stereo microscopes, industrial inspection microscopes, polarizing microscopes, metallurgical microscopes, fluorescence microscopes, gemological microscopes, multi-head microscopes, comparison microscopes, LCD digital microscopes, USB cameras, VGA cameras, and microscopy accessories.
Carltex Inc
(845) 535-3406
www.carltex.com
---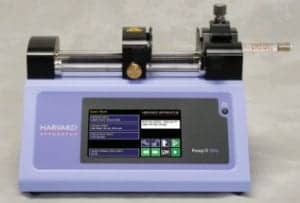 Elite Series Syringe Pumps
Offer flows from 1.28 pL/min to 88.28 mL/min
Harvard Apparatus, Holliston, Mass, recently released the new Pump 11 Elite Series syringe pump. The Elite pumps offer ease-of-use with a high-resolution LCD color touchscreen and intuitive icon interface, making it easy to create, save, and run complex methods without a PC. The pumps offer smooth and accurate flows from 1.28 pL/min to 88.28 mL/min. In addition, the instrument can be upgraded via a USB connection, and can be oriented vertically to save bench space in a laboratory setting. The Pump 11 Elite Series features a durable design and is available in standard and remote configurations suitable for a wide variety of applications.
Harvard Apparatus
(800) 272-2775
www.harvardapparatus.com
---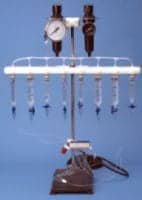 Perfusion Pressure Kit
Latest accessory for perfusion valve control systems
Warner Instruments, Hamden, Conn, introduces the VPP-8 Pressurization Kit to upgrade any gravity-feed system. This eight-channel perfusion pressure kit is the latest accessory for perfusion valve control systems. Using dual regular controls, the VPP-8 ensures precise and accurate flow, even at low flow rates. Regulators feature large, easy-to-read gauges and come supplied with 5-µm filters and a rod-mounting clamp. The system includes eight universal reservoir plugs that fit directly into a 60-cc syringe holder and can accommodate 5-, 10-, or 20-mL BD syringes. It is also available as a six-channel pressurization kit.
Warner Instruments
(800) 599-4203
www.warnerinstruments.com
---
Nunc EasyFill Cell Factory Accessories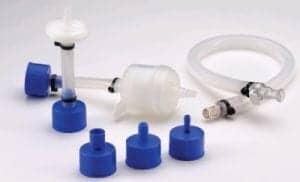 Gamma radiated and individually packaged accessories
Thermo Fisher Scientific Inc, Fremont, Calif, introduces new accessories for its Thermo Scientific Nunc™ EasyFill™ Cell Factory, including a filling tubing set that connects a Nunc EasyFill Cell Factory directly to a media bag or other tube set, a universal adapter cap that can be used with one-half-inch ID tubing or as a traditional Cell Factory port, quarter-inch and three-eighths-inch barbed caps for the development of custom tubing sets, and filter assembly caps that expand the air vent capability during fluid transfers. Each accessory is gamma radiated and individually packaged to save users time and money by eliminating cleaning and sterility validations. The Nunc EasyFill Cell Factories feature both a traditional and large port, enabling users to fill via pouring, gravity, or peristaltic pumping.
Thermo Fisher Scientific Inc
(866) 232-3342
www.thermoscientific.com
---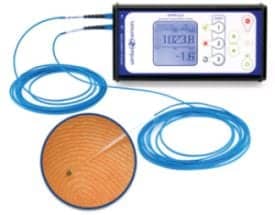 Fiber Optic Pressure Sensors
Enables researchers to record high-frequency pressure data
Harvard Apparatus, Holliston, Mass, unveils the Samba Preclin Pressure Monitoring System for animal research featuring ultraminiature fiber-optic pressure transducers. This minimally invasive technology enables researchers to record high-frequency pressure data (up to 40 KHz) using a transducer no bigger than a grain of salt on a human hair. The fiber-optic transducer is safe for use within an MRI environment (+10T) and can be used for gating the MRI, allowing the production of optimal movie sequences and enhanced image quality. The technology can be used in preclinical research areas such as MRI, cardiovascular, and neuroscience.
Harvard Apparatus
(800) 272-2775
www.harvardapparatus.com
---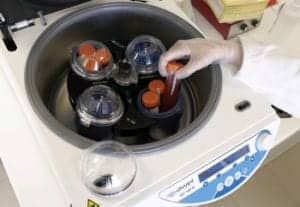 Tabletop Centrifuges
Feature an ergonomic design and integrated safety features
NuAire, Plymouth, Minn, has partnered with Awel International to bring a complete line of laboratory centrifuges to North and South American markets. Awel International has distributed NuAire laboratory equipment since 2003. Awel tabletop centrifuges feature an ergonomic design, integrated safety features, flexible rotor configuration, a range of microtube compatibility, and quality construction. NuAire will offer Awel's classic and multifunction centrifuges—in both refrigerated and nonrefrigerated models—beginning in the fall of 2011.
NuAire
(800) 328-3352
www.nuaire.com
---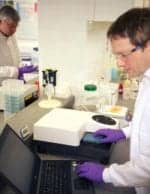 Microplate Reader
Intended for ELISA, protein, cell biology, and kinetic assays
Biochrom Ltd, Cambridge, UK, has released the EZ Read 400 microplate reader through its international network of distributors. The EZ Read 400 is intended for ELISA, protein, cell biology, and kinetic assays. The filter-based, PC-controlled EZ Read 400 can be tailored to suit application requirements. The reader has the ability to perform single- or dual-wavelength measurements to incorporate reference wavelength readings, as well as the option to do so at timed intervals The EZ Read 400 can be configured with a choice of filter options within a wavelength range of 400 to 750 nm, choice of data analysis software packages, and a QC plate for instrument validation.
Biochrom Ltd
+44 (0) 1223 423723
www.biochrom.co.uk
---
Electrophoretic Mobility Instrument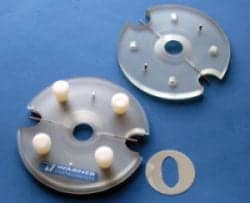 Ten times more sensitive than other instruments
Wyatt Technology Corp, Santa Barbara, Calif, introduces its electrophoretic mobility instrument, the Möbius™. The instrument is up to 10 times more sensitive than other instruments on the market and the first and only light scattering instrument that makes reliable, reproducible, and nondestructive electrophoretic mobility measurements of macromolecules as small as 1nm while under dilute solution conditions. The Möbius can collect 30 times as much data as conventional technologies and produce the result in as few as 30 seconds. The instrument uses Massively Parallel Phase Analysis Light Scattering (MP-PALS) to measure nanoparticles, which means results can be produced faster than ever before. The Möbius extends the lower limits of the size range, avoids using abnormally high concentrations, applies gentle electric potentials, and provides ultra-high sensitivity and low sample volumes.
Wyatt Technology Corp
(805) 681-9009
www.wyatt.com
---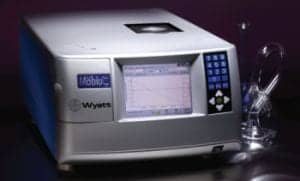 PFC-1 ProFlow Chamber
Single- and dual-flow-capable chamber
Warner Instruments, Hamden, Conn—a Harvard Apparatus company—introduces the new PFC-1 ProFlow Chamber for well-defined, well-controlled shear-flow. Based on technology developed at Case Western Reserve University, this single- and dual-flow-capable chamber uses specially designed gaskets that optimize the shear-flow dynamics within the bath, resulting in a nearly uniform shear flow across the entire width of the bath. These precut medical-grade silicone gaskets can be stacked to achieve desired bath height. The ProFlow Chamber is made of polycarbonate for easy cleanup, and stage adapters are available to fit most microscopes.
Warner Instruments
(800) 599-4203
www.warnerinstruments.com