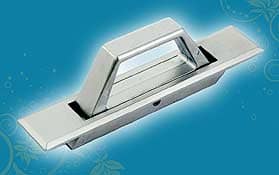 Flush Pull Handle
Zinc die-cast handles
All Metric Small Parts, New Hyde Park, NY, introduces the MAKTOOMTHA236 series of flush pull handles featuring a rotary design. The space-saving, zinc die-cast handles offer a chrome-plated finish. The handle rotates out for use with fully concealed mounting hardware. The pull-type handles are typically used on measuring instruments, telecommunication devices, distribution boards, distribution panels, and control boards. The rotary flush pull handle can be used for lifting or pulling.
All Metric Small Parts
(516) 302-0152
www.allmetricsmallparts.com
---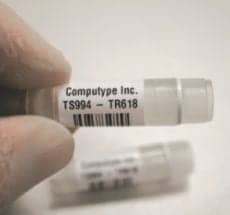 Labels
For plastic and glass labware
Computype Inc, St Paul, Minn, introduces the Cryo Hold TS994 label for plastic and glass labware, made to withstand extreme conditions in the laboratory environment. The labels are suitable for flexographic imaging, thermal-transfer imaging, and automatic application, and are compatible with all Computype label applicators. Enduring temperatures as low as -196°C, they are suitable for liquid nitrogen immersion and are resistant to chemicals including xylene, isopropanol, DMSO, and hydrochloric acid. The Cryo Hold TS994 is designed to adhere to plastic and glass, including frosted surfaces.
Computype Inc
(800) 328-0852
www.computype.com