Verification Service
Regulatory compliant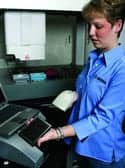 Artel, Westbrook, Me, has introduced its Liquid Handler Performance Verification service. Part of the company's new liquid delivery quality assurance (LDQA) suite of services, Liquid Handler Performance Verification will supply laboratories with third-party, documented assessment of the accuracy and precision of their equipment. The new service provides performance results traceable to national standards, therefore ensuring repeatability among procedures, liquid handlers, and locations—resulting in efficient method transfer as well as regulatory compliance. The performance of liquid handlers can also be checked for serial dilution dispensing and for delivery of nonaqueous reagents. All makes and models of liquid handlers can be verified, from single- to 384-channel devices, thereby giving laboratories complete confidence in the performance of their equipment.
Artel
(207) 854-0860; www.artel-usa.com
---
Finnpipette Dispenser
Consistent, reliable, and ergonomic

Thermo Fisher Scientific Inc, Milford, Mass, a leader in serving science, has introduced a new range of bottle-top Thermo Scientific Finnpipette Dispensers. The six models cover all volumes from 0.2 mL to 60 mL with very high consistency, precision, and reproducibility due to the careful design of all components. The Thermo Scientific Dispenser range is the latest addition to the company's manual liquid handling products, offering users reliability across all their dispensing requirements at every volume. A number of user-friendly and ergonomic features are integrated into the dispensers, such as precise click-stop volumetric adjustment for rapid and precise volume setting. The maximum-purity aluminum oxide ceramic piston ensures unit stability and safety, with micrometer volume accuracy. Furthermore, to prevent carryover among different liquids, the entire unit can be sterilized without being dismantled; if more rigorous cleaning is required, the valves can be removed.
Thermo Fisher Scientific
(800) 547-7429; www.thermo.com