CoolSystem
Portable tube and plate thermoadaptive modules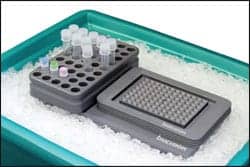 To help control the temperature of samples in the lab, BioCision LLC, San Diego, has introduced CoolSystem™, a new line of portable tube and plate thermoconductive modules. These tube and plate cooling and heating modules ensure that each sample is kept organized at the precise temperature all day. The included ThermalTray gives a stable, temperature-constant platform for a variety of tube and plate modules that never sink into the ice or water bath. It eliminates floating, lost, or contaminated sample tubes. CoolSystem works with temperature media such as ice, dry ice, water baths, heat plates, and liquid nitrogen to keep the samples at a controlled, constant temperature.
BioCision LLC
(888) 478-2221
www.biocision.com
---
Mobile Ductless Fume Hood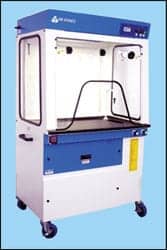 Designed for classroom and industrial training
Air Science USA, Fort Myers, Fla, offers a new Mobile Ductless Fume Hood, designed for both classroom demonstrations and industrial training. It is totally self-contained and provides all-around visibility, and can be easily moved from laboratory to laboratory. The ductless design allows easy installation, and the base is mounted on large heavy-duty wheels for easy transport. Its height, 77.5 inches, can fit through a standard door. The Multi-Layered EDU Filter has been independently tested to have 99.9% filtration efficiency for chemicals normally found in a typical chemistry curriculum. These units exceed OSHA, ANSI, BSI, and AFNOR Safety Standards.
Air Science USA
(800) 306-0656
www.air-science.com
---
UniFlow SE Fume Hood
High efficiency and energy saving
The UniFlow SE Fume Hood from HEMCO, Independence, Mo, is designed for high efficiency, energy savings, and maximum user protection. The aerodynamic face opening with airfoil provides uniform airflow into the fume chamber. A constant volume low flow hood with VaraFlow baffle system efficiently directs the airflow through the fume chamber to the exhaust outlet with minimum turbulence and maximum user protection. The unit's unitized composite fiberglass superstructure is fire retardant and provides both chemical resistance and durability. Its fume chamber is a one-piece design featuring a smooth surface and coved corners, and the vertical raising viewing sash is clear-tempered safety glass with corrosion-resistant PVC framing. Horizontal sliding and combination sashes are available. Lighting in the fume chamber is provided by a vapor-proof, energy-efficient fluorescent light fixture and a convenient control switch wired to junction box.
HEMCO
(816) 796-2900
www.hemcocorp.com
---
1300 Series B2 Biological Safety Cabinet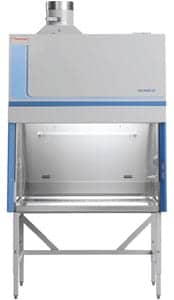 Working safely with gases and volatile chemicals
Thermo Fisher Scientific, Waltham, Mass, introduces the Thermo Scientific 1300 Series B2 total exhaust biological safety cabinet. The innovative design presents advanced DC motor technology, which increases user safety as well as protects samples from contaminants. Furthermore, the 1300 Series B2 exceeds the highest quality and safety standard recommendations from NSF/ANSI 49 for use of volatile toxic chemical and radionuclides in cell culture applications. The cabinets also meet the current recommendations of the National Institute for Operational Safety and Health Alert for Hazardous Drug Preparation. Available in 4- and 6-foot-wide models, the cabinet maximizes safety and improves workflow sterility to any laboratory, while maintaining ease of use.
Thermo Fisher Scientific
(800) 582-0494
www.thermo.com/1300B2
---
Click-N-Seal Ultra
Connection fittings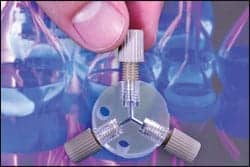 Diba Industries, Danbury, Conn, has expanded its line of connection fittings with the Click-N-Seal™ Ultra. The compact, torque-limiting Ultra fittings are made from Polyaryletheretherketone (PEEK) plastic, the industry standard for durability. PEEK plastic allows the Ultra fittings to provide stability even at very high temperatures. It also makes them chemically resistant and tolerant of pressures up to 15,000 psi. The fittings use custom technology, which prevents fittings from over—or under—tightening, causing poor fluid connections and leaky processing. When the correct torque is reached a click is produced that the installer can feel and hear, physically preventing tightening beyond that point. The fitting can be unthreaded and reused, stopping at the correct torque every time. The connection fittings are available with 1/4-28 and M6 thread size fittings, and configurations can be customized to suit any instrument manufacturer's specification.
Diba Industries
(877) 342-2463
www.dibaind.com