Safe-Cone Filters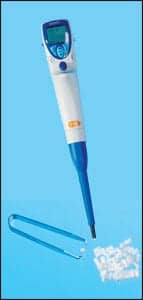 Help prevent contamination
Biohit Inc, Neptune, NJ, offers Safe-Cone tip cone filters as part of its line of precision pipettors, which help prevent contamination of pipettors and samples. Regular use of the filters helps prolong the service life of pipettors by protecting the internal mechanisms. Parts of the pipettors are also protected from vapors and/or liquids that might otherwise enter instruments and contaminate or damage internal components. Contaminated pipettors pose a high risk of cross-contamination of samples, but the filters are useful for liquid-handling applications requiring safe, accurate, and precise delivery of fluid samples. The filters are available in two versions: standard filters for general work and plus filters for radioactive, cell-culture, and molecular-biological applications.
Biohit Inc
(800) 922-0784
www.biohit.com
---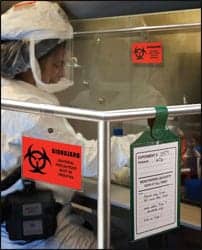 RNR Magna-Hinge
Vinyl sign holders
RNR Plastics Inc, Raynham, Mass, introduces its full line of vinyl sign holders for laboratories and medical facilities that can display custom messages virtually anywhere on railings or tubing. RNR Magna-Hinge™ sign holders feature a reinforced strap with two encapsulated rare earth magnets that can wrap around railings, tubing, or closed handles and attach securely to one another. They are offered in a wide range of colors, are splash-resistant, and the company provides tamper-evident versions. The holders will not mar railings and are offered in standard sizes from 4 x 6 inches to 8½ x 11 inches, or can be designed to specification, including custom printing.
RNR Plastics Inc
(508) 821-4800
www.rnrplastics.com
---
GenLysate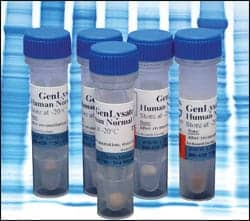 Total protein lysates
G-Biosciences, St Louis, offers a large selection of lysates from a wide spectrum of the animal and plant kingdoms. GenLysate™ total protein lysates are prepared in a lysis buffer containing a complete protease inhibitor cocktail to inhibit proteolysis. The lysates consist of an extensive library of lysates from numerous human normal and tumor tissues, including but not limited to the heart, the liver, the brain, and the lung. Not only are the human normal and tumor lysates from a specific tissue, but they are also region specific. Other mammalian lysates available are mouse, rat, primate, rabbit, and pig. In addition, they offer a wide selection of tissues from various species, including plant, bacteria, insect, bird, frog, fish, opossum, earthworms, and yeast. The GenLysate are offered as a 150-µg lyophilized protein per vial and, following reconstitution in DI water, are ready for use.
G-Biosciences
(314) 991-6034
www.gbiosciences.com
---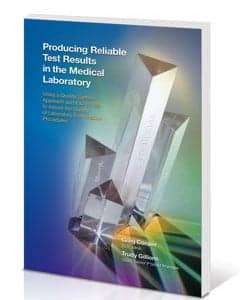 Textbook
Helps produce reliable test results
Bio-Rad Laboratories Inc, Hercules, Calif, offers a textbook that provides QC guidance to help laboratories gain accreditation under ISO 15189. Producing Reliable Test Results in the Medical Laboratory provides insight and interpretation of key requirements of ISO 15189 for ensuring the quality of laboratory examination procedures. Examples of policies and procedures and summary checklists offer advice on meeting basic requirements. Bio-Rad's first textbook joins its library of educational booklets and brochures, online learning options, QC seminars, and customer training facilities.
Bio-Rad Laboratories Inc
(800) 224-6723
www.bio-rad.com/diagnostics
---
Iwaki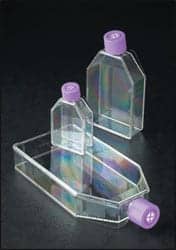 Tissue culture products
Sterilin Ltd, Caerphilly, UK, presents its Iwaki® range of tissue culture products. The cell culture range consists of standard nontreated and tissue culture treated ware, and also offers an extensive range of substrate-coated products in order to combat problems associated with in vitro cell culture. The coated ware range has significant benefits over noncoated tissue culture products and in-house coated products, such as ensuring reproducibility and consistency of results. In addition, they demonstrate lower serum requirements, which can save the user time. The culture substrates available include: Collagen Type 1, Fibronectin, Gelatin, and Poly(l-lysine) and Polyethylene Imine, and Iwaki's unique thin collagen gel membrane.
Sterilin Ltd
+44 (0)844 844 3737
www.sterilin.co.uk
---
Para-Pro fc50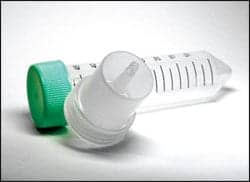 Closed-concentration system
The Para-Pro™ fc50 from Alpha-Tec Systems, Vancouver, Wash, offers a patent-pending, conical design that allows for rapid and complete filtration. It incorporates an air-exchange channel that extends above the level of the sample being filtered to prevent obstruction. The increased surface area and more effective air-transfer system allow for rapid filtration without clogging or vacuum lock. The system virtually eliminates the odor and spillage found with open-funnel systems. Part of the complete Alpha-Tec parasitology system, it allows labs to increase the number and variety of parasites recovered, improving diagnostic effectiveness.
Alpha-Tec Systems
(800) 221-6058
www.AlphaTecSystems.com